/ Editor's Note: Each weekday, DallasCowboys.com's writers will field two questions from the fans. Click here to email your question now. **
(Editor's Note: Each day we will take the 2 best questions for our staff writers to answer from the Mailbag. /"Click here" to email questions now.)
DONNIE LEGER - SULPHUR, LA: There has been numerous discussions about fixing this and that, but my main concern is the penalties. I'm not saying penalties are the reason the Cowboys lost 10 games, but they were a major contributor, especially early.
Rob: The defense and the offensive line should be your main concerns, but your point is well taken. They particularly didn't play disciplined football during the 1-7 start, and it cost them. Alex Barron's hold in the season opener is the prime example, and the celebration penalties were a joke. When you lose eight of 10 games by a touchdown or less, little things often make the difference.
Josh: Well, it's probably difficult to fix those during this lockout. Penalties are usually pinned on poor coaching, but a lot of it involves players getting beat. Typically an offensive lineman only holds if he has to in order to keep his quarterback from being killed. The Cowboys were a bad team last year, so it makes sense that they would have a lot of penalties, and yes, they were a huge part of the rocky start. The only consolation, I guess, is that things did improve after Jason Garrett took over in the second half.
PETE BERTHEL - SEAFORD, NY: Matt Ryan, Joe Flacco, Philip Rivers and Tony Romo all have the same amount of rings. But Romo was undrafted yet he gets killed by both fans and the media. Why?
Rob: Mostly because he wears a star on his helmet. Now, Rivers has gone deeper in the playoffs (two AFC Championship games), and Ryan and Flacco haven't been in the league as long as Romo. At 31, Romo frankly doesn't have a bunch of years left. Because plays in Dallas, he's been overhyped at times, but he's also underappreciated at times. The Cowboys have a top-10 quarterback in this league right now.
Josh: I agree with you that those guys haven't done a whole lot Romo hasn't, and with the exception of Rivers, I would say he's the best of the four. But those other guys don't play under the microscope that the Dallas Cowboys quarterback does, for better or for worse. It comes with the territory.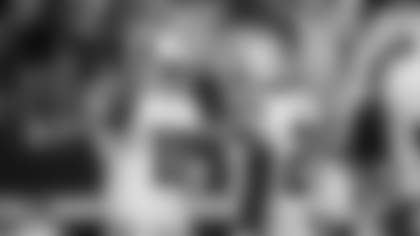 news
Mailbag: Four 1,000-Yard Players On Offense?
Has the idea of two 1,000-yard receivers and two 1,000-yard backs ever crossed you guys' mind? Looks possible at this rate