TRADITION: the transmission of customs or beliefs from generation to generation.
It's time for the pre-game meal inside the Dallas Cowboys Rhythm & Blue Dancers locker room prior to the Sunday Night Football match-up with the Dallas Cowboys hosting the Chicago Bears at AT&T Stadium.
The entire DCRB team is gathered in its traditional pre-game circle before they meticulously go through each routine they will be performing in front of tens of thousands of Cowboys fans on the stadium plazas and in the Miller Lite Landing.
That's when DCRB Director Jenny Durbin Smith gave third year veteran dancer Tasia Sapp the floor so she could deliver a special moment.
"I am really big on traditions and I wanted to start something different this year that would allow us as a team to be a part of something that will last forever," Tasia said. "While we are on the team, away from the team or even 20 years from now, this is something we can have in our hearts."
She went on to explain that the team would have their own "letters," letters that will personify the good and the bad, the tough practices, the memories that will last a lifetime and give them something to go back and reflect on for the rest of their lives.
There are four letters: R, B, L and F.
Each letter will have its own individual color and mean something different. The only people who will know what those letters mean, stand for and symbolize are the 17 members of the 2016-17 DCRB Dancers.
"I was very inspired by my college team at Stephen F. Austin State University, where we have letters that are true to my heart to this day," Tasia said. "I was looking for a way to keep DCRB with me forever, so this tradition was such a inspiration to all of us in college that I wanted to share it with my Dallas Cowboys family."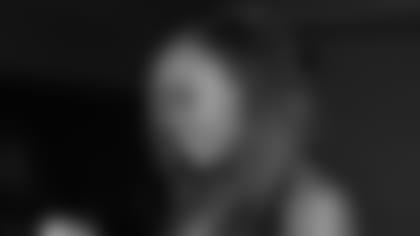 The idea of introducing the letters to DCRB had been brewing in her mind for over a year, but she wanted to wait for the right time. When she decided to to move forward, she visited with Durbin Smith and shared the proposal.
"I went to Jenny with the idea and she was very supportive and thought it was an awesome idea," Tasia said. "She said she liked it because it brings us together as one and basically said, 'it's your baby, make it happen.'"
The dancers know what the letters mean, but they will earn them throughout the season. On this night, they were presented with the letter R to get things started.
After receiving them during special moments during the season, they will get their final letter when the DCRB season officially comes to a close at their end of the year banquet.
"The reason I am distributing the final letter at the end of the year banquet is that on such an emotional night, it will have more meaning and we will have all been through the ups and downs, highs and lows and laughter and tears," she said. "We will have pushed through for our teammates and we will have done it together."
While this team is the only ones who will know the true identity of these specific letters, look for this new tradition to be passed on to future generations of DCRB dancers.
"This is something that I hope continues after I am long gone from the DCRB," Tasia continued. "It's my hope that these letters will be here forever."
Fans can stay up to date with Dallas Cowboys Rhythm and Blue Dancers by following the DCRB on Twitter and Instagram @DCRhythmBlue