(Editor's Note: In anticipation of the 2018 season, Bryan Broaddus has once again taken a break from scouting the Cowboys in order to scout the opposition. Over the next several weeks, he will take a position-by-position look through the 2018 schedule, analyzing the top five players at each spot for a better understanding of what the Cowboys are up against. The series continues this week breaking down the centers and guards.
FRISCO, Texas – It's always fun to play the "what if," when it pertains to the NFL draft.
In another world, Carolina's Trai Turner might play for the Dallas Cowboys. I don't think anyone's complaining about the way it worked out, because the pick that would've landed Turner in Dallas eventually helped the Cowboy select DeMarcus Lawrence.
Still, it's interesting to wonder what might have been -- especially when you're talking about a guy who has blossomed into one of the league's best guards.
Here's my preview of Turner, who is heading into the first year of a four-year, $45 million contract, which he signed last summer.
Name: Trai Turner
Team: Carolina Panthers
Height/Weight: 6-3/315
College: LSU
Experience: 5th season
NFL Draft: Selected in the third round, 92nd overall, by Carolina in 2014.
Starting right guard for the Carolina Panthers.
Following the 2014 NFL Draft, Cowboys executive vice president Stephen Jones revealed that Turner
might have been a Cowboy, had the team not drafted DeMarcus Lawrence. Dallas traded up thirteen spots, from pick No. 47 to pick No. 34, to select Lawrence in the second round. Had they stayed put, it might be
Turner holding the left guard spot right now.
Turner plays with physical and mental toughness. Consistent in the way he goes about his job. Not much up and down play. Nasty finisher.
Can get some serious movement when playing in space, especially when being used as a puller. His mass is difficult for defenders to handle one-on-one.
Quality footwork. Ease of movement and range. Positions himself well while blocking. Doesn't play overextended or off balance. Looks comfortable. Doesn't labor. There is a burst to his game.
Strong enough in the upper/lower body to handle bigger defenders on his nose. It is not a problem for him to have to deal with an opponent that plays with power. Can match him with his own. Stays firm in the front of the pocket.
Strong hands and placement. When he punches, you see the defender get knocked back. Smart to recoil hands when he gets put in a bad position where he might get called for holding.
If he has a noticeable trait that is a problem, there are snaps where he's a tick late off the ball. Doesn't happen often but it does happen. When late, it throws him off his game. Has to quickly work to recover and is not as smooth.
2018 Outlook: Andrew Norwell is off to Jacksonville, but Turner still gives Carolina some juice on the interior offensive line. Turner should provide an early challenge for the Cowboys' defensive tackles, who look a bit unproven with Maliek Collins currently injured and David Irving suspended. The Panthers have prided themselves on their running game for years, and Turner figures to be a big part of keeping things moving this year.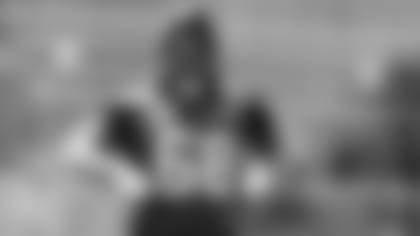 Name: Andrew Norwell
Team: Jacksonville Jaguars
Height/Weight: 6-6/325
College: Ohio State
Experience: 5th season
NFL Draft: Signed undrafted with Carolina in 2014
Norwell was the starting left guard for the Carolina Panthers last year. He temporarily set the guard market when he signed a free agent contract with the Jacksonville Jaguars in the offseason.
Gets outstanding movement at the point of attack. Powerful run blocker. Easily pushes his man past the hole. Creates space with his blocking style.
This is a wide-based player. Keeps his feet moving. Doesn't get thrown off balance.
Can redirect to match the defender's movements. Mirrors well. Plays well on the move. Big body moving fast on the outside. Exceptional ability when he is asked to pull.
Doesn't get knocked back. Rushers make a mistake when they try to rush him down the middle. Sits down on his man with no issues. Plays with knee bend and ankle flexibility.
Norwell is a violent blocker. Stays after his guy. Will drive him completely out of the play. No quit in the way he plays.
Shows exceptional lateral agility out of his set. He can get to the outside in a hurry. Plays with range. Hard to get around the corner on him.
Passes stunts well. Does it easily. Feet and hands work very well together. Doesn't labor to move. For a big man, he has athletic ability.
Must have been difficult for the Panthers to let him walk after the time and development they put in him. Will be a significant upgrade for the Jaguars in their scheme which is run heavy.
2018 Outlook: It's starting to become baffling how the Jaguars are amassing so much talent onto one roster. We know all about the defense they've put together, using a solid combination of good draft picks and impact free agents. Now, on offense a guard of Norwell's caliber can only help Blake Bortles and Leonard Fournette do their jobs. The Jaguars got all the way to the AFC Championship Game with the offense doing just enough to help their defense. Adding one more All-Pro to the mix will only make the Jaguars a tougher out when they travel to AT&T Stadium on Oct. 14.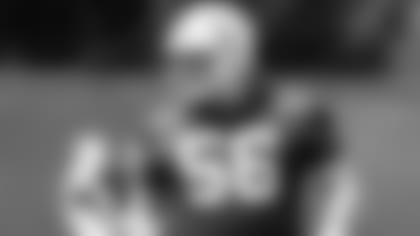 Name: Quenton Nelson
Team: Indianapolis Colts
Height/Weight: 6-3/330 College: Notre Dame Experience: 1st season
NFL Draft: Selected in the first round, sixth overall, by Indianapolis in 2018
Played left guard while at Notre Dame. Projected to do the same with the Colts.
Taller player. Has an offensive tackle length and build to his frame.
Smart player. Aware to what is going on around him. Is not going to be fooled or put in a poor position as a blocker. Worked well with his teammates when it came to double team blocks and passing stunts.
Expect the Colts to use him on the edge as a puller. Does a nice job of getting out in space. Can stay with his guy. Plays with an ease of movement. For such a large man it is impressive how athletic he is. Big body is problems for defenders trying to deal with him.
Can mirror his man in pass protection. Plays with redirection skill and balance. Can't get away from him when he gets his hands inside. His hand strength is rare. Easily controls his man.
Upper / lower body power allows him to wall his man out of the play. Can adjust to movement. Makes blocks on the 2nd level. Has the ability to get two blocks on the plays. Can secure one man then move up field to grab another.
Can hold his man in place along the line. Plays on his feet. Don't see him on the ground at all.
Can crush a defender on the down block. Gets serious movement in the running game. Never have to worry about him not finishing.
I had him as my top rated player in the entire draft. Expecting him to have a similar career path as Zack Martin.
2018 Outlook: There's so much we don't know about the Indianapolis Colts, including how Nelson is going to play in his rookie year. Obviously, though, the central issue is whether Andrew Luck will be healthy enough to play – and how well he plays if he does. A healthy Luck can carry that roster quite a long distance, and Nelson could be instrumental in helping him do it. If the Colts are forced to go to their backup plan, it could be a long season. The Cowboys don't travel to Indianapolis until mid-December, so we'll have a good idea of what kind of Colts team we're getting by then.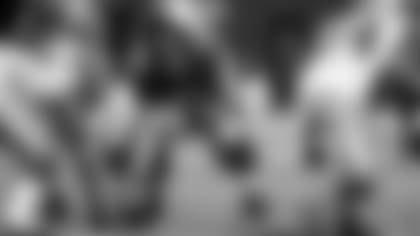 Name: Alex Mack
Team: Atlanta Falcons
Height/Weight: 6-4/311 College: California Experience: 10th season
NFL Draft: Selected in the first round, 21st overall, by Cleveland in 2009
After signing a $45 million contract in 2016, Mack has been the starting center for the Falcons for two seasons.
Outstanding foot quickness and agility. Rare movement skills. Can snatch a wide technique, cutting them off from the ball. Light on his feet.
Upper/lower body power to sit down on his man. Doesn't get knocked back at all. Plays with lateral slide in his pass set. Doesn't take any effort at all to get himself to the outside.
Manages to keep his head out of the block on his pass set. Plays with knee bend and flexibility Rushers have a hard time trying to pull him out of his stance. Can extend on the blocker.
Adjusts well in space. Gets to the second level or out on screens easily. Is able to maintain his block. Contact balance is good. Can cut the defense in half when blocking on the second level. Has the range to get wherever he needs to be along the line of scrimmage.
Processes information well. Not going to fall for defensive scheme movements. Passes twist stunts easily. Doesn't get caught out of position or off balance. Shows change of direction when he blocks.
Shows the ability to wall his man off from the play. Even when he gets in trouble, he can use his footwork and athletic ability to fight his way back into position.
Excellent position on the double-team block. Doesn't get too far to one side or the other. Puts his head and shoulder in the right spot to work with the guard. Can get push at the point.
Is always working to finish his blocks. At times will play past the whistle.
2018 Outlook: Mention the Falcons around this fanbase, and it undoubtedly brings up some unfortunate images. Obviously, we've talked plenty about Adrian Clayborn's six sacks in that 27-7 beatdown in Atlanta last year, but Mack and his offensive line ground the Cowboys down in the second half. Even with Devonte Freeman out of the game, Tevin Coleman rushed for 83 hard-fought yards. This season figures to be another steep challenge, as the Falcons look like one of the NFC's deepest rosters. Hopefully this time, the Cowboys can fare better against Mack and Co. if they aren't playing from behind.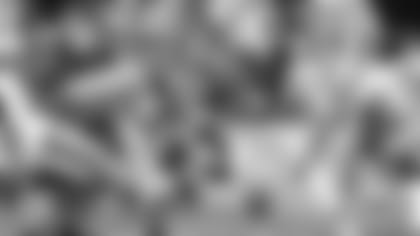 Name: Jason Kelce
Team: Philadelphia Eagles
Height/Weight:6-3/295 
College: Cincinnati 
Experience: 8th season
NFL Draft: Selected in the sixth round, 191st overall, by Philadelphia in 2011
Kelce does an outstanding job staying with his block. Plays on his feet and is quick footed. Rare to see him on the ground or off balance.
Ability to adjust on the move. One of the better second-level blockers in the league. Causes defenders problems when he plays in space. Hit and stay with blocker. Hard to disengage from him.
Aware to help with twists and stunts. Doesn't give ground. Ability to keep the front of the pocket clean.
Gets movement in the running game when the defender adjusts to try and works to the ball.
Has no problem reaching wide techniques along the line. Can get his head across the defender easily and cut them off from the play.
Big-time leverage player. Knows how to position his body in a way to keep defender from the ball. Hands and feet work very well together. Hands tend to work outside the frame of the rusher rather than inside.
If he has a weakness it is his overall strength. There are snaps when he has to take a defender right down the middle that he will struggle to keep them in place. Base tends to get a little wide and defender can knock him back.
2018 Outlook:In the one truly meaningful game they played in 2017, the Eagles' offensive line roasted the Cowboys. Philadelphia ran for 215 yards as a team, averaging 6.5 yards per carry, and Carson Wentz was not sacked. Those are some solid bragging rights for Kelce and his linemates – especially considering Jason Peters was out injured at the time. For a third-straight season, the Cowboys-Eagles series will be back-loaded in 2018. The Cowboys don't play their first game against Philly until Nov. 11, and the second meeting isn't until Dec. 9. It's hard to say how these teams will have changed by that point in the season, but the Cowboys will undoubtedly remember the 37-9 beating the Eagles put on them last year.