JAY: Jimmy, walk us through your story – how you got started and progressed as a drummer to the point where you would be on an NFL team's drumline.
JIMMY: I grew up in Franklin, TN and my story is pretty similar to a lot of the guys in the line. I started drumming in the fifth grade and my first 'marching band' experience came in the eighth grade where we would do little parades and stuff around town. A drumline called Music City Mystique would rehearse at my middle school and I would go watch them on the weekends. These guys are the best of the best and watching them really got me into drumming. All through my time at Centennial High School I did drumline. Our drumline was very competitive in the fall and winter. A lot of guys participate in Winter Guard International, which is often referred to as WGI, and it is basically a competitive activity for guys in drumline and color guard. Through all of that, I was exposed to an activity called Drum Corps International (a non profit organization dedicated to the junior drum corps), which is a summer marching band whose slogan is "Marching Music's Major League." For drumlines, it is a huge deal, literally the best of the best. I'd say roughly half of our group did WGI or DCI. I attended Middle Tennessee State University and my first three years, I would go on tour with the Blue Coats during the summer and do the college marching bands during the school year. When college band ended in November, I would go back and do Music City Mystique, the line I watched back in middle school. That lasted until April, so it was all a grind. My degree is in Mathematics Education, so I was majoring in math this entire time.
JAY: What made you want to audition for the Dallas Cowboys Rhythm & Blue Drumline?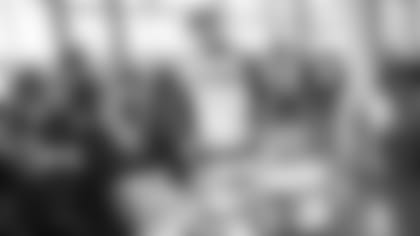 JIMMY: After graduating from Middle Tennessee, I moved here for work/to start a new adventure away from the Nashville area. When I moved here, it was the first year of the Rhythm & Blue and the drumline and drum corps community is a very small group of people. It's almost like 'Six Degrees of Kevin Bacon' but everyone in this community would be less than three degrees, so I was well aware of this team, but I also needed to focus on my career as a high school math teacher. Fast forward to four years ago, I saw the Facebook post about auditions. I auditioned in the summer of 2014 and was fortunate enough to be selected to be on the team.
JAY: Timewise, is it difficult to juggle the demanding schedules of being a math teacher as well as being on the DCRB Drumline?
JIMMY: In my current position, I am now a learning facilitator, which is basically an instructional coach for math teachers. In terms of balancing work, I am very fortunate that my job is 8 a.m.-5 p.m. on weekdays, so most of the drumline stuff takes place outside of my normal work hours. Also, being a teacher, I don't have to work on weekends or major holidays, so I consider my situation to be very fortunate in that the balance fits very well. I'm also very fortunate to have a very supportive wife, my wife Rebecca is super supportive and knows that this is something that I really enjoy doing.
JAY: How has the DCRB Drumline evolved since your first year on the team?
JIMMY: One of the biggest changes, and this may seem small, but the uniform change was big for our image in developing the brand. Just the look of a new uniform, something more clean and more fresh, the uniform change was huge in that regards. In terms of the drumline, there were some new guys in 2014 that were really committed to playing and wanted the drumline to play better and play more. My first year, we would probably play same three pieces, so one of the commitments the guys in the group made under Jenny's (Dallas Cowboys Rhythm & Blue Director Jenny Durbin Smith) direction and encouragement was to play more things and play more difficult things. Similar to how the dancers do things that challenge them, Jenny wanted us to go after music that would challenge us and in turn, that attracted more guys to auditions that could play that more challenging music and had the similar backgrounds. All of that translates to the audience and overall generates more interest for the team. I think this year is a great example of that and we are playing more than we have ever played in past seasons.
JAY: What is your favorite thing about Dallas Cowboys game day?
JIMMY: A cool moment for us, which was new last season I believe, is up on the Miller Lite Landing, we get to do a set right after the dancers perform. This takes place between sets outside on the plazas and you're really up close with the fans. Now being on the stage is great, but to get that face-to-face interaction where you are literally five feet from the fans, that is something that all of the guys on the line enjoy the most. After the parade that basically leads the fans into the stadium for the start of the game, we are back up on the Miller Lite Landing doing freestyle with the dancers. The cool part about that is we are generating that 'group mentality' that Rhythm & Blue is one group and it really helps in developing that mindset and culture.
JAY: The DCRB Drumline does a lot of appearances for things from corporate outings to community events, can you talk about that part of the team?
JIMMY: Appearances are a fun part of being on the drumline and we've shown up for events for big companies like John Deere and Goodyear and we were even featured in an episode of "The Amazing Race." You know you're going to show up and play your drums, but you never know who you are going to see and who you are going to meet. Usually our appearances are at AT&T Stadium and they are for whoever has rented out the stadium for their event and we help generate the gameday atmosphere. Recently, we were a part of the Christmas Spectacular at The Star, and that involved all of the Dallas Cowboys entertainment entities. Once again, you never really know what is going to happen at an event, and on Friday night, Jerry Jones lit the Christmas tree. The show is a 20-minute performance that celebrates the Dallas Cowboys and Christmas and it takes place every Friday and Saturday night at 6 at The Star. Our part in the show centers around a roughly five minute gap where we play to a track and we are very fortunate that we have guys in our group that can write music, so we wrote our music within and play to the track. I'm just really thankful to be a part of this organization and its evolution.