Once upon a time before iPhones and Instagram and during one of the Dallas Cowboys five Super Bowl championship seasons, America's Team was featured alongside Tom Cruise in the romantic sports movie, Jerry Maguire.
"You had me at hello" and "You complete me" were once commonplace in pop culture and in real-life romantic moments, but now as the film recently celebrated its 20th anniversary, the world is a much different place.
Then again, the Dallas Cowboys are in the midst of another storybook season behind rookie standouts Dak Prescott and Ezekiel Elliot. True Blue fans have visions of a potential Super Bowl run for the most popular team in the NFL and romance is alive and well.
Regardless of how this Cowboys season's story eventually plays out, they will have to reserve one of the book's chapters for another rookie, Dallas Cowboys Rhythm & Blue Dancer Deanna Wood. This story is of the fairy-tale quality that would wind up on the silver screen where the good guy actually gets the girl and only tears of joy are shed.
The story began with Deanna's mom actually playing matchmaker and introducing her daughter to her co-worker, Brent.
"I'm an eighth grade computer technology teacher and Deanna's mom teaches next door to me," Brent said. "Her mom introduced us at one of our middle school field days. Two weeks later, they went on a family vacation and they asked me to watch Deanna's new dog. Deanna's thank you to me was to take me out to eat. That was two and a half years ago and we've been dating ever since."
The idea for this particular marriage proposal was hatched several months ago after Brent spoke with Deanna's parents and he decided that since the Dallas Cowboys are such a big part of her life, it would be that much more special to pop the question at a game.
They reached out to Dallas Cowboys Rhythm & Blue Dancers Director Jenny Durbin Smith to inquire about the potential of doing it at a game and incorporating it into one of the dances. Durbin Smith joined forces with them in collaboration to pull off one of those magical moments in time that everyone involved will be able to instantly recall for the rest of their lives.
"I continuously strive to make the Dallas Cowboys Rhythm & Blue experience a once in a lifetime thing," Durbin Smith said. "Whenever I can enhance their time with the Dallas Cowboys organization and help with these magical moments, it's an honor."
They selected the date, the day after Christmas, which also happened to be Monday Night Football and the Cowboys' final regular season home game.
All that remained was to plot and plan while keeping it a secret from Deanna, which was not a small task considering her brother Brandon was one of the few people on the inside and they room together. Brandon essentially "walked on verbal eggshells" for over a month to ensure he didn't ruin the surprise.
"I'm really nervous today for some reason," were Deanna's last words upon leaving the locker room as the Dallas Cowboys Rhythm & Blue Dancers made their way up to the Miller Lite Plaza on the west side of AT&T Stadium.
Unbeknownst to Deanna, that was a likely sign from above that her life was about to change.
The serendipitous nature of the story continued as mere days after the most frigid temperatures in over two years blanketed the Dallas-Fort Worth area, picture perfect spring weather arrived like a dream come true. Many members of Deanna's extended family were on hand, although they were just going to the game because they were in town for the holidays and knew nothing of the big news that was set to occur while arriving just as the dancers began their performance.
The Dallas Cowboys Rhythm & Blue Dancers and Drumline were in the midst of a "battle" on stage when the team's mascot Rowdy took the stage with Brent not far behind.
"I sat behind the stage for three minutes, scared to death of what was going on." Brent said. "They gave me the wave to come behind Rowdy and there were so many people out there. But, honestly, I really didn't even notice, because as soon as I got up there, I looked right at Deanna and everything else was just a blur."
Deanna was center stage and in the zone when Rowdy tapped her on the shoulder. She paused, before turning to see Brent and almost instantaneously covering her face in an attempt to not be completely overcome with the inevitable emotion of the moment.
He got down on one knee, asked her to marry him and she said yes!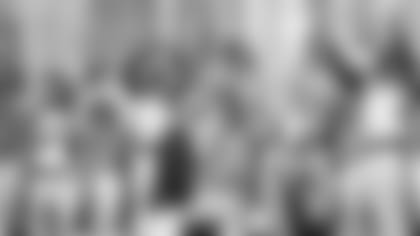 As he slipped the engagement ring on, she appeared to be simultaneously ecstatic and in disbelief as confetti covered the stage and the thousands of Cowboys fans in the plaza cheered on.
Ironically, the drumline was fully aware of what was going on, but the dancers were completely in the dark and they were overcome with emotion as they all embraced like a huge family that was celebrating something that was meant to be.
To put the proverbial icing on the cake, the Dallas Cowboys dispatched the Detroit Lions in dominating fashion, 42-21, to improve to 13-2 with only a road contest against the Philadelphia Eagles remaining before the playoffs get underway.
As for what's next for the newly engaged couple?
"Hopefully we will get married within the next year," Brent said. "And then live happily ever after."
Dallas Cowboys fans can follow Deanna on Twitter @DCRB_DeannaW