While Rod Smith has gone nearly two full months on the free-agent market without signing with a team, the former Cowboys running back has a new home. But not a new division.
Smith is staying in the NFC East by signing with the New York Giants.
After backing up Ezekiel Elliott for three years, Smith now has a new dynamic starter in front of him in Saquan Barkley.
Smith, the older brother of Cowboys linebacker Jaylon Smith, currently has 364 rushing yards and has five career touchdowns. Two of those occurred against the Giants in a 2017 game in which Smith erupted in the fourth quarter with an 81-yard touchdown catch, followed by a 15-yard rushing score.
The Cowboys decided to move on from Smith back in March, when they did not attempt to re-sign him in free agency. Behind Zeke, the Cowboys have veteran fullback/tailback Jamize Olawale and drafted both Tony Pollard and Mike Weber last month.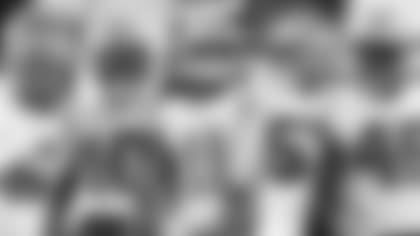 Table inside Article

| Name | Team | Status |
| --- | --- | --- |
| Tavon Austin, WR | | Agreed to 1-year contract (3/14) |
| Cole Beasley, WR | | Signed 4-year contract with Bills (3/14) |
| Cameron Fleming, T | | Agreed to 2-year contract (3/13) |
| David Irving, DT | | |
| Datone Jones, DT | | |
| L.P. Ladouceur, LS | | Signed 1-year contract (3/19) |
| DeMarcus Lawrence, DE | | Signed 5-year extension (4/9) |
| Justin March-Lillard, LB | | Signed 1-year contract (3/7) |
| Marcus Martin, G | | |
| Jamize Olawale, FB | | Signed 1-year contract (3/14) |
| Caraun Reid, DT | | |
| Rod Smith, RB | | |
| Geoff Swaim, TE | | Signed with Jaguars (3/15) |
| Darian Thompson, S | | Signed 1-year contract (3/7) |
| Damien Wilson, LB | | Signed with Chiefs (3/14) |
| Jason Witten, TE | | Officially Signs Contract (3/6) |
| Codey McElroy, TE | | Signed Reserved/Futures Contract (3/11) |
| Christian Covington, DL | | Signed 1-year contract (3/14) |
| Randall Cobb, WR | | Agreed to 1-year contract (3/19) |
| Kerry Hyder, DE | | Signed contract (3/19) |
| Eric Berry, S | | Visited the Cowboys at The Star (3/19) |
| Robert Quinn, DE | | Traded from MIA (3/29) |
| George Iloka, S | | Officially Signs Contract (3/25) |
Exclusive Rights Free Agents
Table inside Article

| Name | Team | Status |
| --- | --- | --- |
| Daniel Ross, DT | | Signed 1-year contract (3/8) |
(April 8) – The Cowboys have agreed to terms with free agent defensive lineman Shakir Soto, who recently played for the San Diego Fleet of the Alliance of American Football.
The AAF announced it suspended operations last week and authorized players to sign with NFL teams.
Soto originally signed with the Broncos in 2017 as an undrafted free agent out of Pittsburgh. He also spent time with the Raiders but has yet to play in a regular-season NFL game.
The Cowboys have also added defensive tackles Christian Covington and Kerry Hyder in free agency since the new league year began in March.
(March 25) – The Cowboys continue to address roster needs as April's NFL Draft inches closer.
They've agreed to a one-year deal with George Iloka after the veteran safety took an official free agent visit Friday. (UPDATE: Iloka signed his contract Monday.)
Iloka was a starter for the Bengals in his first six NFL seasons and started three games for the Vikings last year. The 28-year-old has 359 career tackles, 32 pass breakups and nine interceptions playing both safety spots.
In the past week the Cowboys also visited with free agent safeties Clayton Geathers (who has since re-signed with the Colts) and Eric Berry. The club has a blend of youth and experience at safety but wanted to increase its depth.
"You've obviously got (free safety) Xavier (Woods) who we're thrilled with – young, up and coming," Cowboys chief operating officer Stephen Jones said at the NFL Scouting Combine in late February. "Of course, Jeff (Heath) is doing a great job holding the down safety down, but then it's a little thin after that. Kavon (Frazier) was a late-round pick who was a good special teams player who can certainly play the down position. But I think we need to look at that position."
The Cowboys have now added depth at three positions since free agency opened March 13. They've signed two defensive linemen, Christian Covington and Kerry Hyder, and added veteran receiver Randall Cobb as a replacement for free agent departure Cole Beasley.
(March 22) – The Cowboys met with free-agent George Iloka on Friday in another attempt to upgrade the safety position.
Iloka, a seven-year veteran who spent last season with the Vikings, met with Cowboys coaches and front-office personnel at The Star.
The 28-year-old started his career with the Bengals, playing six seasons from 2012-17 before joining Mike Zimmer's team in Minnesota. Iloka has nine career interceptions and 32 pass deflections.
Iloka's visit caps off a busy week for the Cowboys in free agency, including the safety position. After not getting Earl Thomas, who signed with the Ravens last week, the Cowboys turned their attention to Clayton Geathers and then five-time Pro Bowler Eric Berry. Geathers has since re-signed with the Colts while Berry's injury history will be a concern for the Cowboys and other clubs inquiring about his services.
The Cowboys are looking for some help at the safety position that had both Jeff Heath and Xavier Woods start the majority of the games.
Without a first-round pick, the Cowboys likely won't draft until No. 58 overall. So getting some free-agent help would at least give the Cowboys more depth there before the draft takes place next month.
Overall this week, the Cowboys signed Randall Cobb and Kerry Hyder, re-signed snapper L.P. Ladouceur, and visited with Robert Quinn about a possible trade with the Dolphins, Geathers, Berry and now Iloka to help out at safety.
(March 21) – The Cowboys continue to look at potential safety options in free agency.
They're expected to visit with free agent George Iloka, a seven-year veteran who started three games for the Vikings last season.
In the past week the Cowboys have also visited with free agent safeties Clayton Geathers (who has since re-signed with the Colts) and Eric Berry.
Iloka, 28, was a starting strong safety for the Bengals in six of his first seven NFL seasons. He has 359 career tackles, 32 pass breakups and nine interceptions.
(March 20) – Two items of note for a Wednesday afternoon.
Firstly, Tavon Austin has officially put pen to paper after agreeing to a new deal last week. The veteran receiver is under contract for another year after serving as a return man and a slot receiver for the Cowboys last year.
The Cowboys have also added a second long snapper in Drew Scott, who is entering his second NFL season. Scott signed undrafted with the Oakland Raiders last year and was released during training camp. He played collegiately for Kansas State.
(March 19) – Pass-rusher Robert Quinn, who is currently a member of the Dolphins, has been given permission to meet with other NFL clubs about a possible trade scenario.
Quinn, who has 69 career sacks, is visiting the Cowboys on Tuesday at The Star and is expected to meet with other clubs as well.
Quinn, a first-round pick of the Rams in 2011, had three straight double-digit seasons in sacks, including 19 in 2013. He played last year in Miami, where he started all 16 games and had 6.5 sacks, extending his streak of at least four sacks in a season to eight consecutive years.
Quinn has one more year remaining on his current contract that is scheduled to pay him $11.8 million in base salary.
The Cowboys signed a veteran end on Monday in Kerry Hyder and still have the franchise tag placed on DeMarcus Lawrence, although the two sides are reportedly still trying to get a long-term contract.
Also on Tuesday, the Cowboys met with Pro Bowl safety Eric Berry, who was recently cut by the Chiefs.
(March 18) – The Cowboys continue to seek depth for their defensive line.
They've signed free agent defensive end Kerry Hyder, a three-year veteran who previously was part of the Detroit Lions' line rotation. Terms were not disclosed.
Defensive end depth is a priority for the Cowboys with Randy Gregory facing an indefinite NFL suspension.
Hyder is an Austin, Texas native who starred at Texas Tech. He signed with Detroit as an undrafted free agent in 2015.
For his career, Hyder has 42 tackles and nine sacks in 24 games (two starts). He had a career-best eight sacks in 2016 before an Achilles injury sidelined him for all of 2017.
(Update: According to reports, the Cowboys will visit with free agent defensive tackle Malik McDowell, who was officially released by Seattle on March 2. The Seahawks drafted McDowell in the second round two years ago, but he has yet to play in the NFL since he reportedly sustained injuries in a 2017 ATV accident.)
(March 18) – The Cowboys are visiting with free agent receiver Randall Cobb on Monday at The Star. Cobb, one of the higher-rated free agents still available on the market, spent his career with the Packers as a dynamic receiver in the slot, who can also play on the outside and return punts.
The Cowboys lost Cole Beasley to the Bills in free agency and have since signed Tavon Austin, although he isn't considered to be a full-time slot replacement for Beasley.
Cobb on the other hand, would be able to fill that role, having caught 470 passes for 5,524 yards and 41 touchdowns in his eight-year career for the Packers that has included a Pro Bowl selection in 2014.
Cobb will 29 before the start of the season, played in just nine games last year for the Packers, catching 38 passes for 383 yards and two TDs.
(March 15) – Geoff Swaim is joining Jacksonville.
The Jaguars announced Friday that they've signed the 27-year-old tight end, who emerged as the Cowboys' starter last season before a wrist injury sidelined him in November.
With Jason Witten back from retirement, the Cowboys appear secure at the tight end spot with young players Blake Jarwin, Dalton Schultz and Rico Gathers showing improvement last season. The team hasn't ruled out adding a tight end through the draft, however.
With Witten in the ESPN Monday Night Football booth last year, Swaim earned the starting job and posted 26 catches for 242 yards with one touchdown in nine games. The wrist injury (Week 11 at Atlanta) sidelined him the rest of the season.
The Cowboys drafted Swaim in the seventh round of the 2015 NFL Draft.
(March 13) – Free agent safety Earl Thomas reportedly has found a new home – and it's not the Cowboys.
Thomas has agreed to a four-year deal with the Baltimore Ravens worth $55 million, including more than $30 million guaranteed, according to NFL.com and reports. Deals can become official at 3 p.m. Central time when the NFL's new league year begins.
Wednesday's reports end speculation, once and for all, that Thomas might have joined his home-state team. The Thomas-to-Dallas rumors have swirled for more than a year outside the building. But Thomas, a six-time Pro Bowler, finished the final year of his Seattle contract in 2018 without securing an extension from the Seahawks. A week after recording two interceptions in a Week 3 win over Dallas, he broke his leg against Arizona and missed the rest of the season, waiting for his chance to become a free agent.
The Cowboys have identified safety depth as a need this offseason, but there was no indication that they were ever a strong free-agent suitor for Thomas – particularly at the nearly $14 million per year salary he's expected to get from Baltimore.
(March 12) – It appears linebacker Damien Wilson will be changing teams at the official start of free agency.
Wilson, a part-time starter for the Cowboys since 2015, has agreed to a deal with the Kansas City Chiefs, according to NFL.com and reports.
Free agents can agree to terms during this legal negotiating window but can't finalize contracts until the NFL's new league year begins Wednesday at 3 p.m. Central.
Wilson thanked Cowboys Nation shortly after reports broke that he would join the Chiefs:
Wilson would be the second Cowboys player to leave when free agency begins. Earlier Tuesday, wide receiver Cole Beasley announced via Twitter that he plans to sign with the Bills (a reported four-year, $29 million deal).
A fourth-round pick by the Cowboys in 2015, Wilson started 22 games at strong-side linebacker the past four seasons. In 2018 he started seven games and posted 36 tackles with one sack.
(March 12) – While the official free-agent signing period begins Wednesday at 3 p.m. (CDT), plenty of action has already taken place this week as players have agreed to terms around the league, taking some of luster off the actual start to free agency.
Already this week, we've seen Cole Beasley agree to a four-year contract with the Bills – the most significant move regarding the Cowboys and their free agents.
Around the NFL East, the Redskins have a deal with Landon Collins and the Eagles are trading for DeSean Jackson from the Bucs.
There have been lots of action with teams such as the Lions, Jets, Cardinals and Raiders.
But for the Cowboys, it has been quiet at The Star.
That could change as the week unfolds, but for now, it's been a slow start, which is certainly the norm around here.