IRVING, Texas – DeMarco Murray has now been named FedEx Ground Player of the Week every week for the past month.
Fresh off his 28-carry, 128-yard game against the Giants, Murray once again won the weekly award, which is voted on by NFL fans, on Thursday. This is the fourth-straight week he's won the honor, starting with his 149-yard, two-touchdown game against the Saints in Week 4.
Murray has now won the award five times this season, ceding the top spot only in Week 1 and Week 3. During his stretch of four-straight wins, he has amassed 528 rushing yards and four touchdowns.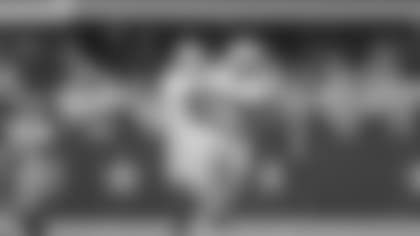 For each win, FedEx donates $2,000 to the local Dallas chapter of the American Red Cross. Murray's success so far this season means they've now donated $10,000 to the chapter this season.
The Air portion of the weekly award went to Denver quarterback Peyton Manning, who threw for 318 yards and four touchdowns – one of which set the NFL record for career touchdown passes – against San Francisco.
Murray is entering territory only occupied by former San Diego running back LaDanian Tomlinson. The future Hall of Famer won the award five times in 2005 and a whopping eight times in 2006.
Last week against the Giants, Murray also set an NFL record with his seventh-consecutive rushing performance to open a season. He leads the NFL with 913 rushing yards on the year, along with seven rushing touchdowns.