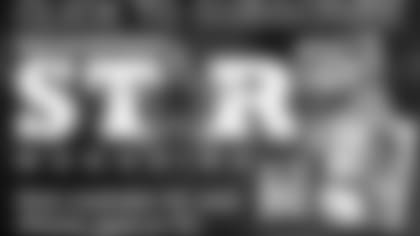 Two words that have rarely been associated with the Dallas Cowboys are likeable and underdogs. That has changed, dramatically so, in the last few weeks. Not sure there has been a team this likeable roaming Valley Ranch since Jimmy Johnson's third year here, in 1991.
That team was young, hungry, confident and on the cusp of greatness. This time around, it's more a team left for football dead, and/or 6-10, by the media and fan base alike, with a plethora of built-in excuses at its disposal, injuries first and foremost. Instead, they've somehow, against reason, won five of six and have salvaged the season.
And by likeable, let's stress, we're talking more about on a national level. This isn't a team of Michael Irvin, Deion Sanders, even Emmitt Smith, saying look at me, we're the best. This isn't a team of overpaid underperformers. This is the ultimate no-name defense, next man up, off the couch. These aren't the Cowboys of the 1970s, who were supposed to win every Sunday. These are a bunch of guys who love playing football who don't realize, or simply don't care, that they're not supposed to be winning. Even the most pessimistic fans seem to like this team.
Just look at the Steelers game. Eight players, who earlier this season were at home, unemployed, possibly finished with professional football, made significant contributions.  On defense alone, corners Sterling Moore and Michael Coe, linebackers Brady Poppinga and Ernie Sims, safety Eric Frampton, end Brian Schaefering and nose tackle Rob Callaway played 102 combined snaps, a number which would've been closer to 150 if Sims didn't suffer a concussion early in the first quarter.
And second-year undrafted free agent linebacker Alex Albright, who wasn't even a lock to make the team out of camp, with 10 tackles the last two games, including six and a QB hurry in the Pittsburgh win. Heck, Albright was taking the bulk of his snaps in August at right end. Can't fathom that even he imagined himself playing 51 snaps at inside linebacker in Week 15 with the season on the line. Jerry Jones has been a huge fan of this kid from the start, and Rob Ryan was raving after watching the film.
Also, Brian Moorman, released by the Bills earlier this season, bounced back from a miserable game at Cincinnati with a solid performance, 48 per on six boots.
No matter how the season finishes, Ryan deserves high praise for having his defense perform at the level it has despite the bevy of injuries. This is not one of those bias theories, either; that oh, woe is the Cowboys. They have suffered more injuries than any other defense. It's a fact. Check out these numbers.
The Cowboys have already had 24 players on the field for at least 100 defensive snaps. And Moore will likely see 35 snaps against the Saints this Sunday to become No. 25. No Dallas defense the last decade has had more than 20 players reach 100 defensive snaps. The data doesn't track back any further, but chances are good that no defense in franchise history, outside of possibly 1989, had more than 20 players reach the century mark.
No other defense in the NFL has had 24 players on the field for at least 100 snaps this season. The league average is 20.2. A dozen teams haven't even reached 20 players yet, and San Francisco is currently at 14. Yes, 14, as in 10 fewer than Dallas. The 49ers have had 10 players take at least 840 defensive snaps. The Cowboys have had one, Brandon Carr. That is staggering.
In the NFC East alone, none of the other three teams has had more than 20 defensive players reach 100 snaps. So the injuries haven't been overstated in the least. The Cowboys have had 36 players take the field on defense this season, or 12 more than the 49ers.
Will be a shame if Anthony Spencer and Jason Hatcher aren't named to the NFC Pro Bowl squad. DeMarcus Ware, who is playing at about 70 percent right now and deserves immense credit for fighting through multiple injuries, will likely make the team on reputation. Think Dez Bryant and Jason Witten receive nods as well and Tony Romo will be an alternate.
This could really be Romo's finest season to date. Even with the interceptions – nine of the 16 from two games, and half of those not his fault – he's the fourth-highest rated signal caller in the NFL according to Football Outsiders. Has a chance at becoming the fifth quarterback in league history to reach 5,000 yards.
Someone tweeted last week, after the game, that while the Cowboys were playing well, they still needed to get rid of Romo. Not worth even debating those people. Their football IQ is microscopic. He's now 55-36 in his career as a starter with the fourth-highest passer rating in the history of the sport at 95.7, trailing only Aaron Rodgers, Steve Young and Tom Brady.
Spencer is this team's defensive MVP this year, hands down. ProFootballFocus.com has him as the second-highest rated outside linebacker in the NFL behind only Denver's Von Miller. Don't think he has a chance at All-Pro honors, mostly because he missed two games earlier in the year, but Spencer has certainly changed a lot of minds this season. The majority thought the Cowboys made a huge mistake in franchising him this past offseason.
As for franchising him a second time, it's possible. He turns 29 in January, so a four-year deal would make sense as well, on both sides, since the franchise tag doesn't allow for a signing bonus.
Guess this isn't all that surprising considering how the game has changed over the years, but in the previous 92 seasons of the NFL, only one team, the 1980 San Diego Chargers of Air Coryell, have had two wide receivers (John Jefferson and Charlie Joiner) and a tight end (Kellen Winslow) reach 1,000 receiving yards. Yet this season, there's a real possibility that two teams will match the feat, the Falcons and the Cowboys. Roddy White and Julio Jones have already reached the mark while Tony Gonzalez is at 880 yards. For the Cowboys, Dez Bryant is already there while Jason Witten, with 923, and Miles Austin, with 898, should each crack it.
Lot of folks worried about how the Cowboys' depleted defense is going to stop the Saints from moving up and down the field. Look, that's not happening. The path to winning on Sunday is scoring a whole bunch of points and forcing a turnover or two. Not going to be 21-17. Would be stunned if 60-plus points weren't scored. Think this magical ride continues for at least one more week, Cowboys 41, Saints 27.
Oh, one final thought. Have heard a few media types and fans the last few days still talking about the possibility of Sean Payton becoming the head coach. There's honestly a better chance of Flavor Flav being put in charge of the next NASA program. Stop it. Maybe there was a 10 percent chance six weeks ago, maybe, still think Jason Garrett was always assured a third full season, but after winning five of their last six, under the circumstances, he's an absolute lock for 2013.
Honestly, really think Garrett is going to become the second-longest tenured head coach in franchise history, who is currently Jimmy Johnson at five full seasons. For that to happen, Garrett would have to be here past the midway point of 2015.
Follow Jeff Sullivan on Twitter, @SullyBaldHead, or email him at jsullivan@dallascowboys.net.