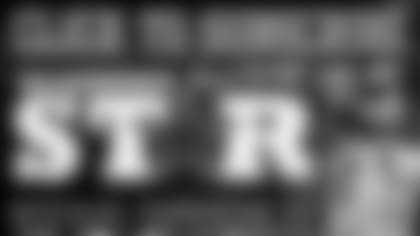 Every championship run begins with offseason leaders. Before Troy Aikman and Tom Brady captured their Super Bowl victories, one man was pushing the two quarterbacks as well as their respective Cowboys and Patriots teams.
Winning was never an issue for strength and conditioning coach Mike Woicik. Six total Super Bowl rings between Dallas and New England give credence to any football knowledge offered by Woicik.
His offseason program led to three titles with the Cowboys from 1990-96, including the team's last championship in 1995, when current head coach Jason Garrett was still backup quarterback Jason Garrett.
Garrett knew how Woicik went about his business before the strength and conditioning coach rejoined the Cowboys last year, in a shortened season with no Organized Team Activities (OTAs) or minicamps. This year is the first since 1996 that Woicik could install his offseason awards program with the Cowboys.
"It adds a little motivation to the whole thing," Woicik says. "Really, what we want is for guys to come in. When they play football games, they keep score. We want them to keep score in their training."
It's during that time in the offseason when players' self-discipline is the primary motivating factor that Woicik rewards those who go beyond the call of duty.  With three Super Bowl rings from two different teams, he knows his approach works.
And with nearly 100 percent offseason attendance this year, the Cowboys players know it does, too.
"It builds a lot of camaraderie, being able to work out together in the offseason," says Sean Lee, one of the nine offseason award winners for 2012. "That's something we had this year. We had a lot of guys there. The camaraderie was there. The hard work was there. And I think you're seeing that on the field."
All-Pro DeMarcus Ware, another recipient of the honor, says the season doesn't start the first week of the regular season, when the Cowboys play the Giants on Sept. 5. It began last spring in the weight room and in drills prior to the first OTAs.
"You build that toolbox for the offseason when you have guys that are in there giving it 100 percent," Ware says.
Woicik's award system was simple. Separate the participants by position or strength, come up with several categories, and dole out awards and incentives for the top performers in each of those areas. The Cowboys staff discussed the worthiness of those who put in the extra effort and decided to add more players to the awards list, if deserving.
The rewards varied in the past. Garrett says receiving suits, televisions or cash used to be the norm. Woicik recalls how former Cowboys head coach Jimmy Johnson would "sit and peel off $2,000" for the top offseason performer.
Those benefits aren't allowed anymore with the salary cap, so Woicik had to get creative to find ways to reward the winners.
Lee, Ware, Jason Witten, Gerald Sensabaugh, Tony Romo, Miles Austin, Jason Hatcher, Doug Free and Danny McCray, all winners of Woicik's program this year, received a parking spot at Valley Ranch, a poster in their honor and a weight room photo for demonstrating the best attendance, work ethic, leadership, improvement and performance in the offseason.
Woicik didn't want players to just show up to the voluntary workouts. As Garrett says, this is the time when a squad builds its foundation by sharing a commitment to the team to improve collectively.
Handing out awards before games count can validate how seriously coaches view conditioning and preparation during the offseason.
Garrett says players could have easily and lazily claimed they couldn't make it to workouts or that they'd return in a couple of weeks when mandatory training began. The recognized players chose not to do that. They not only were present every day, but set an example with their work ethic.
"We feel like it's important to recognize them for that," Garrett says. "Again, we're in the salary cap era now, so you can't give them straight up money or gifts or that kind of a thing, but at the same time, we want to recognize them. Parking spots are valuable over there at Valley Ranch. That's where we'll start."
The award winners paced the drills. They arrived early to workouts. But more than anything, Garrett describes them as leaders.
"A lot of them are the marquee players that everybody knows," Garrett says. "Some of them are a little less established, but they're the guys that are doing things the right way. When you have that throughout your team, that's a pretty good thing."
Noticeable names and faces comprise the majority of the offseason winners. It shocks nobody that battle-tested stars and NFL veterans like Witten, Romo, Austin and Ware took home the honor.
Ask the Cowboys' brass which players stepped up in the offseason, and Hatcher is always on the list. The defensive lineman, who finished last season third on the team with 4.5 sacks, arrived long before paid workouts began.
Woicik says Hatcher was a "presence all offseason," putting himself in position this year to finish with more than his 20 total tackles from 2011.
"We had a lot of guys in before we could officially start the program," Woicik says. "They were running workouts themselves, guys like Witten, guys like Romo, guys like Hatch. Nobody was surprised about Hatcher."
Woicik was right. Nobody was surprised.
The athletes know which players put in the work. The awards provide a tangible piece of evidence that their effort is noticeable and respected.
As Lee says, leadership can "without a doubt" begin in the weight room, before the players ever step foot on the gridiron. The tone set during the offseason allows a player like Hatcher to stand out to Lee, the Cowboys' leading tackler a year ago.
"To see him move the way he does, how big he is and the improvements he's made, that was a guy I was really, really impressed with," Lee says of Hatcher. "Physically and with his work ethic, I think he did a great job."
McCray is the only other player on the list of award winners who wasn't a full-time starter for the Cowboys, finishing with 15 tackles, a sack and a forced fumble, providing most of his value on special teams.
Visibility on the field is not what the award's about, though. McCray isn't the "rah-rah" type. While he may not be the most audible, he is one of the most accountable, and, as Woicik says, one of the most respected players on the squad.
McCray says he's battled his whole career, from high school to college to the Cowboys, hoping his hard work, dependability and reliability, along with his athletic skill, would pay off. 
If it seems recognition alone isn't enough of an honor for a player fighting to remove a special teams tag and compete for a starting safety spot and in the dime and nickel packages, think again. For McCray, his offseason work has nothing to do with a parking spot perk.
"You've got Miles, D-Ware, Romo, you've got all these guys that have been in five, six years, been in Pro Bowls," McCray says. "You hear these names and then you hear your name in there, it's real big. And it's real big to know that everybody in the organization knows you work hard and that's the stamp that you've got on you."
Whether or not McCray grabs playing time on defense isn't the point. The players are watching, and he's already won their admiration.
"When you're just working out and building team camaraderie, you see which guys are big leaders and really took on that role when they didn't have to," Ware says. "You just know that it's just a good thing when you see guys get rewarded for doing their offseason things and doing what they need to do."
Other benefits Woicik created were as simple as providing a single room at camp, a stocked refrigerator or priority on tickets. The coaches continue to conjure more ways to reward the new batch of Cowboys who are in their first year of Woicik's offseason program.
Witten, a Humanitarian Award winner, says the perks are only an added benefit of the real gift, which is being noticed among peers and coaches. He's one of the many proponents that offseason grit and perseverance should be worth something. 
"More than the award, you appreciate being honored among your teammates," Witten says. "That's what it takes to be a good football team. You've got to work hard. For our offseason program to acknowledge that, I'm appreciative for it."
If nothing else, Woicik's offseason program provides a motivational benefit and incentive to bringing the right attitude, working hard and building companionship while preparing for a new season.
Woicik's award program worked prior to the Cowboys' most recent Super Bowl season 17 years ago. A new crop of Cowboys believe it can work again.
"We had a great offseason, and I give Coach Woicik and his staff a lot of credit," Witten says. "Hopefully, it'll pay off for us. I think it did."