Thanksgiving as a holiday tradition is commonly traced to a documented 1621 celebration at Plymouth in present-day Massachusetts and is now celebrated on the fourth Thursday in November in the United States by presidential proclamation since 1863.
For Dallas Cowboys fans, it also means a day for football around 3:30 p.m.
The Cowboys have hosted the second Thanksgiving game 48 times in 50 years, beginning with the 1966 contest and annually since 1978.
The Dallas Cowboys Rhythm & Blue Dancers presented by Miller Lite, the NFL's first and only co-ed hip hop professional dance team, have been a part of the tradition since the opening of AT&T Stadium in 2009.
A huge part of this team's amazing success comes from the family environment that has been fostered by Dallas Cowboys Rhythm & Blue Director Jenny Durbin Smith and embraced by the dancers, some of whom have moved to the Dallas-area from all over the country to be a part of something special.
"I moved from the small town of Bullard (Texas) after I made the team," said rookie DCRB dancer Donald Love. "I have had Thanksgiving with my family every year of my life. I love eating my mom's cheesecake and even though she gave me the recipe to make my own this year, it will be my first Thanksgiving away from home. But I won't say I'm without family because this team is like a big group of brothers and sisters to me and Jenny has become a second mom to me."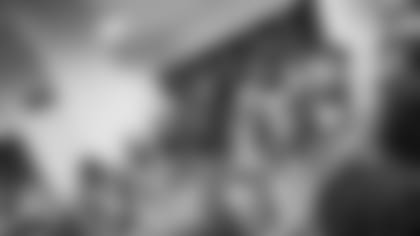 "I'm really looking forward to sitting around with the team before the game and being able to tell each other what we are thankful for," he continued. "Being a part of this team and being able to do what I love with them on Thanksgiving is what I am most thankful for this year."
While Donald is a two-hour drive from home, Kasey, another of this year's DCRB rookie dancers, moved all the way to North Texas from Nevada.
"I am from Las Vegas and moved here strictly to be on the Dallas Cowboys Rhythm and Blue," Kasey said. "Ironically, last year, I came down here for the Cowboys' Thanksgiving game with my mom, but this year will be different because I am away from home and none of my family could make it down. That's kind of hard, but I have the comfort of the family atmosphere with my teammates inviting me to spend the holidays with them. It's very heartwarming to feel so welcome and know how much we all care for one another."
"One thing that will remain the same from Thanksgiving in Las Vegas is that everyone in my family is a Cowboys fan, so we would always plan our Thanksgiving Day around watching the game," she continued. "The main difference now is that I am a part of it and my day is planned around being at the game."[embeddedad0]
As the rookies prepare for their first Thanksgiving Day as a part of the Cowboys organization, five-year veteran DCRB dancer Arianna knows all about spending Turkey Day with at AT&T Stadium.
"The Thanksgiving Day game is emotional, but a very good kind of emotional," Arianna said. "We come together as a family because we are all brothers and sisters on this team and we eat together as a family before the game. We are all so grateful and thankful to be on this team, thankful to Jenny for everything she does for us and it's really one of our best bonding experiences of the year."
The Cowboys look to win their 30th Thanksgiving Day game when they host the Washington Redskins.
Fans can follow the Dallas Cowboys Rhythm and Blue Dancers on Twitter and Instagram @DCRhythmBlue