OXNARD, Calif. – No, it wasn't a true training camp practice in terms of what we have come to expect. The Cowboys don't put on their pads until Saturday, so there are some limitations in what they can do during these first two practices.
Obviously, that's not going to stop me from taking some notes. There's still plenty you can learn from a non-contact practice, whether that's formations, assignments or depth chart movement. It just depends on where you're looking.
So here's a short notebook from the practice fields yesterday, as I jotted down a handful of observations that may prove useful heading into the next few weeks:
I don't know if Scott Linehan was messing with the practice observers today, but it was interesting to see the number of snaps where both Cole Beasley and Tavon Austin were on the field together. Linehan took the opportunity to work both on the outside instead of traditional slot, where we generally see them operate.
I saw a really nice job by Deonte Thompson of getting inside on Byron Jones on a deep "in" route. Thompson pushed up the field and then leaned on Jones, making him think he was going to the outside. Thompson then broke hard, getting him some separation. Dak Prescott read the route all the way throwing a perfect pass.
Good adjustment and awareness by Connor Williams to pick up a twist stunt from the right side. Jihad Ward tried to sneak around Datone Jones and Tyrone Crawford working down inside. Williams passed Crawford to Travis Frederick and was in perfect positon to pick up Ward.
Tavon Austin's speed is impressive when running across the field, especially from the tight spot. He makes it difficult for defensive backs to have to chase him. Prescott hit him with a beautiful touch pass in space.
The defense ran some nickel packages with Leighton Vander Esch and Sean Lee on the field together. This was the first time that we had seen this. Generally, Lee works with Jaylon Smith in those situations.
The defensive tackle rotation behind Jihad Ward and Datone Jones today was Brian Price at the nose tackle and Daniel Ross at the under tackle. Ross showed some nice initial quickness off the snap. There was one particular rep where his quickness put Travis Frederick in a bit of a bind with his technique.
Impressive catch of the day? Michael Gallup pulled a ball off the top of Duke Thomas without Thomas even realizing it was there. The pass from Cooper Rush was a little short and Gallup was able to reach back, extending his hands in order to bring the ball in.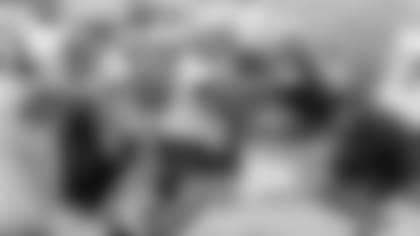 I'm really interested how they are going to roll with this defensive end rotation behind DeMarcus Lawrence and Tyrone Crawford. The initial groups were Taco Charlton at left end with Kony Ealy on the right side. The group behind them was Charles Tapper on the left side and Dorance Armstrong on the right. When Randy Gregory returns to practice he will likely be in competition with Ealy and Armstrong for that back up spot on the right side.
I will say this about Randy Gregory from my scouting eye. He looked exceptionally quick during the morning practice while working with the strength staff. They had him running the giant ring and he was low to the ground as he made the path. The most encouraging thing was he wasn't laboring at all going through those drills.
I don't know if this something we're going to see more of, but there were plenty of snaps where linebackers were coming on the blitz. There has been some buzz around camp that we could see that as a possibility and it appears that Rod Marinelli is at least taking an early look at that. At various times when the offense and defense were together, the extra rusher was in fact a linebacker -- whether it was Damien Wilson, Justin March-Lillard or Chris Covington.