(Editor's Note: In anticipation of the 2018 season, Bryan Broaddus has once again taken a break from scouting the Cowboys in order to scout the opposition. Over the next several weeks, he will take a position-by-position look through the 2018 schedule, analyzing the top five players at each spot for a better understanding of what the Cowboys are up against. The series continues this week breaking down the running backs.)
FRISCO, Texas – It's so much fun to see how the right player and the right coach can flip the league on its head.
Now, of course, there's nothing revolutionary about the season Alvin Kamara had in New Orleans last year. Marshall Faulk was doing it years ago, and guys like Le'Veon Bell are doing it right now.
But it's obvious the Saints had a plan for their young running back, as they traded a future second-round pick to draft him. Sure enough, it came to fruition. Kamara didn't just enjoy a successful rookie year as a runner, with 728 yards and eight touchdowns. He also added 81 catches for 826 receiving yards and five touchdowns – once again proving the value of a back who can do a little bit of everything.
Now, with Kamara coming off an NFL Offensive Rookie of the Year season, he'll be the Cowboys' problem to deal with on Nov. 29.
Name: Alvin Kamara
Team: New Orleans Saints
Height/Weight: 5-10/215
College: Tennessee
Experience: 2nd season
NFL Draft: Selected in the third round, 67th overall, by New Orleans in 2017
Short, compact runner. Powerfully built guy.
Initial quickness right off the first step. He is at full speed in a hurry. Can get around the corner without problem.
Easily makes the first man miss in space. Can change direction with violent lateral cuts. Explodes out of his breaks.
One of the best pass receiving backs in the league. He is targeted numerous times in a game and generally comes up with the reception. He is a weapon when he is in the open field. Outstanding route runner. You can use him all over the formation. He is a nightmare to have to cover in space. He can break defender down. Sells routes well. Defenders have no idea of the direction he's going.
He is able to run himself out of trouble when he in space.
Balance and body control to finish the run. Takes tackler's best shot and is able to continue on. I have seen him jump over tacklers on the move. Has a feel for how to work along the sideline to grab extra yards.
Is not asked to pass block much due to his ability to make plays in the passing game. In college, was an outstanding pass blocker. Was not afraid to stick his nose in the action and take on his man square.
For a young player, game is not too big for him. Clutch player. Sean Payton and the staff come up with creative ways to get him the ball. Had two or three special plays a game where they take advantage of his skill.
2018 Outlook: The first month of this season should be interesting for Kamara. With Mark Ingram suspended for the first four games of the year, we should get a nice glimpse of how he handles life as a feature back. Of course, the Saints have always favored multiple running backs, but they'll undoubtedly be looking to their Pro Bowler to carry a big share of the load. Unfortunately for the Cowboys, they don't host the Saints until late in the season, so the full power of New Orleans' backfield should be on hand for that Nov. 29 matchup.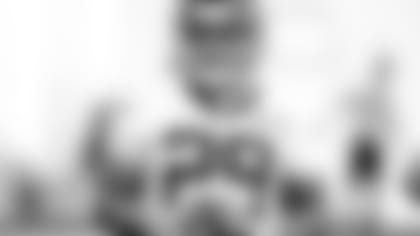 Name: Derrius Guice
Team: Washington Redskins
Height/Weight: 5-11/225
College: LSU
Experience: 1st season
NFL Draft: Selected in the second round, 59th overall, by Washington in 2018
The main thing you need to know about Guice is the physical way he runs. He is a finisher. He runs through tacklers and doesn't give up on the play. He is always keeping his feet moving.
He can make himself small to get through cracks and gaps. He has the vision to see the cuts. Patience to see the blocks develop, then takes advantage of the space.
Start-stop quickness. Can plant and explode off his foot. Attacks the line when he sees the opening.
Strong traits as a pass blocker. For a young player, he is very aware of to who pick up on the blitz. Effort is good to block. Has the upper body power to take on rushers. Technique is good. Has pride in the way he performs these tasks. Not a liability.
Catches the ball well in the flat. He can adjust and then turn it up the field. Dependable hands. Has a feel for how to work through the traffic and get out on the screen. Can finish with the ball in his hands. Has the speed to accelerate through the defense.
Plays with incredible balance and forward lean. Hard man to knock off his feet. He is a stout runner and delivers shots more than he takes them.
Can set tackles up with his running style. Can easily make the first man miss in the hole. Elusive runner. Will spin, dip and leap to keep the ball moving down the field.
For as tough of a runner as he is, doesn't have a history of putting the ball on the ground. Generally secure.
Will play with a chip on his shoulder this season after where he was selected in the draft. Many thought he was going much higher than he did. Would not bet against this player having an outstanding season.
2018 Outlook: From the time Alfred Morris fell out of favor in Washington, this has been a team that has struggled to find an identity running the ball. Chris Thompson has done some impressive work as a receiver, and the Redskins found some success with Rob Kelley in recent seasons. But Guice is another animal. Even as a rookie, he has a chance to be their feature back and a huge component of their offense, which should only be able to help Alex Smith and his receivers. If there's one thing Jay Gruden has proven good at during his tenure in Washington, it's finding creative ways to use his players. Derrius Guice figures to be a big part of the Dallas-Washington rivalry for some time to come.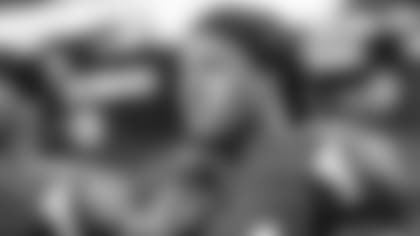 Name: Devonta Freeman
Team: Atlanta Falcons
Height/Weight: 5-8/206
College: Florida State
Experience: 5th season
NFL Draft: Selected in the fourth round, 103rd overall, by Atlanta in 2014
With so many big guys on this list, it's worth noting how much smaller Freeman is than your average NFL running back – not that it hinders him much.
He has a quick initial first step. Explosive right off the jump. Can turn his body sideways to get through the hole.
Outstanding balance and footwork. I have seen him get tripped, put a hand on the ground and extend for more yards.
Shows the ability to make the first man miss. His lateral quickness and agility is outstanding. He can start and stop in the blink of an eye.
His hands are dependable, and he uses them to catch swings and screens. Effective on the underneath routes, as well.
His running style makes him hard to tackle. Can't get a clean shot on him. Built low to the ground.
Doesn't get knocked back when carrying the ball. Is always finishing forward. Physical with the ball in his hands.
One of his best plays is the outside zone. He has a feel how to press the hole, read the blocks and make the correct cut.
Is just as good of an inside runner as he is out. Vision helps him here.
One knock: I'm surprised he doesn't fumble more with all the hard hits that he delivers. Did view a couple of games where he put the ball on the ground but his team was able to recover.
2018 Outlook: The Falcons didn't wind up needing him, considering they smashed the Cowboys, 27-7, in last year's game, but it's worth remembering that Freeman barely played a role in it. He took a hard hit from Anthony Hitchens on Atlanta's play from scrimmage and was done for the day. But if you go back to 2015, you can get a good reminder of what Freeman is capable of. In that Week 3 game – a 39-28 Atlanta win – the young running back shined. He hit the Cowboys for 141 yards and three touchdowns on 30 carries, and he added five catches for 52 receiving yards. It's that type of versatility that makes him so dangerous, and it's something they'd do well to account for in this year's meeting.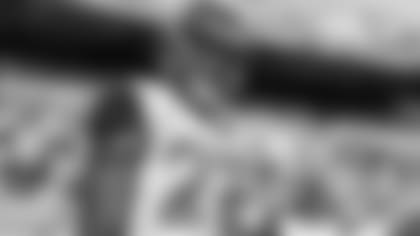 Name: Leonard Fournette
Team: Jacksonville Jaguars
Height/Weight: 6-0/228
College: LSU
Experience: 2nd season
NFL Draft: Selected in the first round, fourth overall, by Jacksonville in 2017
Firstly, Fournette has outstanding physical size.
Plays with start-stop quickness. Explosive first step to and through the hole.
Physical runner. Will lower his shoulder in order to deliver a blow to the defender.
Lateral quickness to get in and out of the hole. Will spin with both feet off the ground in order to make a cut. Can easily bounce the ball outside when necessary.
Shows leaping ability around the goal line. Have seen him launch himself from the four-yard line in order to get the ball across.
Plays with the power to run through arm tacklers. There are snaps where you see tacklers turn down the opportunity to take him on. Keeps his legs moving.
Best runs are when they toss him the ball going downhill. Tough to bring down when he gets a head of steam. Good off the edge. Will see defenders go low to try and cut him down. Best chance to stop him is if you can get him to go sideways.
Catches simple passes out of the backfield. More check down stuff. Not going to fool you with special alignment and routes. Has improved in this area since his days at LSU.
Looks comfortable with a fullback in front of him or as a single back. Shows patience when he has a blocker in front of him to allow the block to develop.
When Jacksonville has a lead late in the game, they go to this guy to close it out. Has already proven himself as an outstanding finisher.
2018 Outlook: The Jaguars look like they're heading into 2018 with a similar strategy as the Cowboys. There's not much in the way of proven receiving options, but they have a heck of a running back to help their offense move. Blake Bortles has proven he can do enough to get his team to the conference championship game, but he's not likely to get it done with Fournette in the back field to take the pressure off.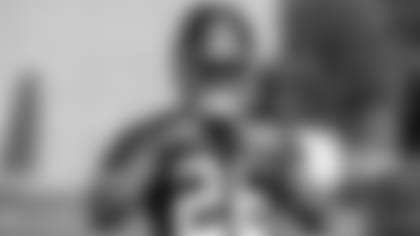 Name: Saquon Barkley
Team: New York Giants
Height/Weight: 5-11/233
College: Penn State
Experience: 1st season
NFL Draft: Selected in the first round, second overall, by New York in 2018
Square built guy. Think upper/lower body. Has the body armor to handle everyday life carrying the ball. Power to run through arm tackles. Have to get bodies to him in order to bring him to the ground.
Able to make first man miss. Avoids tacklers. Can make those jump cuts. Can bounce it outside in a flash. Vision to see the lanes with the ability to make the cuts.
Balance runner. Tremendous footwork. Plant/cut. Can break defenders down in space. Doesn't get knocked off his feet. Hard man to bring down in the open field 1-on-1.
Shows awareness around the goal line. Able to reach the ball out when necessary.
Turns simple plays into big gains. Finisher. All he needs is a little crack to take the ball all the way.
Majority of his runs in college were out of the shotgun formation, but I don't think that will bother him in the NFL. I believe you can put him deep in the "I" with a fullback or run him as a single back -- either way, there should be no issues.
Catches the ball well. Penn State was creative ways to get him the ball in the passing game.
Soft reliable hands. Has an understanding of how to get open. Hard to cover due to his quickness and lateral movement.
Square pass protector for most part but has had some snaps where he's gone low as a blocker. Keeps his balance and will deliver a blow with his hands. Knows where to fit and help while in protection.
Would not be surprised to see him as the NFC Offensive Rookie of the Year. Is that talented of a player.
2018 Outlook: This should sound familiar to any Cowboys fan. After a disappointing season, the Giants used a big-time pick in the NFL draft to try to revitalize their offense, hoping to give an aging quarterback a chance at prolonging his career. Yes, it's hard not to think about Ezekiel Elliott when you analyze the Giants' decision to draft Barkley. He has the same game-changing ability, and he should make life a lot easier for Eli Manning in 2018. Only time will tell if Barkley can help lead the Giants back into playoff contention, but his arrival in New York will present a challenge for the Cowboys for years to come.