IRVING, Texas – The Cowboys caught plenty of attention Sunday night for a play that is typically among the least-noteworthy in football.
Holding a 38-17 against New Orleans, the Cowboys went into the ubiquitous "Victory" formation – a quarterback kneel that effectively kills the remaining seconds on the clock. The play is usually a formality, as it is only used when the game has essentially been decided.
But the Cowboys' shift against the Saints during the play didn't go unnoticed.
Before setting itself for the snap, the Dallas offensive line shifted itself upright and settled back down – an homage to Cowboys teams of the 1960s and 1970s, under the guidance of former coach Tom Landry and quarterback Roger Staubach.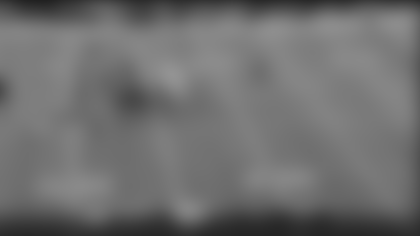 "That's one of the signature things of the Coach Landry teams, was the offensive line coming to the line of scrimmage and doing that when Roger said 'Shift,' and the backs would shift behind him," said Cowboys coach Jason Garrett. "That's an image that we all have. It's an iconic image in football."
Garrett said at his Monday afternoon media session that the Cowboys offense works on the "Victory" formation on Saturday mornings during walkthrough. The incorporation of the Landry Shift is something typically done only in practice as a nod to the past.
"There's great history and tradition in this organization – obviously, the greatest coaches, the greatest players, some of the greatest teams ever," Garrett said. "It's something we embrace and our players embrace."
On this particular occasion, the Cowboys used the shift during live action. Garrett said that wasn't a decision made by the coaching staff, but by the players on the field.
"Somehow, some way they communicated with each other to take it to the game, and it was fun to see," he said.
Ironically, the Cowboys' focus on revamping their offensive line dates the homage ever further. Only one of the team's current starting offensive line, eighth-year veteran Doug Free, was even born when Landry still coached the Cowboys. Tyron Smith, Ronald Leary, Travis Frederick and Zack Martin were all born after Landry's tenure ended.
"A lot of our players weren't alive when those things were going on, but I think they know the history and they know the tradition and they embrace that tradition," Garrett said.