FRISCO, Texas – The Cowboys found a fun reminder of their own shortcomings when they reported to practice on Thursday afternoon.
The team practiced on the indoor field, inside the Ford Center at The Star – which allowed the coaching staff to send a message. Throughout practice, the digital scoreboards flanking the field projected the score and the time from the end of Sunday's loss to the Giants.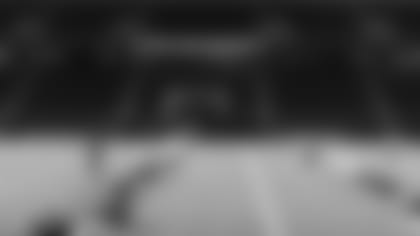 The Cowboys stress their emphasis on situational work as often as possible, and offensive coordinator Scott Linehan said Thursday was part of that.
"Guys were tuned in. We worked a nice little drill there," he said. "We're all learning, we're working hard to rectify things that aren't good enough and move forward."
It's ironic, given how the end-of-game situation played out last week against the Giants. But Jason Witten told reporters Thursday that it'd be difficult to find a team that does more situational work than the Cowboys.
"It pisses you off having to recap it and think about it, but we work through situations in two-minute, competitive situations a lot -- to play it back out, however you can do it," Witten said. "I thought we do a good job of it, though, handling those situations and learning from it."
For the record: Witten said Dak Prescott moved the offense into position for a field goal, but Dan Bailey doesn't kick during Thursday practices.