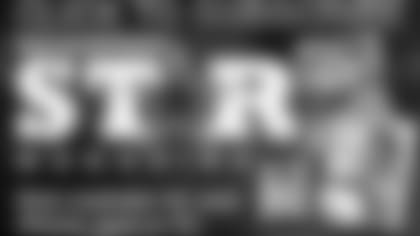 ](/star)This story currently appears in the July issue of Dallas Cowboys Star Magazine. For subscription information, please click here.
As Tom Landry sorted through the castoffs and marginal prospects the fledgling Cowboys franchise collected from the NFL expansion draft in the spring of 1960, he found one player who turned his frown upside down.
Through an unexpected turn in his career plan, Jerry Tubbs was coming home to Texas to play middle linebacker in Landry's famed 4-3 defense. 
Jerry first starred on state championship squads at Breckenridge High School, then played on three straight unbeaten teams at Oklahoma from 1954-56. He was still young and had a good future with the 49ers after the 1959 season but showed little interest in continuing his pro career.
Always a good businessman and keen student of the dollar, he explained to me a few years later that he had decided his future would go better with Coke. He said, "I had told the 49ers I probably would take a full-time position in the promotions department of Coca-Cola if it were available to me, and there was a 50-50 chance it would be. So they put me on the list of players available for the expansion draft.
"I'm sure I would have taken the job, too, but I was teaching school during the spring when it was available. I didn't want to quit in the middle of a semester, and they hired another man. I would have preferred to remain with San Francisco, but Dallas had taken me by then.
"I liked the idea of being near home, but I wasn't (thrilled with) the idea of playing for a new club. I knew there was no way we could win for three or four years. I wasn't accustomed to losing, and I certainly didn't enjoy it."
But Jerry soldiered on and in time he and the Cowboys enjoyed a lot together. The guy who thought his football career was over in 1959 stayed with the club as a player and then coach for 29 seasons, 1960-88.
---
Of course, over his nearly three decades with the team, Jerry traveled on hundreds of Cowboys chartered airliners, but the one he never forgot was the flight home after a late-season victory over the New York Giants in the '60s.
"There was ice in the turbojet engines when we took off and they started backfiring as the plane climbed," he said. "The plane started shaking and suddenly lost altitude. A stewardess ran up the aisle in a panic. Then Don Meredith said, 'Well, it's been a good 'un.'"
Fortunately for Dandy Don, Jerry and everyone else on that charter, there was a lot more to go.
For Meredith, there was a brilliant career as a broadcaster. The Pro Football Hall of Fame honored the ol' QB for his delightful work as the down-home analyst on Monday Night Football. For Tubbs, there was a record start-to-finish union with Landry.
Aside from this earnest, hard-working Texan and a precious few other NFL veterans who came to Dallas in the 1960 expansion draft, the only stars on that first Cowboys team were the blue ones on those original white helmets. The crowd that reported to the first training camp at Forest Grove, Ore., was the Ellis Island of the NFL.
"We were just a bunch of strangers," Tubbs said.
Fellow Texan Bob Lilly, the All-America defensive tackle from TCU who joined the Cowboys in '61 as the club's first No. 1 draft choice, fondly remembers Jerry.
"At first, the Cowboys didn't have enough athletes," Lilly said. "Too many players had come from other teams in the twilight of their careers. I was sure happy to find a few exceptions, like Jerry Tubbs – a tremendous competitor and good leader."
He definitely was a clutch player. Jerry set the stage for the Cowboys' upset of the Steelers when he scrambled back and leaped to intercept Bobby Layne's pass on the Dallas 38 with 10 seconds left in the '61 season opener to set up the Cowboys' first NFL victory, a 27-24 thriller with Pittsburgh in the Cotton Bowl. Eddie LeBaron threw 41 yards to Bill Howton, who stepped out of bounds on the Steelers' 21 with one second left. Rookie Allen Green then kicked a field goal and an estimated crowd of 23,500 screamed as loudly as it could.
The Cowboys had come home from training camp at Northfield, Minn., feeling a little better about themselves. Now they had some hope for the future.
Jerry knew he had some fresh help on defense when weakside linebacker Chuck Howley reported to camp in August '61 after a trade with the Bears. An all-around athlete at West Virginia, where he was a 10-second sprinter, Howley sat out the '60 season after missing part of '59 with a knee injury. He was back home in business in '61 when the Bears traded him to Dallas for a ninth-round choice in the '63 draft.
"That may be the best trade we ever made," Jerry said. "Chuck Howley gave up his service station to come to camp. He had great football instincts. He was fast and he was a ballhawk."
Howley, a member of the Ring of Honor, played 12 years for the Cowboys. He is unique in Super Bowl history, the only MVP from a losing team (Colts 16, Cowboys 13, SB V). He is one of several Cowboys who deserve to be in the Pro Football Hall of Fame but isn't.
First Tubbs, then Lilly, then Howley. The Cowboys had three defensive players with long futures, but a lot more were needed. In '62 they added George Andrie, Cornell Green, Dave Edwards and Mike Gaechter. In '63 and '64, top draft choices Lee Roy Jordan and Mel Renfro checked in for long, long stays. By '65, Meredith was blossoming into a first-rate NFL quarterback and an explosive, young offense started to come of age.
The Cowboys played the defending champion Packers down to the wire for the NFL title in '66 and '67. In the '70s they won two Super Bowls and narrowly lost three others. When Jerry Jones bought the club in February '89, Landry and Tubbs left. The Cowboys' overall record: 270-178-6. They had made the playoffs 18 times.
It was quite a journey from the day Tubbs and Co. began as the Ellis Island of the NFL.
---
When this Original Cowboy died last month at 77, his longevity with the club was exceeded only by that of Landry, Tex Schramm and Gil Brandt.
Lilly and Renfro, two of Jerry's defensive teammates who became Hall of Famers, always will have fond memories of him.
"His back hurt and his knee hurt," Lilly said, "but he was what Coach Landry was looking for in a middle linebacker – smart and a tremendous competitor. Gosh, he made 30 or 40 tackles in some games."
Renfro admired how he led by example.        
"He wasn't a very vocal guy," he said. "He was nuts and bolts. … Everybody loved him."
Everybody on his side, that is.
On Nov. 20, 1960, the winless Cowboys played the 49ers in the wet, gloomy, almost-empty Cotton Bowl. They blew a lead in the final six minutes and lost again, 26-14, but Jerry played brilliantly. He made 20 tackles against his old teammates, but was angered and frustrated by the futility of it all. Once he ripped off C.R. Roberts' helmet and threw it 25 yards. Without Roberts' head in it, fortunately.
"We don't have any poise," Jerry moaned afterward. "We should have won that game."
He always was good at getting to the point. 
During National Dairy Week after the Cowboys' 0-11-1 first season, Jerry and teammate Mike Falls battled Cotton Davidson and Max Boydston of the rival AFL Dallas Texans in a milking contest in Ferris Plaza across from the Dallas Morning News building. They went down in udder defeat.
After the Texans won easily, Jerry turned to Falls and sighed. "Well, Mike," he said, "that's 12 for 13."
Lesson learned. After that, the Cowboys stuck with football, Jerry stuck with the Cowboys and those frowns, like Landry's when he first saw a certain middle linebacker's name on his roster, turned upside down.
Sam Blair, a writer and columnist for The Dallas Morning News for 41 years, was the paper's original pro football writer.