_(Editor's Note: In anticipation of the 2018 season, Bryan Broaddus has once again taken a break from scouting the Cowboys in order to scout the opposition. Over the next several weeks, he will take a position-by-position _look through the 2018 schedule, analyzing the top five players at each spot for a better understanding of what the Cowboys are up against. The series continues this week breaking down the offensive tackles.)
Name: Trent Williams
Team: Washington Redskins 
Height/Weight: 6-5/320
College: Oklahoma
Experience: 9th season
NFL Draft: Drafted in the first round, fourth overall, by Washington in 2010
Starter at left tackle.
Tremendous athlete for his size. Moves like a much smaller man.
Hard guy to capture the edge on.  Footwork allows him to keep his man wide.
Rare player when he is out in space. Can punish defenders when out in the open field. Is able to sustain his blocks all while moving down the field.
One of the most physical tackles in the league. Does everything in his power to destroy his opponent. Really does a great job of finishing his blocks.
Don't have to worry about him as a 1-on-1 blocker. Explosive player.
Gets movement in the running game with power. Pushes his man around. When he gets locked up, defenders have a hard time getting away from him.
Plays with lower-body flexibility in the knees and ankles. Not stiff moving at all.
Can really change direction. Plays in control with body balance. Contact balance is good.
Outstanding when it comes to pulling/trapping. Gets on his path quickly and is able to track his man. Plays well with his angles. Don't see him out of blocking position.
Rare in that it doesn't matter the type of player he faces – can match him with power or athletic ability.
Has had his struggles over his career with various injuries but it does not appear that it has robbed him of any of his overall ability.
Old school offensive linemen that could have played in any era.
2018 Outlook: When it comes to respect, Williams has clearly gotten that from his peers around the league. He's made six straight Pro Bowls since the 2012 season. However, he has decreased his number of games played for four straight years. Since playing all 16 games in 2013, Williams has participated in 15, 14, 12 and then just 10 games last year as he has battled through various injuries. However, it's clear that when he is healthy, or even close to it, Williams is one of the more dominant left tackles in football.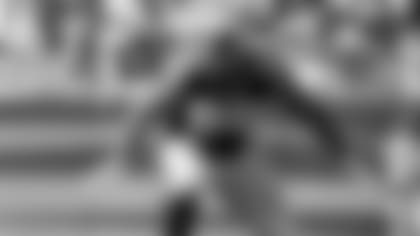 Team: Carolina Panthers
Height/Weight: 6-6/330
College: Oklahoma
Experience: 4th season
NFL Draft: Selected in the fourth round, 102nd overall, by Carolina in 2015
Lines up at right tackle.
Good initial quickness. Light on his feet for a man so large. Can easily wall off his man due to his movement.
Nice job of adjusting to the rusher. Doesn't get caught with his weight on the outside foot. Plays with balance.
Manages to keep his head out of the block. Doesn't become overextended. Bends his knees.
Doesn't get driven back. Sits down on the rusher. Hard guy to push back because of his upper/lower body power. If you rush him down the middle you have little chance for pressure.
Gets movement on the down block. Can secure the edge with power. Good blocking angles.
Aware player. Has a feel for what is happening in front of him. Quick to use his eyes to scan in order to secure the right man.
Works hard to finish his blocks. Can wear rushers down with his style. Type of player that keeps coming at you. Size makes him hard to deal with.
Good player 1-on-1. Generally doesn't need help. Talented enough to do things on his own.
Carries his hands in a hitting position and is not afraid to strike with them. Can stop a rusher's charge with his punch.
Better have a plan for how to deal with him as a rusher or he's going to frustrate the heck out of you.
2018 Outlook: Considering the multiple aspect of Carolina's offense, it can be pretty crippling when its offensive line struggles. The Panthers have one of the game's most dynamic quarterbacks in Cam Newton, and they've added Christian McCaffrey and Curtis Samuel to make their attack even more versatile. It's paid dividends, if their fourth-ranked rushing offense from 2017 is any indicator. Williams figures to be a big part of that in 2018, and if he and his linemates are on their games, it should prove to be quite a challenge for the Cowboys in their season opener.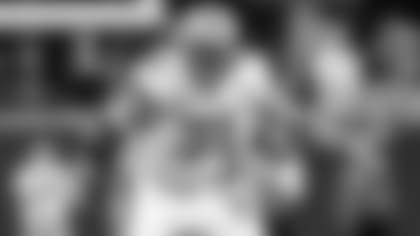 Name: Ryan Ramczyk​
Team: New Orleans Saints
Height/Weight: 6-6/314
College: Wisconsin
Experience: 2nd season
NFL Draft: Selected in the first round, No. 32 overall, by New Orleans in 2017
Lines up as the right tackle. Tremendous rookie season.
Gets into his block in a hurry. Outstanding quickness off the ball. Gets movement off the line due to his quickness. Defenders have a hard time dealing with his size. Playing speed is very good.
Initial pass set is good. Footwork helps him here. Able to force his man wide. Patience as a blocker. Doesn't lunge or put himself in poor blocking position.
Wide rushers don't bother him. Comfortable getting to the outside no matter where his man lines up. Plays on his feet. Nice flexibility in his body. Ability to bend in the knees.
Ease of movement for second-level blocks. Can sort scheme out with guards or tight ends. Shows body control and balance. Not all over the place in his movements.
Tends to carry his hands low as a pass blocker. Can be a little late in getting them into position.
Has the power to set his feet on his pass set. Don't see him getting walked back into the quarterback.
Smooth to get out in space with the ability to adjust to defenders.
Can stretch the hole wide with his reach blocks. As the defender moves, he is able to move with him. Good blocking angles. Can seal the edge when goes down inside.
Aware to help on the blitz. Eyes tracking the blitzer. Slides over to help. Doesn't give free runners at his quarterback. Able to process information.
Works hard to finish his blocks. Plays to the echo of the whistle.
2018 Outlook: A full offseason should benefit Ramczyk's development. Hip surgery forced him to miss most on-field work with the Saints last spring, but he emerged as a versatile addition to their offensive line for all 16 games, filling in for Terron Armstead and Zach Strief at both tackle spots. Strief retired in March, paving the way for Ramczyk to become the Saints' full-time starter at right tackle. That should set up an intriguing matchup with Cowboys Pro Bowl defensive end DeMarcus Lawrence in November.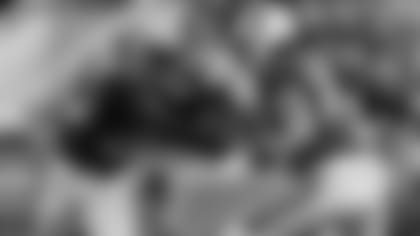 Name: Taylor Lewan
Team: Tennessee Titans
Height/Weight: 6-7/309
College: Michigan
Experience: 5th season
NFL Draft: Selected in the first round, No. 11 overall, by Tennessee in 2014
Lewan lines up at left tackle.
Quickness out of his stance. Really comes off the ball. Can get lateral in a hurry.
Footwork is his best trait. Maintains body position and balance throughout the block.
Plays on his feet, rarely on the ground. Base will get a little narrow but nothing
troubling overall.
He gets movement in the running game. Plays with leverage. Works his hands inside
the defender for control. Strong hands to hold rusher in place.
Adjusts well with the defender. Can set wide, then come back inside to cut the rusher
off.
Patient blocker. Doesn't get too excited or over extended as the rusher is coming up
the field. He will let the rusher show all his moves before Lewan becomes
engaged. The more movement a rusher has, the better he plays.
Passes off stunts easily. Works well with his teammates. Aware to what is happening up
front.
Gets to the second level without issue. His length and feet allow him to work his
man past the hole.
If he gets in trouble, it's with a rusher that is able to play with power. J.J.
Watt was able to snatch him out of his stance a couple of different times.
Played some outstanding fronts in 2017 -- Seattle, Jacksonville, Pittsburgh and the
Los Angeles Rams -- and was more than up to the task. Will usually out-athlete
his opponent.
2018 Outlook: The Cowboys' offensive line gets plenty of praise – and rightfully so. But anchored by Lewan, the Titans have built themselves something special in Nashville. With Lewan and Jack Conchlin anchoring the tackle spots, Tennessee also has a talented trio of Quinton Spain, Ben Jones and Josh Kline on the interior. This is a fairly young group, and they have a talented duo of Derrick Henry and Dion Lewis running behind them. If Marcus Mariota can continue to improve, Lewan and this unit should see plenty of accolades coming their way this year.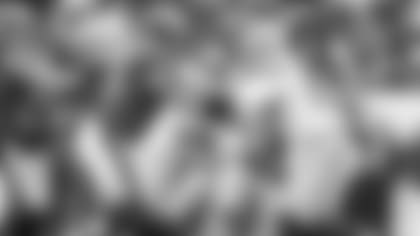 Name: Lane Johnson
Team: Philadelphia Eagles
Height/Weight: 6-6/317
College: Oklahoma
Experience: 6th season
NFL Draft: Drafted in the first round, fourth overall, by Philadelphia in 2013
Johnson lines up as a right tackle. There have been some special scheme snaps where he lined up on the left side.
Quick footed. Plays with lateral slide. His pass set is good. He has the ability to recover when things don't go well. Rushers try to take him wide, then work back underneath -- but they don't have much success.
Outstanding second-level blocker. Gets in position with ease. His movement skills are ideal. He is rarely on the ground.
Hand fighter. Very active. It's like watching a boxer that is a counter puncher.
Nice with the inside cut off. Will stay flat along the line, then work under his man while going up the field. Stays on his feet.
Doesn't always handle power well. He really has to fight to get his feet set when pass blocking. He will struggle to sit down on his man. The better the athlete, the better he plays.
He has success finishing his play. Has a nasty side to him when working this way.
Generally plays with outstanding balance. Can easily pass the twist stunts. Maintains position.
Processes information. Smart player. He is not fooled by scheme. He is more than willing to help. Not the type of guy that just blocks air.
Gets movement in the running game by working his feet and not with power. Stays with his man and as they move, he goes with them. Doesn't become detached.
One of the most athletic tackles in the league. Has to play this way in order to compensate for his lack of power in his body.
2018 Outlook: If not for a 10-game suspension in 2016, Johnson would likely be even more established among the best tackles in the league. He made his first Pro Bowl during the Eagles' run to the Super Bowl last year, and he figures to be established in Philadelphia for some time, given that he signed a six-year extension in 2016. If his career trajectory is any indicator, Johnson – who is just 28 – should continue to thrive on the Eagles' line for the foreseeable future.