Each week, Lindsay Draper goes Behind the Enemy Lines to discuss what's happening with this Sunday's opponent. This time, she caught up again with Redskins writer Jacob Kring-Schreifels (@jakeks19) to answer some pressing questions about the Redskins, who don't exactly look the same as they did just a month ago.
Jacob Kring-Schreifels | Writer/Digital Media for the Redskins | Twitter: ‪**@**jakeks19
With the injury to Alex Smith and injuries piling up on the offensive line, in what way do you believe the Redskins could piece together a win on Thanksgiving?
It's not unreasonable to think this Redskins team is still in good shape to win the division. Their formula for winning games has centered on establishing the run and winning the turnover battle on defense – something that ultimately helped Washington beat Dallas several weeks ago. All things considered, Colt McCoy taking over for Alex Smith shouldn't change too many things on offense. His five years of experience within this offense adds a layer of confidence for the entire unit, knowing he won't miss much of a beat.  
As for the offensive line, the patchwork group might get some good news this week if left tackle Trent Williams decides that the cast around his right thumb is flexible enough to play with. He's missed the last three games after dislocating it in New York, and after season-ending injuries to guards Shawn Lauvao and Brandon Scherff, his presence would offer McCoy some much needed comfort. If the Redskins can get Adrian Peterson going early, and give McCoy the benefit of play-action, I don't see this offense regressing too much at all in Smith's absence.
The Cowboys have new offensive look since the first meeting, with the addition of Amari Cooper and a revamped offensive line. How does Washington plan to handle this offensive attack?
The Redskins held Elliott to his season-low 33 rushing yards in the teams' last matchup, but the defense hasn't looked as dominant in recent weeks, allowing high-octane passing offenses in the Falcons, Buccaneers and Texans to rack up more than 100 net yards on the ground. Head coach Jay Gruden said Tuesday that he still likes where the Redskins are as a defensive unit, but that they might need to make some adjustments against a Dallas team that isn't as dangerous through the air.
Of course, the Redskins didn't see Amari Cooper the last time they played. I would expect cornerback Josh Norman to travel with him for most of the game. That's what he's done for the past three weeks against Julio Jones, Mike Evans and DeAndre Hopkins. Despite some of the holding calls last week, Gruden has liked how Norman's fared in those matchups and, regardless of whether cornerback Quinton Dunbar (shin injury) will play on Thursday, he will probably pit him with Cooper.
Colt McCoy's last win came against the Cowboys in 2014. Realistically, what all will he have to do on Thursday – will they change much for him in a short week?
As I briefly mentioned at the top, McCoy is in his fifth season under Gruden's offense, which is a rare background to have as a backup quarterback. He has waited patiently for the past few years and prepared diligently every week as though he were the starter. Most of the time, that has little bearing on the actual season – Kirk Cousins never missed a game once he was named the starter – but in this unfortunate case, he will be more than ready to take over.
McCoy's knowledge of the offense was on display in the second half of the Texans game. His second play was a corner route touchdown pass to tight end Jordan Reed, and he orchestrated another touchdown drive to take the lead, using his legs and smarts. It was a window into how the offense will function on Thanksgiving – McCoy will use his mobility to pick up first downs, facilitate with sharp, quick throws and, unlike Smith, take a few more chances downfield. The short week shouldn't be too much of an issue either, as McCoy has studied this team for a while now. He said the game plan is still fresh from seeing Dallas in October and hopes his own semi-homecoming (his family is from Texas) will culminate in a big day.
Without much practice time, Colt McCoy knows he's had to, at the very least, make sure everyone is comfortable with the details. "The biggest thing for me is probably just getting in and out of the huddle, calling the plays, communicating with those guys, letting them get used to my voice, my cadence, just detailing small things like that out," he said.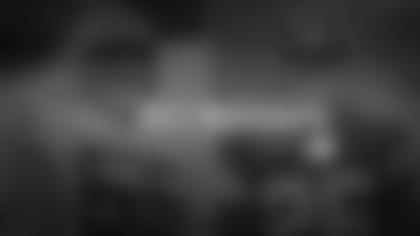 Here's a look at the two big matchups that stand out to me in this Thanksgiving Day matchup with Washington.
Dallas Cowboys G Zack Martin vs. Washington Redskins DT Da'Ron Payne
In the previous meeting between these two clubs, Jonathan Allen, Matt Ioannidis and Da'Ron Payne made life difficult for the Cowboys, especially running the ball with Ezekiel Elliott. There was a time where the Redskins didn't have the inside power they play with now, but in the previous two drafts, they've addressed that with the additions of Allen and Payne. 
For this matchup, I'll focus on Da'Ron Payne. Payne is a big-bodied man that just doesn't sit in one spot and work to take up blockers. One of his many qualities is that he never stops attacking the blocker. He is non-stop and he will beat blockers down from the opening snap until the final whistle. There is some violence in the way he plays with his hands. It is not difficult for him to control his man at the line of scrimmage, then discard him as if it was nothing. 
To handle Payne, you have to be able to match his power, which is exactly what Zack Martin did when he faced Payne the first time. Martin did a nice job against Payne, especially when he was rushing the passer. There were several snaps where Payne tried to bully Martin, but he would have nothing of it. Martin was able to get his hands inside on Payne first, which allowed Martin to sit down on him to hold him in place.
He will need to be able to do that consistently to help this Dallas ground game play effectively.
Dallas Cowboys LB Leighton Vander Esch vs. Washington Redskins RB Adrian Peterson
Adrian Peterson is as rare as it gets when it comes to carrying the ball. He is still competing at a high level with the Redskins. If you asked me to pick the most dangerous offensive player for them, there is no question that Peterson  would be my choice. 
Despite his advancing age, he still processes the ability to make those jump cuts in the hole while going full speed. Peterson's entire career has been spent making that first tackler miss. As a tackler just when you feel you have him in your sights, he will have you grasping at air. He plays in an offense now where they hand him the ball out of the shotgun and give him the opportunity to pick his path. He still has the speed and quickness to turn the corner, and he will once again be a challenge for the Cowboys' linebackers to have corral. 
Since the last meeting, Leighton Vander Esch has taken over for Sean Lee, who was the starter on that day. Vander Esch did get to face Peterson before, so the rookie knows what he's up against. Vander Esch had some issues getting off blocks in that game, but one of his tackles was on Peterson in open space on a toss sweep. 
Vander Esch has been lights out since taking over for Lee and with the Redskins struggling with the health of their offensive line coming into this game, the rookie should be poised for a big game. I don't see the Redskins changing their game plan much with Colt McCoy in the lineup. They're going to want to get Peterson going early and often, so it will be up to Vander Esch and his teammates not to allow that to happen.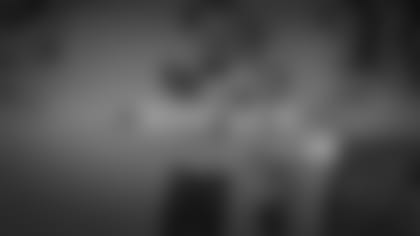 It's a short week, so it's time to get to work on this upcoming opponent.
We've already seen the Cowboys and Redskins play once, and it's important to take some lessons from that game going forward. It's easier to get a feel for your opponent when you've already seen your guys line up against them once.
Here's my first look at this 6-4 Washington team and some of the player I think the Cowboys would be wise to account for in this game.
Nemesis: S D.J. Swearinger
D.J. Swearinger is one of those players that you hate playing against but absolutely love having as a teammate. Watching him play, you can tell that he enjoys getting under the opponent's skin. There is an obvious edge to his game. He's not afraid to take a cheap shot or rough up the ball carrier in the pile.
For his lack of size, he plays with tremendous toughness. Swearinger is not a tough guy to find on film, because he is generally in the pile. Due to his hard-hitting style and demeanor, he has a knack for creating turnovers. The last time these two teams met, he knifed inside the blockers and put a big hit on Dak Prescott to knock the ball loose on a quarterback sneak. He absolutely takes advantage of the opponent's inability to account for him in the running game, especially when he plays around the line of scrimmage.
Swearinger is a sneaky player in the way he goes about his business. If he sees the ball, he's off to it. He will also show up in pass coverage. There have been times where he has been good, then others where it's been a struggle for him. He likes to gamble by jumping routes, and that will get him in trouble. I have seen opponents take advantage of those situations by moving him with fakes.
Bottom line: he has the speed and quickness to make those range plays, but playing around the line is his strength. D.J. Swearinger shows no fear in the way he plays and he leaves everything on the field as a player.
It's another week and another outstanding tight end for the Cowboys to prepare for. Jordan Reed is more in the line of Zach Ertz than Austin Hooper. All these tight ends the Cowboys have faced these previous three weeks all have one thing in common: they have outstanding hands, and they will extend them away from their bodies or go high above their head to bring the ball in. This is what makes them so difficult to defend. They're like big wide receivers with body control and balance. These guys all catch the ball easily, whether it's in open space or contested. Another trait these guys have is their ability to play flexed or detached. Get these guys in space and they're tough to cover.
What makes Jordan Reed so dangerous is that he can win right off the snap. Like I said earlier, he makes moves like a receiver. He's extremely quick in his routes and he will drive his man off the line in order to create separation. To cover Reed, you have to be able to run with him. So Jeff Heath and Xavier Woods are going to need to be ready for that. He does an outstanding job of playing on the move. Reed shows some run after the catch and is impressive in the way he covers ground with the ball in his hands. He had one of his best games of the season against the Houston Texans with targets and receptions. There is no question that Jay Gruden will load him up after seeing some of the issues the Cowboys have had defending the position.
Under the Radar: LB Zach Brown
Other than giving up big numbers to the New Orleans Saints and Atlanta Falcons, you can say the Redskins have played well defensively. A great deal of that credit should go to the defensive line with the additions of Jonathan Allen and Da'Ron Payne, but their linebackers deserve some praise, as well -- especially Zach Brown.
In the previous meeting between these two clubs, Allen and Payne played well, but it was Brown who was just as outstanding. Brown ended up with 9 combined tackles, a tackle for loss and a quarterback hit. He was all over the field that day for the Redskins, making several of those stops sideline to sideline. What I missed about Brown's game was his ability to run. There were several snaps where he just outran the Cowboys blockers to the ball. He would read the play from his position, then take off after the ball. Ezekiel Elliott had a hard time getting to the outside and turning the corner due to his play.
There is no question that Brown has benefited from those big bodies in front of him, but there is plenty of athletic ability there to make stops. If the Cowboys are going to have any offensive success, blocking Allen and Payne is an absolute must -- but they will also need to make sure that Zach Brown is accounted for. If they do leave him unblocked, I promise he will have another game where he makes this offense pay for that mistake.