Each week, Lindsay Draper goes Behind the Enemy Lines to discuss what's happening with this Sunday's opponent. This time, she caught up again with Saints senior writer John DeShazier (@JohnDeShazier) to answer some pressing questions about the Saints, who enter Thursday's game with a 10-game winning streak.
Just give us the secret that no one can find the answer to – what in the world is the key to slowing down this offense commandeered by Drew Brees?
Honestly, I don't know if there's a good answer for that. If I were a defensive coordinator, I'd say make it one-dimensional and sell out against the run. The Saints' offense, when balanced and forcing a defense to defend everything, is brutally efficient. Forcing a team to be one-dimensional generally works, but against the Saints, that means putting the ball in Brees' hands and the game on his shoulders. And that's a dangerous place to be these days. Now, maybe – maybe – you take away receiver Michael Thomas and try your luck with Brees leaning on the other receivers. But Philadelphia lost 48-7 doing that, and Atlanta went down 31-17. The best suggestion I'd have is this: Keep everything in front of you on defense, make them drive the length of the field, eliminate the big plays as best you can, and hope that they make a mistake or two in the process. The more snaps they have to take, the more possibilities of a fumble, penalty, sack, interception (I know, Brees only has two, but it's possible) or something that throws a wrench into the drive. If you can hold this Saints team to field goals, those are defensive wins.
It's been a year since any team has rushed for 100 yards on the Saints defense. Ezekiel Elliott is a threat on both ground and air – how do you think the Saints will handle him?
The Saints did a decent job of population to the ball against Todd Gurley when they played the Rams (he had 13 carries for 68 yards, but a 24-yard carry helped swell his numbers), so I'd imagine a similar approach will be used here. Elliott is just as dynamic and as much of a game-changer, but the Saints have done a great job of winning up front defensively and clogging lanes. What also has helped New Orleans is taking early leads. Teams in comeback mode usually give up on the run game when they're down a couple of scores in the second half, and that can take the ball out of Elliott's hands. Otherwise, get as many people around him as possible, because he's usually too much of a load for one defender.
Rookie linebacker Leighton Vander Esch is a defensive rookie of the year candidate – how do you think he keeps up with former offensive rookie of the year, Alvin Kamara?
He doesn't. I know that probably sounds a bit harsh, but one-on-one doesn't really cut it against Kamara. He's faster than he looks (he kind of glides), he's stronger than people think and he has great balance. And one of the biggest problems he presents is, if too much attention is given to him, he's a great decoy. No slight to Vander Esch (I think you can remove the "candidate" part off of it; for my money, he's the Defensive ROY). But Kamara can be equally dangerous as a receiver (57 catches, 519 yards, four touchdowns) and runner (150-706-11), and he's fresh because he splits snaps with Mark Ingram (90-440-4 rushing, 13-134-1 receiving). If the Saints see him one-on-one, they'll take their chances with that.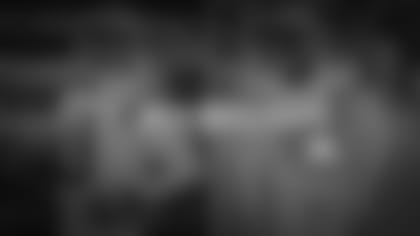 Here's a look at the two big matchups I'm watching in this highly-anticipated showdown against the Saints.
Dallas Cowboys WR Amari Cooper vs. New Orleans Saints CB Eli Apple
Since arriving via trade from the Oakland Raiders, Amari Cooper has lived up to the billing as a top flight wide receiver. It's no secret Cowboys' offense was stuck in neutral relying on a committee of receivers. Cooper has not only opened up opportunities for Scott Linehan. but he has also improved those around him. This offense has moved the ball with more consistency, and it's that consistency that has resulted in this three-game winning streak.
Defensive coordinators now have to make a decision when they face this Dallas offense: do you sell out and defend the run, or do you force Dak Prescott and Amari Cooper to beat you through the air?
Saints defensive coordinator Dennis Allen will likely focus on controlling the run and allow the duo of Marshon Lattimore and Eli Apple to deal with these Cowboys receivers. Allen has to believe that he can handle this Cowboys passing game with his cornerbacks.
The one advantage that these Cowboys coaches have is that they're very familiar with Apple's work while with the New York Giants. To his credit, he's done an outstanding job of coming in and fitting right into the scheme. My expectations are that Linehan is going to work hard to keep Cooper away from Lattimore and find ways to match him with Apple as much as possible. Apple is not as sticky as Lattimore, and where Prescott has had success throwing the ball to Cooper has been when there is separation.
The Cowboys will try to wear Eli Apple out with Cooper and force Dennis Allen to have to make an adjustment if they want to travel Marshon Lattimore with him.
Dallas Cowboys CB Jourdan Lewis vs. New Orleans Saints RB Alvin Kamara
I know what you guys are thinking here, but please hear me out. If I am Rod Marinelli and Kris Richard, I would consider treating Alvin Kamara as if he was a wide receiver in this game.
Lewis is not a starter, nor does he see action in the nickel, but there are situations where this Cowboys defensive unit will line up and play dime. With as many weapons as the Saints have on offense, how you match up will be key -- but more importantly, how well you cover them is a must. Putting linebackers and safeties on skill guys like Kamara doesn't really work out out that well.
Game after game that I've studied has brought me to the conclusion that you need to take guys that have specific roles and play them in spots where they can do the most good. So how do you neutralize a player that has rare receiving skills but is not a traditional wide receiver? Put a defensive back that has the ability to cover -- but more importantly can handle a player that plays well in the open space.
I am not calling for Lewis to take Kamara every snap, but by using him you may be able to get a stop or two on early downs with the understanding that you might see Drew Brees go in his direction to secure a first. Lewis is not giving up height, but he is giving up some power. Tackling Kamara in the open field is no easy task -- even for a guy like Leighton Vander Esch or Jaylon Smith.
These coaches need to figure out a way to limit Alvin Kamara the best way they can and using seldom-used Jourdan Lewis might give them just that.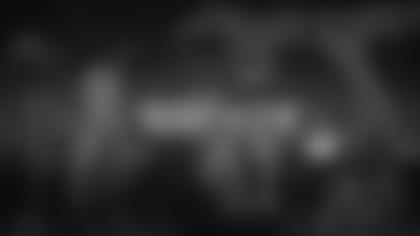 It's only Monday, but it's time to get focused on this high-powered opponent coming into AT&T Stadium.
I spent my weekend watching the Saints, and as you might expect I came away pretty impressed. We know this is an explosive team, and we know the Cowboys will have their hands full – but let's take a deeper look.
These two teams haven't played since 2015, so plenty has changed. Let's take a look at what the Saints bring to the table.
Studying Drew Brees this week in preparation for the game, I didn't think he could have gotten any better -- but he has. He is still playing at an elite level despite his advancing age. Sean Payton has built a team around him unlike any that he has ever had to work with, and that includes the Super Bowl-winning club of 2009. The Saints offensively are so well balanced that it just doesn't require Brees to be the one carrying the entire load.
Brees has always been able to move in the pocket, but it's a trait he developed out of necessity due to his lack of height. He will often slide to his left or right in order to find a lane to deliver the ball. It is not an ideal situation for him to sit in the middle of the pocket and attempt to complete passes. It is this pocket mobility and awareness that allow him to wear defenses out.
Payton has been able to tailor a game plan for him that relies on an offensive line which consistently plays on its feet, along with a powerful downhill running game. It's a lethal combination that keeps the defense honest and gives him more than enough time to work with a young, ascending receiving corps and tight ends that are skilled working down the field.
There was a time where the Saints could only beat you one way and that was with Drew Brees. The accuracy and mobility are still there, but the requirement of it being a quarterback-driven offense is not.
Drew Brees has made Sean Payton's life easier over the years, but now Payton is returning the favor.
When Alvin Kamara came out of college at Tennessee, I remember going back and forth on whom I liked better -- him or Kareem Hunt? Both were complete players, and by that I mean they can run, catch and block.
When Sean Payton puts the ball in Kamara's hands, big things happen. He's physical and explosive. He's the type of guy that just wears a defense down due to his running style. Kamara never stops coming at you and that takes a toll. This Saints' offensive line opens tremendous holes and Kamara comes downhill in a hurry, whether it's on the zone play where he reads on the move or when they run the toss sweep.
For the Cowboys to slow him down, Jaylon Smith and Leighton Vander Esch are going to have to play their best games of the season by getting off blocks and wrapping up as tacklers.
Where Kamara can hurt you defensively as well is as a pass catcher. This will be the best guy the Cowboys will face all season -- and that includes Christian McCaffrey in Carolina. Kamara is used like McCaffrey all over the field. There is not a down and distance situation where Drew Brees won't throw him the ball. How they treat him in coverage will be a huge key for Rod Marinelli and Kris Richard. Don't play him the right way and he is capable at scoring from any point on the field.
Under the Radar: DE Trey Hendrickson
I was really not a big fan of Trey Hendrickson when he was coming out of Florida Atlantic. I thought he was a guy that showed some balance but just wasn't quick or fast enough to get to the corner. What did impress me about him was his ability to hold the point of attack. For a guy that was really just an edge rusher, I thought he did a really nice job of holding up at the point. His upper body strength and ability to extend on blockers was good and it's this trait that he been able to carry over in his pro game.
Hendrickson has developed a few more pass rush moves early here in his NFL career. He was just primarily a guy that used a spin move and an arm-over, but that has since changed for him. The one thing that hasn't changed is his effort and motor. Depending on who is at tackle for the Cowboys --whether that's Tyron Smith or Cam Fleming -- they're going to have to be ready for that from Hendrickson. He never stops pursuing the ball in the running game or rushing the passer in those situations.
Smith and Fleming are going to have to finish this guy off. I've seen him get knocked to the ground, then quickly regain his feet and get in on the tackle. I didn't see Hendrickson as a great finisher off the edge in college, but he has improved in that area since joining the Saints. He's going to be part of the rotation for the Saints working behind Cameron Jordan off that right side. He's not the most talented player, but he has improved his game two years in the league. Sneaky in the way he goes about his job.