Lindsay Draper goes Behind Enemy Lines with Jim Wyatt, Senior Writer with the Tennessee Titans.
1. Marcus Mariota – what has been going on with him and his up and down season, and the quarterback position in general?
Marcus has had to deal with adversity and challenges early. He's working in a new offense under OC Matt LaFleur, and I think everyone realized there would be some growing pains, and there have been. He also suffered an elbow injury in week one that cost him playing time, and limited his effectiveness early. But he seems to be past that. In fact, this week he finally quit wearing the glove – which helped him with his grip — he'd been wearing since week one. What would help Mariota most is consistency around him. He's dealing with a young receiving corps, and the running game hasn't been of great help to him on too many Sundays.
2. How strong is the secondary, and how are they planning to handle Amari Cooper?
The secondary has given up too many big plays downfield, and that needs to be stop. It's a good defense across the board, and the secondary is talented. The Titans are third in the NFL in scoring defense, and that's nothing to be ashamed of. But there have been some breakdowns that have been costly. The Chargers burned the Titans for two deep balls the last time out. Cooper will be a challenge, and the Titans know it.
_3. How does the locker room respond to Mike Vrabel's aggressive mentality coaching the team? _
The players have bought into Vrabel's approach. He's a no-nonsense guy, and he arrived with some moxie. Players respect him because of his background, his success as a player, and his style. Vrabel holds his players accountable, and he holds himself accountable. He's not a guy that makes excuses. He points the finger at himself when things go wrong. Vrabel has been aggressive – he's gone for it on 4th down in his own territory, called a fake punt, and he went for the win instead of kicking a field goal to tie late vs the Chargers. Guys love his aggressive style, and it shows he believes in them.
Here's a look at the two big matchups I've got my eye on for this Monday Night Football game between the Cowboys and Titans.
Dallas Cowboys WR Cole Beasley vs. Tennessee Titans CB Logan Ryan
The Titans have an interesting decision to make in this matchup. They could go with Logan Ryan against Cole Beasley or put Adoree' Jackson over him in the slot. I believe that we will see Ryan.
There is no question that the Titans' coaches have studied what happen to Tyler Patmon and to some extent Fabian Moreau last week, and they know they can't allow Beasley to beat them. Surprisingly, Jackson had his struggles against the Los Angeles Chargers in his last outing, especially in tight man coverage while playing in the slot. He was beaten off the line several times for instant separation, which led the coaches to move Jackson outside and bring Ryan inside. Ryan fared much better at getting his hands on the receivers off the line, but they still had problems with Keenan Allen -- who doesn't have the same explosive quickness as Beasley. Allen was able to work the middle of the field and Philip Rivers took advantage of them.
I would expect that we will see a similar plan of attack for the Cowboys here. Beasley is at his best when he can play on the move, especially when he can work across the field. When he can make a defender chase him, it generally puts the defense in a bad spot. Look for Ryan to play him tight in the hopes of not allowing him any free access in the route.
This was the mistake we saw from both Patmon and Moreau, which Beasley made them pay for. Look for the Cowboys offensively to attack this matchup very early in this contest to test Logan Ryan and see if he's up to the task.
Dallas Cowboys DE DeMarcus Lawrence vs. Tennessee Titans OT Jack Conklin
DeMarcus Lawrence will be facing a bully of an opponent this week. There is nothing pretty about Jack Conklin's game, but somehow he manages to get away with it.
Conklin's technique is all power with limited foot movement. He's a push/shove blocker that will extend his hands in order to get movement off the ball. Conklin tends to play way over the tops of his feet, and this is where Lawrence is going to need to take advantage of him. Conklin's feet tend to get out of whack and this will put him in some poor blocking positions.
Look for Lawrence to force Conklin to adjust to him by making him move. Rushes hard to the outside, then working back underneath should be the trick for Lawrence in this game. Don't be surprised if Lawrence can draw a holding call or two with this plan of attack. Film has shown that Conklin will get his hands outside the framework of the rusher in order to recover.
Where Conklin has had success is when a rusher tries to take him right down the middle. When he faces those types of players, it's very natural for him to extend his arms and just sit down. Lawrence can't allow Conklin to feel comfortable in this game. Also keep an eye on how many twist stunts we see with Lawrence and Tyrone Crawford to Conklin's side. He and Josh Kline had trouble in the Baltimore game sorting those out.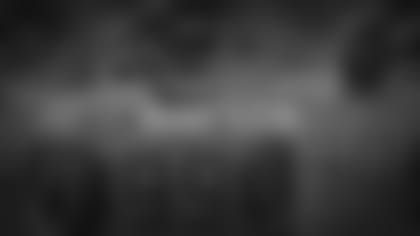 FRISCO, Texas – Just like that, we're back from the break.
It felt strange not to be breaking down an opponent during the week off, but I'm back on my regular schedule now as we get ready for this Monday night visit from the Titans.
We've already done this a couple of times with opponents from the AFC South, but it is always interesting getting a long look at an opponent for the first time in four years. When the Cowboys last played Tennessee back in 2014, Jake Locker was still the quarterback and the Titans were trying to find their way through a rebuild.
This Titans team is a streaky one. They won three of their first four to start the season 3-1, but it's been a three-game losing streak in the month since. This is a team that fought its way into the playoffs last year. But much like the Cowboys, they're going to need to sort out some offensive issues to see the postseason this time around.
Here's my weekly preview of the opposition. One of these guys should be familiar, as he was already a Pro Bowler back in 2014. The other two are new names who figure to make a big impact on Monday's game.
Nemesis: DT Jurrell Casey
It has been a challenge these past several weeks with the inside players that this Cowboys offensive line has had to face, and it's not going to change this week. The Titans might not have the same overall talent as Houston, Jacksonville or Washington -- but the exception might be Jurrell Casey.
During the preview of the Redskins game, I wrote about Preston Smith as an underrated player that didn't get the credit he deserved. In my opinion, Jurrell Casey falls into that same category that deserves more respect than he gets. It had been a few years since I sat down to study the Titans, but this guy's game continues to improve, ever since he first came into the league in 2011.
Like Jonathan Allen and Da'Ron Payne in Week 7, Casey is a thick, powerful player that shows disruptive quickness off the snap. He has a knack for ruining blocking schemes, both run and pass. He will sacrifice himself in order to get a teammate home on a rush. He has some similarities to Tyrone Crawford in the way he plays. Casey will purposely slam into blockers, knocking them off balance and giving his teammates a clean path to the quarterback. He is also a nightmare to block in the running game, especially when he's on the move.
Casey plays with so much power that it's hard to cut him off from the play. He's in the backfield and on the ball carrier before the blocker has a chance to react. To have any success moving the ball, this offensive line is going to need to identify where Jurrell Casey is on the line of scrimmage and make sure he's accounted for properly.
Kevin Byard is one of the better safeties the Cowboys will face this season. I put him in that same category as Landon Collins and Earl Thomas. Like Collins and Thomas, he's all over the field and you must account for him.
What makes Byard so good is that he makes a ton of plays on instinct alone. Ever since arriving in the league, he has had a feel where to position himself in order to play the ball. I don't view him as a gambler or risk-taker -- but more calculated. Rarely do you see him out of position or struggling to get into position. He does a great job of playing with his eyes. He is one of those defenders that sees the entire field well. When it comes to playing with smoothness, he is as good as they come. He moves to the ball effortlessly. Because of that, Byard has no trouble patrolling the middle of the field with confidence. He's not going to overreact or put himself in a poor position where he can't help his teammates.
Another one of Byard's best traits is his knack for bouncing off blockers in order to make a tackle. He doesn't struggle one bit when it comes to playing through the trash. Byard can destroy the screen game with the manner in which he avoids those blocks. In an interesting twist, he also threw a left-handed touchdown pass on a fake punt when the Houston Texans failed to cover Dane Cruikshank on the outside.
The more you study Kevin Byard, the more you realize that the Titans hit on a great player.
Under the Radar: WR Tajae Sharpe
Tajae Sharpe will not make you forget about Odell Beckham Jr or DeAndre Hopkins, but he has been the primary guy for this Tennessee offense.
What has been impressive about Sharpe is how tough of a player he is. There have been several balls thrown on those deep in-breaking routes, and each time he laid out in traffic in attempt to come up with the ball. Usually, you will not see receivers sacrificing their bodies in order to make a play -- but not this guy. He will go get the ball wherever it's thrown.
Sharpe also has a feel for how to get open. He had a huge touchdown reception late in the victory over the Philadelphia Eagles where he turned Sidney Jones around out of the slot. Jones lost him right off the snap and Sharpe was able to finish. He was unstoppable against the Buffalo Bills where he wore them out with several clutch receptions on third down – both with catches over the middle of the field and tight-roping along the sideline.
He works well with Marcus Mariota on scramble plays, as he has an understanding of when to break his route off and look for space. Mariota keeps his eyes on him in those situations and will work to get him the ball.
Sharpe does a nice job of extending his hands to make receptions away from his body. He had a breakout game in London against the Los Angeles Chargers with a high number of targets and receptions. You also have to worry about Sharpe running the ball on the jet sweep, as well. He has shown some running back skills when in the open field with the ball in his hands.