In the Cowboys' first six games, we saw Tony Romo throw deep (20 or more yards) on just 9.0 percent of his passes, ranking him near the bottom of the pack among starting NFL quarterbacks. Amazingly, 75.1 percent of Romo's passes traveled fewer than nine yards past the line of scrimmage during that time, by far the highest mark in the league. Over the past five games, however, we've seen a rise in the quarterback's deep passing rate (11.5 percent) and a drop in the percentage of throws under 10 yards (71.9 percent).
The deep passes may very well be the result of a not
-so-subtle shift in Jason Garrett's play-calling philosophy. Against the Giants in Week 8, we saw Garrett, for the first time this season, call plays primarily in an effort to get the ball downfield as opposed to protecting Romo. Knowing the offensive line is the weak spot of this team and will likely struggle over the course of the season, Garrett seems to have recently adopted a high-variance strategy; the 'Boys will take their chances, letting Romo air it out while becoming a high-risk/high-reward offense. That idea is supported by the fact that Romo got sacked seven times against a Cleveland defensive front that is far from elite.
The switch is a smart one for the Cowboys. Yes, it carries more risk, but currently sitting at 5-6, this team can afford to take on greater risk if it's accompanied by high upside. And Romo has been sensational on deep passes throughout his career. Last season, only Aaron Rodgers bested Romo in deep ball completion percentage and passer rating. Despite a d
eep ball rate of only 6.6 percent, Romo's passer rating on throws of 20 or more yards was a remarkable 125.4. In 2012, Romo has totaled 11.7 yards per attempt and an 11.8 percent touchdown rate on deep passes. Among the quarterbacks ranked in the top 10 in deep passing rate are Tom Brady, Drew Brees, Peyton Manning and Andrew Luck.
Of course, the target of deep passes matters just as much as the number of them, and we've seen the Cowboys abruptly shift to giving Dez Bryant more opportunities to make plays downfield. That hasn't always been the case; Bryant ranked just 51st in deep target rate in 2011 and only 54th in 2010. Only 18.7 percent of Bryant's targets in those two seasons came on throws of 20-plus yards.
Bryant's deep ball rate has barely increased thus far in 2012, to just 18.8 percent, but again, that's due to the ultra-conservative passing game
the Cowboys utilized early in the season. How about this for a stat: Bryant didn't have a single deep target until Week 4, and 15 of his 18 deep targets have come in the past five games. After a deep ball rate of just 5.9 percent through the first six games in 2012, Bryant has seen 34.1 percent of his targets over the last five games come at least 20 yards downfield; yes, in the last month, his deep target rate has increased to nearly six times what it was in the Cowboys' first six contests.
The overall length of Bryant's targets has increased as well.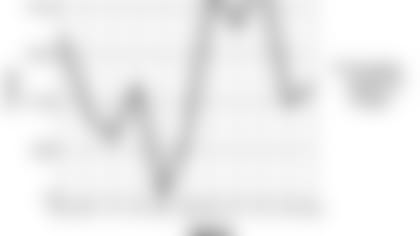 In the Cowboys' first six games, the average pass to Bryant traveled just 10.2 yards past the line-of-scrimmage. Since Week 8, however, the average distance has been 14.7 yards, including a three-game stretch of 20 targets with an average distance of 18.1 yards.
It's no wonder that after averaging 63 yards and 0.33 touchdowns per game through the Cowboys' first six games, Bryant's totals have improved to 100 yards and 0.8 touchdowns per game since that time. Bryant's lone lackluster performance over the past month was in Atlanta, where he saw just one deep target.
In addition to throwing deep simply to eat up chunks of yards, testing defenses down the field forces them to play differently. We often hear how offenses must "run to set up the pass," but in today's NFL, the deep passing game can be utilized to set up not only the run, but also the underneath passing game. With a quarterback who can buy enough time to get the ball downfield and a wide receiver with elite ball skills, it seems the Cowboys may have found something special in this deep Romo-to-Bryant connection.