FRISCO, Texas –Here are the two most important matchups I'm looking at in previewing this game between the Cowboys and Giants.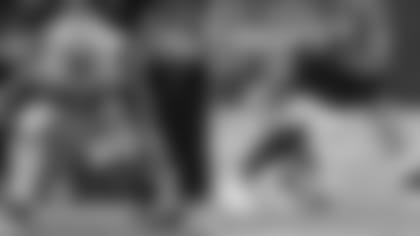 Dallas Cowboys OT Tyron Smith vs. New York Giants DE Olivier Vernon
Over the last couple of seasons this has been an outstanding matchup. Vernon is one of the very few players that has caused Smith problems. If the Cowboys are going to have offensive success, Smith cannot let Vernon control this game with his pass rush and run stopping ability.
Vernon is an outstanding athlete who plays with a sudden first step. His long arms and big, strong hands are nice weapons to have against a talent like Smith. Smith is going to have to try and move him in the running game and not let him sit down to set the edge. When Vernon can extend he is dangerous.
Last week, the Raiders decided to take the ball in his direction instead of Jason Pierre-Paul. In previous matchups, the Cowboys have gone the opposite way. Smith will need to handle Vernon's lateral quickness when the ball bounces to the outside. He's a hard man to block when he is on the move. Vernon does a really nice job of keeping blockers off his body. And as a pass rusher, he can break his man down with moves. He has start-stop quickness, so Smith will need to be patient with his approach.  Vernon has the ability to get his man to lunge or extend, then work right around him.  Balance is the key when playing him -- which Smith has.
Where Smith has had his problems at times is when rushers set him up wide, then rush inside. Smith will need to protect his inside with a good, strong power step to keep Vernon from wanting to go there. Smith has to be aware of Vernon's ability to attack the pocket and create turnovers. He rushes at the level of the quarterback and is able to swat at the ball when he gets there. He also knows how to use his reach to knock the ball out of the quarterback's hand.
You have to keep a body on him at all times. He will chase the play down from the backside if left unblocked and get a tackle for loss or no gain. One of the best players that Tyron Smith faces year in and out.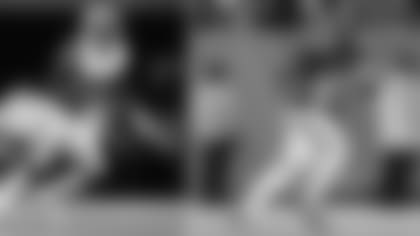 Dallas Cowboys S Xavier Woods vs. New York Giants WR Sterling Shepard
Just being honest here, but at this point of the season, the Giants don't have many offensive weapons left on their squad. Odell Beckham Jr., Brandon Marshall and Dwayne Harris all have been sidelined for the season. Along with Evan Engram, Sterling Shepard is the best option for Eli Manning.
The Giants like to use Shepard out of the slot, which allows him to work all over the field instead of just on the outside. His quickness is a problem for defenders to have to deal with. He is an explosive player right off the jump and has an outstanding feel for how to find space in the secondary. He makes defenders chase him all over the field. Combine that with his ability to finish plays, and he is a big concern.
Xavier Woods is a capable player, and in his debut as the slot player against the Redskins he was able to hold his own against Jamison Crowder for the most part. Crowder did help him with a drop or two, but for the most part, Woods was where he needed to be. I have a feeling that Woods will be fine in this matchup, but he needs to play with trust. He has the ability to stay with Shepard but he needs to trust his ability.
When Woods has had his struggles in coverage it has been in large part due to that lack of trust. He can't be hesitant in his approach in dealing with Shepard. From the first snap of the game, he needs to be on Shepard and show him that he's in for an all-day battle.
With no Orlando Scandrick, the Cowboys only backup plan if Woods struggles is to go with Anthony Brown -- but like I mentioned before, Woods has the ability to pull this off and I have the feeling the coaching staff feels the same way.