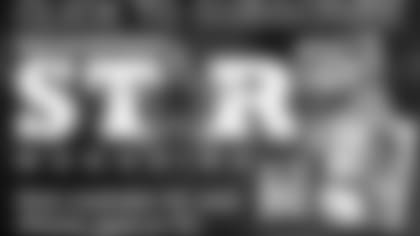 The overwhelming majority of NFL players suffering season-ending injuries disappear from sight, almost as if they entered the witness protection program. This is by choice, with countless players over the years explaining how removed they feel from the team atmosphere, focused instead on rehab and physical therapy as opposed to the next practice or game. Incredibly lonely feeling really in any sport at any level.
That won't be the case with Sean Lee. The defensive captain, who suffered a season-ending toe injury last week against Carolina, plans on attending meetings, film study and practice. Games, too. In fact, would be stunned if he wasn't wearing a headset on the sidelines in close proximity to Rob Ryan. Yes, the Cowboys lost one of the league's elite inside linebackers, but they have gained a top-notch assistant defensive coordinator.
This is the same role Lee served for Penn State in 2008 after tearing his ACL. In the ultimate rarity, he even traveled to road games, just so he could be on the sidelines with the headset. Ryan has made it clear that Lee knows his defense as well as anyone on the planet, so why not utilize him? Should also be a huge help to Bruce Carter, who will now call the defensive plays.
Losing Lee for the season is crushing, but no one is going to throw the Cowboys a pity party, so it's a next-man-up mentality, time to beat the Giants at home. Cannot drop to 0-4 against a division foe at one's home stadium. Would be beyond disappointing. Here's the shift that needs to happen Sunday afternoon. The offense has to start winning football games. Need to drop 30 or so points. Not just this week, either.
The defense has been superb this season and even without Lee, should remain solid over the last 10 games. The offense, though, isn't even averaging 19 points per outing, this in a league with seven teams putting up at least 28 points per game through Week 7. Jason Garrett the head coach has to expect more out of Jason Garrett the offensive coordinator.
Through Garrett's first 66 games as coordinator (through the 2011 season) with Tony Romo as his starting quarterback (not including Week 16 against Philly last year when he threw just two passes before Stephen McGee played the remainder of the meaningless game), the offense averaged 25.2 points, almost a touchdown more than this year.
Somewhat puzzling in regard to the offensive struggles is the fact that the Cowboys are sixth in the NFL in time of possession (32 minutes, 34 seconds). This is usually a prime indicator of success on both sides of the ball, as the defense is more rested. The combined record of the three leading time of possession teams is 14-5.
Wouldn't mind seeing more aggressive play-calling early on. In their last 12 games dating back to last season, the Cowboys have not scored in the first quarter eight times. That is astounding. Haven't kicked a field goal in the first quarter since Week 9 of 2011, nearly a calendar year ago.
Not sure of the plan at running back against the Giants. Could be Phillip Tanner and Lance Dunbar. Have been impressed with the latter's work ethic this season, has dramatically improved on special teams, having made impressive solo tackles in coverage in each of the last two games. The undrafted rookie free agent out of North Texas could be looking at double-digit touches on offense this week as well.
Am thinking Romo could throw 45-50 passes on Sunday. Think win or lose, he'll put up his best numbers of the season.
Was looking at the cornerbacks on ProFootballFocus.com earlier in the week, mostly to see where they had rookie Morris Claiborne. After without question his best performance of the year at Carolina, he's No. 34 among the 68 corners to have played half their team's snaps. Not bad. Actually for a rookie, that's phenomenal. Arizona's Patrick Patterson was near the bottom all of last season despite his electrifying punt returns. There is no position on either side of the ball where rookies struggle more, than cornerback.
Incredibly disappointing is Brandon Carr, who is 22 spots behind Claiborne at No. 56. Now the shocker. Guess who is ranked No. 24? How about Cincinnati's Terence Newman. Maybe he wasn't quite finished after all.
Will be seeing a few former Cowboys on Sunday against the Giants, including tight end Martellus Bennett. Recall being surprised that Tom Coughlin signed off on inking Bennett to a one-year contract this past offseason, but the deal has worked out.
A disappointment here for four seasons, Bennett is on pace for 60 catches, 700 yards and seven touchdowns. He's the fourth-highest graded tight end in the NFL according to PFF, and should land a ginormous free-agent deal next offseason. Stunning. Never really seemed motivated with the Cowboys.
More than likely, Dallas will be underdogs each of the next three weeks, against the Giants followed by road dates at Atlanta and Philly. Lot of built-in excuses to let this season head in the wrong direction, but win this Sunday, split those next two and the Cowboys are 5-4 with a favorable schedule down the stretch, including five home games over their last seven.
Mike Jenkins played just two snaps against Carolina last week, part of that having to do with a linebacker shadowing Cam Newton the majority of the game. Think Ryan will want to have an extra corner in the secondary for more or less all snaps in the Giants game except short yardage, especially with how successful Eli Manning has been against the Cowboys the last few years. Still, Jenkins has played just nine of 121 snaps the last two games, so trading him at the deadline isn't out of the question.
Will be interesting to see if pushing the deadline out two weeks, to this Tuesday, Oct. 30, will make any difference in terms of player movement. Am guessing not, maybe a few veterans in the last year of their contracts, but it doesn't send the greatest of messages to fan bases with eight or nine games remaining.
Time to change the rules on extra points. Either move them back to the 35-yard line or do away with them altogether. Would love for teams to just go for two after every touchdown, but am guessing the NFLPA wouldn't sign off on that idea. Believe there's been a single missed extra point this season in the entire league. Waste of time.
Wade Phillips is writing quite the final chapter in his three-decade run as an NFL defensive coordinator. This should be the 17th time one of his units finish in the top-10 for total defense. Unreal. Houston allowed the fourth-fewest points in the league last year and is currently fifth.
Can the Cowboys beat the Giants? Of course, although certainly the task became that much tougher minus Lee. Time to put the season in the hands of Romo. Not saying to abandon the run, but this team isn't beating New York with a 50-50 run/pass split. Dez Bryant has to play a huge role; look for him to see 12 or so targets. Needs to bounce back from a really disappointing all-around performance at Carolina. Would take punt returns off his to-do list, and just allow him to focus entirely on the pass-and-catch and occasional block.
Also, tune out the rest of the world, Dez. Just play football. Teams are purposely playing psychological games with him, getting in his face, talking trash. Go to a happy place, Dez. Block out all voices and sounds. Just play football.