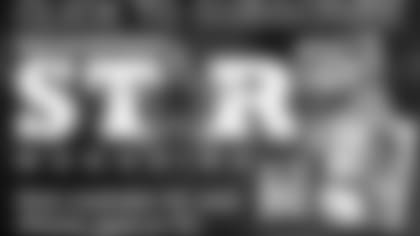 Instead of a bunch of bullet points, we're going to answer some letters, then finish up with a few quick thoughts. The Bad Head Inbox – or Apolo-Baldy as one commenter brilliantly referred to me in this very space last week – received more than 100 emails following last Sunday's disappointing loss to the Falcons. Please, send any and all questions, comments, insults or otherwise to jsullivan@dallascowboys.net.
*The Cowboys need to get into the USC quarterback sweepstakes. Tired of the multiple interception games by Tony Romo and this season is lost anyway. Don't want to hear comparisons to how other teams in similar circumstances have turned things around. Cowboys fans deserve better. We need something to take our minds off this disaster. *
Bald Head: First off, even if the Cowboys lost out, which there's a 0.0 percent chance of that happening, can't see Kansas City or Jacksonville winning three games. Those are two of the worst NFL teams in recent memory. So landing the No. 1 pick isn't in the cards. Also, let's take a deep breath back into reality here. There's no reason Dallas can't finish at least 8-8. According to Football Outsiders, the Cowboys have the third-easiest schedule in the league the remainder of the season, behind just Denver and Pittsburgh.
So, no, Matt Barkley or even Geno Smith are not coming to Dallas. If the Cowboys decide to change quarterbacks in 2013, it's going to be Kyle Orton instead of a rookie. And the chances of that are slim and none with Slim being a sumo wrestler.
You know all the people associated with the team. We kill ourselves with penalties. Is it a lack of discipline in coaching or is it the fault of the players not having the smarts or self-control to avoid these game killing penalties?
We are our own worst enemies. We have an easy schedule the rest of the way compared to others. We have to go 6-2 at a minimum to give us a chance at a wild card.
Does DeMarco Murray make it back soon? Dez Bryant disappeared (against Atlanta). Can he figure it out?  Very frustrating.
Bald Head: Stunningly, the Cowboys are actually 19th in the league in penalized yards with 433. Subtract Doug Free's 10 and Tyron Smith's 10 and there's been just 42 flags, which would be the second-fewest in the NFL behind Atlanta's unfathomable 26 in eight games. Yeah, yeah, that's like saying "besides that, how was the play Mrs. Lincoln," but my point is penalties aren't the No. 1, 2 or 3 problem with this club.
There really is no way to explain how the Cowboys keep finding new ways to lose. They lead the league with 11 defeats of six or fewer points since Jason Garrett was named head coach. Is that fluky? Is there a pattern? Not sure. Not sure anyone is sure. Everyone seems to have their own theory.
Can't see Murray playing before December. As for Dez, watching Julio Jones last week was depressing. That's who many of us thought Dez would be.
*Another ugly loss. Why can't Jason Garrett call a play where the receiver is open in the middle of the field like the Falcons? Sean Payton coaching the 'Boys next season, there needs to be a change. *
Bald Head: The play-calling hasn't been as bad as the majority is making it out to be. There have been a lot of dropped passes, incorrect routes run, and again, this has been the worst eight-game stretch of Romo's career. He had never gone more than three straight outings without posting a 100.0 passer rating until going SIX straight between the opener against the Giants and last week at Atlanta.
As for Payton, not happening. As in no way, no how. Am thinking this will be all resolved by Thanksgiving, a four-year extension making him the highest-paid head coach in the league. He's not leaving New Orleans. Non-story. And again, no matter how this season progresses, barring the team completing quitting on Garrett, he's coming back in 2013. Jerry Jones isn't in a rush to pay two head coaches for the next two seasons and still feels like Garrett is the answer long-term. He's willing to be patient.
*Yo Baldy, have seen a bunch of media types with midseason grades. Was wondering how you'd grade? Am guessing straight As. You are such a softie; start assessing blame. *
Bald Head: OK, here goes:
OFFENSE (minimum100 snaps): Jason Witten B , Phil Costa B , Lawrence Vickers B, Nate Livings B, Miles Austin B, Tony Romo C , John Phillips C , Tyron Smith C , Ryan Cook C, Felix Jones C, Kevin Ogletree C, DeMarco Murray C, Dez Bryant D , Mackenzy Bernadeau D, Doug Free D-
DEFENSE (minimum 100 snaps): Sean Lee A, Jason Hatcher A-, DeMarcus Ware B , Bruce Carter B , Anthony Spencer B, Jay Ratliff B, Morris Claiborne B, Josh Brent B, Victor Butler B-, Kenyon Coleman B-, Mike Jenkins C , Tyrone Crawford C , Danny McCray C, Sean Lissemore C, Barry Church C, Marcus Spears C, Orlando Scandrick C-, Brandon Carr C-, Gerald Sensabaugh C-
SPECIAL TEAMS: Dan Bailey B , Brian Moorman B, Andre Holmes B, Chris Jones B-, Lance Dunbar B-, Felix Jones C, Dez Bryant F
COACHES: Rob Ryan A-, Jason Garrett C
• Always love how every year or so the Jerry Jones as general manager makes the rounds. Have said this before and will again: He's not a one-man show in the least. There's a team process, Stephen Jones, Jason Garrett, Tom Ciskowski and many others. Really works like many other NFL teams where the owner and/or team president has the final say over major football decisions. It's just that in this case, Jerry Jones has the job title.
• Also, it's a non-story for a second reason. The day Jerry Jones steps down as general manager is the day he steps down as owner. And that's not happening anytime soon. When it does, the Stephen Jones will more than likely take over both roles.
• Could be wrong on this and have absolutely no inside information, but if there's one person on the planet Jason Garrett the head coach would allow to call the plays as offensive coordinator, beside himself, would have to be Norv Turner. And yeah, it's early, lot of football left, but Turner is sitting on one of the hottest seats in the NFL. Chargers have to earn a playoff berth for him to return. Just a thought.
• Saw this factoid on Twitter this week. For the record, just a coincidence in my mind, but worth sharing. Tony Romo is 27-11 as a starter with Terrell Owens and 23-23 without the artist formerly known as T.O.
• Came across this the other day. We already know that DeMarcus Ware and Mark Gastineau are the only players with two seasons of at least 19 sacks, but Ware could join Reggie White as the only players with three seasons of 18. Hard to fathom Ware not one day residing in Canton.
• What to expect on Sunday in Philly? Absolutely no idea. None. Two incredibly desperate teams. The loser is done in 2012, going to be difficult for the coach to keep that team motivated down the stretch. The winner, well, think that team has a chance to make a little run and at least keep December interesting. Think the Cowboys are in a better place mentally right now than Philly, but at this point, who knows?
• For those who haven't already, watch Jimmy Johnson: A Football Life on NFL Network. My favorite one of the season, which is saying a ton considering how tremendous the 1995 Cleveland Browns one was.
Follow Jeff Sullivan on Twitter, @SullyBaldHead, or email him at jsullivan@dallascowboys.net.