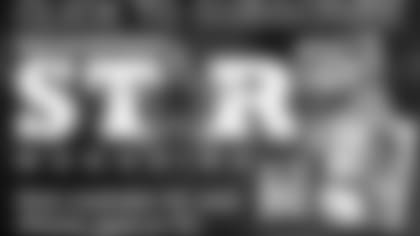 Know how everyone loves to point out how Tony Romo plays his best in November and always chokes in December and January? Been out there for a while now, floating around, an easy and obvious quick hit for the bashers. Here's the thing: It's completely false. More or less a bold-faced lie. In fact, Romo has been better in December and January than November over the last four years now. No, really, he has. Let's take a look at the numbers.
Dating back to 2009, in 13 November games Romo has completed 302-of-466 passes (64.8 percent) for 3,632 yards, 25 touchdowns, seven interceptions and a 100.2 rating. In 15 December/January games over that same stretch, he has completed 380-of-556 attempts (68.3 percent) for 4,478 yards, 31 touchdowns, five interceptions and a 107.4 rating. Not even close really.
Take a quick look at that again. In his last 15 December/January games, including the two playoff contests, Romo has 31 touchdown passes and just five picks. That is extraordinary. And his rating would have led the NFL in all but eight years since the Cowboys entered the league in 1960.
Now, some will quickly come back with his wins and losses in those games. Fine. In November, the Cowboys were 10-3 while in December/January, their record was 8-7. However, let's look at the defense. In those 13 November games, the Cowboys have allowed an average of 17.4 points, which would rank third in the NFL this season. In the 15 December/January games, the defense has allowed 21.4 per game, and 25.0 if you take away the back-to-back shutouts to close the 2009 regular season.
Pretty difficult to fault Romo for the defense. And that's a drastic difference, more than a touchdown allowed per game, not including the two shutouts. Romo and the offense have done their part.
Once again, the last 15 December/January games, Romo has 31 TD passes, five interceptions and a 107.4 rating. Yet, all week long we've been hearing about how this is the defining game of his career and if he loses, blah, blah, blah. Complete nonsense. If the Cowboys lose 34-31, and Romo throws for 420 yards, four touchdowns and zero picks, are people really going to blame him? And if they do, who will listen?
Win or lose against the Redskins Sunday night, for my two cents Romo has, without question, enjoyed his best season. Could become the fifth quarterback in NFL history to throw for 5,000 yards. Played the majority of the year behind a work-in-progress offensive line, often creating pass protection himself by maneuvering away from the rush.
If the NFL MVP voting worked like the NBA and Major League Baseball, where you vote for 10 players, ranking them Nos. 1 through 10, there is no way Romo doesn't finish top-8. If they win Sunday, could even see around fifth place or so. Adrian Peterson, Peyton Manning, Aaron Rodgers, Tom Brady, maybe J.J. Watt, then who beside Romo?
Early weather forecast for Sunday night in Landover has 32 degrees for kickoff, with a zero percent chance of precipitation. Now, there's a 90 percent chance of snow/sleet tomorrow, so the field could be damp with some ice. The high for Sunday is 38.
No real advantage there on either side. Romo has played five games in his career with the temperature below 40 degrees and has played OK, 86.5 rating, seven TD passes, five interceptions. Robert Griffin III is from Texas, though, so it's not like he's Brett Favre or Brady in terms of playing in cold weather.
Was talking with a 24-year-old earlier this week and while he knew the Redskins were a rival and all, he was still kind of surprised to hear of just how fierce the rivalry was for 25 years or so, starting when George Allen became head coach of Washington in 1970. The most memorable game in that stretch is the 1979 regular-season finale, when the Cowboys scored twice in the final minutes and pulled out the stunning comeback, 35-34.
Remember talking with Roger Staubach a few years ago about that game and he said, "Know what bothers me about players today? The shaking hands and hugging after games, players smiling. You think anyone was shaking hands after that Redskins game? No way. Wasn't happening." That's a rivalry.
Think it makes for a better NFL when the Redskins and Cowboys are both playing at a high level. Am thinking both teams are headed in that direction; could see both winning double-digit games in 2013.
The Redskins, who won three Super Bowls in 10 years from 1982-91, have won two playoff games since 1992. That's two in 20 seasons. Of course, the Cowboys have won a single playoff game in the last 15 years. The two franchises have combined to win 56 playoff games, a staggering total, but just three in the last 15 seasons. Wow. Think that's going to change in the next few years.
Much of the hoopla post-Pro Bowl results were about Dez Bryant, but in truth, two Cowboys were bigger omissions: Anthony Spencer and Jason Hatcher.
Spencer has been the team's defensive MVP. Not sure anyone would argue that. He's the highest-rated 3-4 outside linebacker according to ProFootballFocus.com, ahead of Green Bay's Clay Matthews and San Francisco's Aldon Smith. However, he did struggle last week against New Orleans; really need him to return to form against the Redskins.
As for Hatcher, no 3-4 defensive end in the NFL has more QB hurries and tackles. As in none, zero, nada. He even has one more QB hurry than Watt, who is having a historic season for the Texans. Going to end up playing almost 800 snaps this season, too, which is incredible considering his previous career high was 428, set a year ago. In contrast to Spencer, last week may have been Hatcher's best performance of the season, with eight solo tackles, two QB hurries and a pass deflection.
Already predicted in this week's Star Magazine that the Cowboys would win by that same score from the 1979 classic, 35-34. Sticking with that. Think it helps that RGIII won't be running much, if at all, because of the recent knee injury. Defensive coordinator Rob Ryan has to put some pressure on the kid. Has to dial up a few blitzes. Last week was a mess against New Orleans. Drew Brees dropped back to pass 56 times and was hit – not sacked, hit – just twice.
Briefly mentioned it earlier, but the offensive line has really improved these last few weeks, especially Doug Free. The rotation with Jermey Parnell has been a huge success. Bill Callahan deserves credit for the progress the group has made this season.
Sunday night should be fun. Amazing really this team is playing for a division title the last game of the regular season with all of the injuries to the defense this season. Hopefully we're talking about the matchup with Seattle this time next week.
Follow Jeff Sullivan on Twitter, @SullyBaldHead, or email him at jsullivan@dallascowboys.net.