I-20 JUST PAST SWEETWATER –You just never know, but we should have known. It's the Dallas Cowboys, er, at least the bus.
Good gosh, what a reception in Abilene, Texas, Thursday afternoon.
         Thus, what a start to Road Trippin' 2015, our four-day, three-night cross-country excursion on the Cowboys' luxury bus out to training camp in Oxnard, Calif., myself, Emory Tyler, the Pied Piper of bus drivers, Rowdy and our very own Videoman, Jacob Walraven.
         All you need to know is Emory's reaction as we were pulling into the parking lot of KRBC-TV, our first planned stop of the trip, seeing like a couple hundred people out front of the station waiting for us. I mean, us and a Cowboys logoed-out bus.
         "Aw gosh, here we go," he said.
         Yep, here we go, once again finding out first-hand how many Cowboys fans there are out there. And rabid, let me tell you.
         One guy with a Cowboys star tatted on his bicep. Those who showed up with their Cowboys apparel. Those who came for autographs, not only for themselves, but for their brothers who couldn't make it. Kids wanting autographs for themselves, but their moms and dads, too. The guy whose dad was once a sports editor in Oklahoma. The life-long Cowboys fans.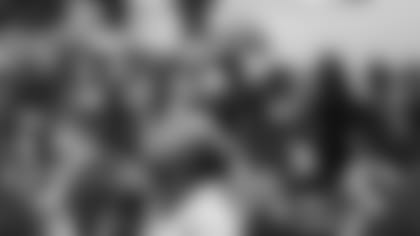 There were the kids in the summer program at nearby Dyess AFB, seven miles southwest of Abilene, the 7th Bomb Wing assigned to the Air Combat Command Twelfth Air Force, one of only two B-1B Lancer strategic bomber wings in the United States Air Force. Sorry, but who knew. Was told once the kids knew the bus was coming to Abilene, they said they had to come. And they did. Couldn't sign enough things for them, the three of us.
         And then my favorite, Earnestine, the 90-year-old lady, who gave new meaning to "long-time" Cowboys fan. Think about it, the lady born in Fort Worth who eventually moved to Abilene, has seen it all. Every one of those 55 seasons. Every one of those eight Super Bowl performances.
         When asked who has been her favorite Cowboys player, she didn't hesitate, "All of them." And don't think she didn't know about Dez Bryant's contract predicament, because 88 is definitely one of her favorites, "I really like him, I really like him.
         "And I was really upset because I thought he wasn't going to be back."
         We should all be so lucky to be so sharp at 90. Heck, to even make it to 90 and walk out to the bus, standing in the crowd waiting for an autograph in 97-degree temperatures. Tell you, she made my day, and we made hers by handing over a white Cowboys hat. I mean, 90, that was the very least we could do.
         Why Emory and Rowdy stood out there for nearly two hours signing autographs, taking pictures, just talkin' some Cowboys with training camp drawing near, signally the start to a new season. Such a warm reception.
         So after a little bit of a false start – the fridge drawer in the back of the bus came flying out as Emory was heading to The Ranch to pick us up, causing about a 45-minute delay as the great guys at Marathon Coach rushed to make the repair – the road trip gets off to a flying start.
         Next stop, the Cowboys Pro Shop in Midland Thursday night, with a sleepover in Monahans, Texas and then on Friday, pushing for a noon arrival at the Cowboys Pro Shop in El Paso. Then, on to Tucson, Ariz., for a 6 p.m. meet and greet with Cowboys fans at Famous Sam's, that is providing Emory can qualify his driver nickname of "Bullet" to get us across the state of New Mexico in fast time.
         Who knows what lies ahead?
And that right there is the ever-lovin' charm of actually driving cross country Road Trippin'.