CRUISIN' THROUGH NEW MEXICO – So Road Trippin' 2015 Day II started off quietly enough in Monahans, Texas, where we spent the night after our second stop, that in Midland, Texas, Thursday evening at the Dallas Cowboys Pro Shop.
         This, believe me, this stretch on I-20 and then I-10 West is West Texas. I mean way west, flat as a pancake, only oil derricks dotting the horizon. Feels like you should be on a stage coach, not on the luxury coach that is the official Cowboys bus.
Look, seriously, you could see all the way to tomorrow.
(Someone just honked at us.)
That was one thing, but by time we began approaching El Paso, Texas, around noon Friday, having sped past such towns as Pecos, Sierra Blanca, Fort Hancock and Van Horn, my goodness, now we could see all the way to Mexico.
Look, not trying to be smug or anything, and I know these Dallas Cowboys were given the moniker "America's Team" back in the '70s, a title some insist has worn off in these the 2000s. But tell you what, after the last 24 hours, this we can tell you without hesitation:
The Dallas Cowboys are definitely "West Texas' Team," and don't you forget it.
We thought the first-day stops in Abilene and Midland were phenomenal, the amount of people who arrived to greet myself, Rowdy, bus driver Emory (and resident philosopher), Videoman Jacob and frankly the bus. We by luck got in and out of the Midland Park Mall, Rowdy creating the biggest commotion, having to sneak him back to the bus out the backdoor of the Pro Shop.
And we thought the attention Thursday night and Friday morning in the hotel parking lot was somewhat startling, those guys working out here in the fields smitten with the bus and the fact we were driving it out to this summer's training camp in Oxnard, Calif., just wanting to somehow touch the franchise through us.
Or the guy who stopped us at the Chevron station, swearing he was a life-long Cowboys fan, watching all our shows we produce. Or those giddy high school kids sitting three across in a beat-up pickup right out of maybe a scene from the Last Picture Show when we handed them squad pictures of the Dallas Cowboys Cheerleaders. Or the guy heading to work wanting to know if "this is the year," so, so many out West Texas way thirsting for a Cowboys return to Super Bowl glory days.
Even Dawn, the nice lady at the Ward County rest area, where Emory insisted we stop for a history lesson, the building commemorating what was the nearby Rattlesnake Bomber Base (Pyote Army Air Base) where in 1942 B-17 and eventually B-29 bomber crews were trained, could talk Cowboys football. The base earned the nickname Rattlesnake for obvious reasons, no need to ask.
But when we pulled up to the Cowboys Pro Shop in El Paso (Canutillo to be exact), oh . . . my . . . gosh. There were Cowboys fans lined up out the door, down past a couple more shops, then around the corner, and then down the next sidewalk where Emory expertly backed the bus into our awaiting spot.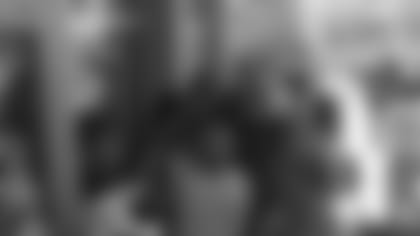 We walked in a little after noon. And had we not called a timeout around 2:15 or so, we might have still been signing autographs. Not sure if anyone was working in El Paso Friday afternoon, but if they weren't, seemed like they were here. No exaggeration, from the minute Rowdy, myself and Emory sat down, we signed autographs and posed for pictures non-stop. There were so many people at the outdoor mall that two of the area's finest were outside on crowd control and there were security guards at the Pro Shop's door.
Jacob says one of the policeman estimated a few thousand people had been there. I can't confirm, but since we barely looked up all that time – I mean even I passed on the complimentary pizza on hand, and that never happens – but I sure wouldn't dispute.
Moms, dads, kids, grandmothers, grandfathers, grandkids, they came in all ages. Some who couldn't walk yet. Some who could barely still walk. But they were there, many a back when posing for pictures hot from the near 100-degree temps outside to somewhat sweaty.
We signed everything, from the pictures we had to the pictures they had – some of Emory and some of myself they brought from being taken years ago. We signed plaques, wooden cutout Cowboys helmet profiles, flags, jackets, jerseys, T-shirts, hats and purses. You name it.
We drew the line at being asked to sign them.
Amazing, and it was just us.
So don't you ever doubt if there still are Cowboys fans in El Paso, Texas.
Once again, Rowdy, recently voted the NFL's 2015 top mascot, had to once again escape out the backdoor after changing into his civvies. They left me to apologize to those still waiting outside for us having to head out for our scheduled stop in Tucson. And still didn't escape without taking a few more pictures.
So off we are, and thank goodness Jacob's aunt stopped by, bringing a couple bags full of tamales. Think I inhaled more than my share. Maybe the best tamales I've ever had, as we started making our way toward Friday night's stop in Tucson.
On the way, we had to pass through a Border Patrol station. The canine units were out sniffing vehicles. Thought for sure the 1960s-like VW van ahead of us, loaded to the gills and with extra baggage piled on top, was a prime candidate to be pulled over. The agents didn't. Us neither, waving us through after pulling over a car and starting to give him the once over. Pretty intimidating, making me think our borders might just be a tad safer than some think.
Man, some day. And it's not over yet. Tucson tonight. Chandler, Ariz., tomorrow. LA Sunday, providing we can navigate past the I-10 bridge washout south of Palm Springs, Calif. Might have to drive the bus through San Diego and up the coast.
That's an adventure for another day.
But after tonight's stop in Tucson, as Linda Ronstadt sang in Willin' back in 1976, "I been from Tucson and Tucumcari . . ."
OK, come on, maybe not "from," but now thanks to these Cowboys bus tours to training camp in Oxnard, at least "to." Same difference, right?