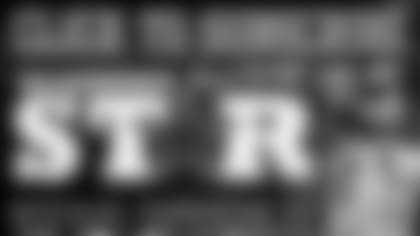 Cole Beasley woke one morning filled with excitement as he went to pick up the local paper.
The 14-year-old couldn't wait to see an article in the sports section describing how his hard work would elevate him to the varsity team as a freshman. He glanced down and read it from start to finish with a smile from ear to ear.
But what was one of Beasley's proudest accomplishments soon turned into countless moments of ridicule.
"There have always been doubters. I've been getting it since middle school. I was in eighth grade and a story came out saying I was going to play varsity as a freshman, and I got a lot of crap from people," Beasley says. "At that time, I was only 5-6. Everybody is always going to doubt me because of my size. I just have to prove I can play. It will be like that forever until I show what I can do."
Beasley hasn't grown much more since his freshman year. In fact, he's only listed as 5-8, 174 pounds, and even that is probably being a bit generous. However, Beasley has never been distracted by the jeers and name-calling. He just goes out and does what he loves to do, ignoring all the outside chatter.
With a chip on his shoulder, Beasley quickly proved everyone who called him minuscule and pint-sized wrong, as he became a fixture on the varsity team and flat out dominated as a senior. Starting at quarterback, he passed for more than 1,500 yards, rushed for 1,184 yards, and scored 24 total touchdowns.
His stellar play caught the eye of Southern Methodist University, which offered the tiny yet dynamic athlete a full scholarship. But now Beasley was faced with a new challenge – a position switch.
"I wanted to play receiver in college the whole time because I knew nobody at the Division I level would want a quarterback who is only 5-8. Scouts aren't really fond of 5-8, 175-pound quarterbacks," Beasley says. "I had a lot of quickness, so I figured I could transition to receiver. I have quick feet, and I believe that gives me strength over some NFL players. I have to use that to my advantage."
Beasley arrived on the Hilltop just as the football program was making strides toward reversing a losing culture that had plagued the school for over 20 years. Step 1 was the hiring of June Jones, a former head coach of the Atlanta Falcons.
Jones brought with him the NFL-style Run N' Shoot, a wide open, pass heavy offense that allowed Beasley to utilize his agility and elusiveness as a slot receiver. Though Beasley had some trouble adjusting early, he still found himself starting seven games as a true freshman.
By the time he was a senior, Beasley had things down pat and became one of the most dangerous slot receivers in all of college football.
"It took a little bit of getting used to. I was a little shaky my freshman year," Beasley says. "The beginning of my sophomore year I was really struggling, but by the end of the year it all clicked, and I knew I could really play receiver. That carried over to my junior and senior years and now I'm definitely confident in my ability to play the position."
Beasley recorded 86 receptions for 1,040 yards in 2011, but despite the gaudy numbers, was still not invited to the Scouting Combine. Again, size issues were brought up in draft circles when discussing the speedy Mustang wide receiver.
At SMU's Pro Day, Beasley showcased his talents, caught the attention of a few scouts and was invited by the Cowboys to come in for a private workout and visit before draft day. Wide-eyed, Beasley knew he was one step closer to reaching the NFL.
When seven rounds came and went later that month, Beasley kept his composure and patiently waited by the phone … finally, it rang.
"I didn't expect anyone to draft me just because of my size. The Cowboys told me they were interested, but I wasn't surprised when they didn't take me," Beasley says. "It felt really good when I got that call letting me know I was a Dallas Cowboy. Ever since high school, I had that dream of playing in the NFL. My first dream was to play at the D-I level in college. Once I found out I had the chance to play at that level, I just worked so hard, and it finally paid off when I received the call."
With a lack of depth at wide receiver, Beasley has a strong chance of catching on with the Cowboys, and turned quite a few heads during the summer Organized Team Activities and minicamp. He explained that the hardest transition from college to the pros has been learning Jason Garrett's offense and the terminology that comes with it.
"Now I have to do some different things and play outside," Beasley says. "At SMU, it was strictly slot. It's a little different, so now I have to adjust.
"June Jones used the spread. We always used four receivers. Here, we use a lot of tight ends and a lot of different combinations. There is a lot of two-back stuff and we never had that at SMU. All we ran was a pass or a draw. It's a little different blocking-wise here. I feel that's the part of my game I'm going to have to improve on the most . I need to get more physical with my blocking."
But Beasley didn't come to Valley Ranch totally blind. Playing for Jones gave the rookie wideout an idea of what to expect in the NFL.
"June helped me out as far as knowing what to expect when it comes to how NFL teams practice and the level of play they demand," Beasley says. "How to practice like a pro really helped me when I got here."
And Beasley has shown he can not only compete with the pros, but also act like a pro as well. With a humble tone in his voice, he talked about having to learn something he's never done before. At SMU, Beasley returned quite a few punts, but now he has to learn to cover them.
"I've done punt return on special teams, but I've never done anything else," Beasley says. "The coaches expect you to know special teams because that's the quickest way I'm going to make the team or be on the field. If I can't play special teams, I won't make the team. I have to learn fast. I've picked up a lot on form tackling and the fundamentals."
As far as his natural position, Beasley rarely drops a ball at practice. He does all the little things right and models his game after New England Patriots wide receiver Wes Welker, who also went undrafted and didn't have the measurables to garner major attention from NFL teams.
Welker has gone on to defy the odds and be an All-Pro. Beasley hopes do the same, which is why he's taking after starting wideouts Miles Austin and Dez Bryant. Whenever he gets the chance, Beasley picks their brains and asks for advice on everything from route running to reading coverages.
"Wes Welker and I have a lot of similarities. I watched him a lot at SMU because what I did there is lot of what he does now. I used to watch him all the time," Beasley says. "Now, I need to watch Miles and Dez since this offense is completely different. I have to try to take what they know and evolve it with my quickness.
"Miles and Dez aren't selfish guys. They're real team players, and they try to help all the young receivers do what's right. They help us, and they're making the team better by doing that. They've been tremendously helpful."
With a quiet confidence and openness to learning, Beasley is quickly establishing himself as an undrafted gem.
He still reminisces about that day he read the newspaper article and every time he does, a fire lights up in his eyes and the desire in his heart is replenished. Never letting the accolades and success he's endured since then get to his head, Beasley remains content with just getting a fair shake at living out his childhood dream.
"It's either you're good enough or you're not and that's all I can ask for is my opportunity," Beasley says. "I always told my dad I wouldn't be mad if I got my shot and just wasn't good enough. I'd be mad if I didn't get a shot. I'm just glad to be here now."
Beasley also remains optimistic about his chances of catching on with the Cowboys for the long run and hopes his grit and determination will once again bring positive results.
"Every spot is open, technically," Beasley says. "It's not up to me to make the decision. I'm just going to work as hard as I can and do the best I can on offense and special teams. All I can do is work my butt off and see what happens."