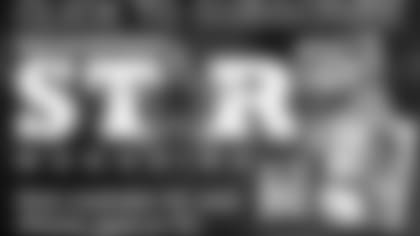 ](/news/star-magazine.html)
Kate Witten-Sanchez asks ... What can the Cowboys do to eliminate the fourth-quarter and mid-game collapses that were a problem in 2011?
Well, I think they've already done what they can, but there's no way to be totally sure, and sometimes those things just happen. The Cowboys gave away big leads three times last year, against the Jets in the opener, the Lions in Week 4 and the Giants in Week 14. But they also had come-from-behind wins against San Francisco and Miami. In this league, no lead is safe if there's much time on the clock. The ball bounces in funny ways sometimes.
But as to what they've done to rectify the problems they had, take a look at the upgrades in the secondary. Teams like the Giants were able to zip up and down the field in the two-minute drill because of liabilities at cornerback, and the Cowboys have tried to fix those.
On offense, Tony Romo got most of the blame for surrendering those big leads, and he deserves his share of it. But he isn't going anywhere, and so the front office was tasked with trying to help him avoid those mistakes. In addition to his continuing maturation, some veteran additions on the offensive line and the swapping of tackles Tyron Smith and Doug Free should allow him to be more comfortable in the pocket and not have to make so many snap decisions.
Another big thing is a full offseason of work with renowned strength coach Mike Woicik. The Cowboys are hoping Woicik's training program will give them a little something extra in the fourth quarter this year, and his six Super Bowl rings are a reason to believe it can happen.
Tyler James Fayette asks ... Now that we've fixed the cornerback position, is there another spot on defense that needs an upgrade before the season?
The weak spots, you would probably say, are at safety and defensive end, but I don't expect the Cowboys to make any more noteworthy moves in free agency. First off, the talent pool is pretty diluted at this point, and the team doesn't have a lot of salary cap space anyway.
Look for the Cowboys to try to sort those positions out with competition. At safety, it's Brodney Pool or Barry Church. On the D-line, a couple of up-and-comers could challenge for more playing time, Sean Lissemore and Clifton Geathers.
Barry Hessland asks ... I heard Jerry Jones talking about his "personal window" recently. Is he considering stepping away?
That's probably reading too much into it since there has been no indication of any health problems. The owner/general manager was just making a general comment about getting older. He'll be 70 in the fall.
Jones is very active and energetic for a man his age, and I don't see any reason to believe he won't be running the Cowboys for quite a few more years. It's his passion; there's no way he gives it up until he absolutely must.
Michael Browns asks ... Should we risk Morris Claiborne in the return game?
There is risk in everything we do. For Claiborne, there's a lot of risk associated with playing defense. Guys get hurt all the time, on offense, defense and special teams.
Coaches are trying to take calculated risks, of course. If special teams boss Joe DeCamillis thinks he can pull off a big return by inserting Claiborne or Dez Bryant into the game, he should do it. I'm not sure if either of those guys will be the Cowboys' regular return man, but I bet we see both of them fielding balls at some point this season.