Amy Andrus is currently in her second season as a member of the Dallas Cowboys Rhythm & Blue Dancers presented by Miller Lite, the NFL's first and only co-ed hip hop professional dance team in the NFL.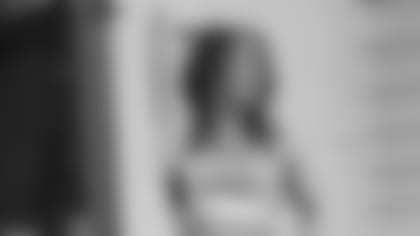 She began dancing at the age of three with ballet, tap and jazz and started competitive dancing in junior high which led to her opening up her style to incorporating hip hop and pom routines. In high school, she continued with competitive dance as well as joining the school's drill team and her dance studio team. While the drill team was more military in style with strict placement, the studio team was more imaginative and involved choreographing artistic and stylized routines for the purpose of competition.
Amy began her college career at Kilgore for the purpose of becoming one of the famed Kilgore Rangerettes and then transferred to Southern Methodist University where she was on the SMU Pom Squad. Her professional sports dance career began with a two-year stint as a member of the Allen Americans Ice Angels before she made the Dallas Cowboys Rhythm & Blue Dancers.
Amy was kind enough to join me for a few moments to discuss her time with the Dallas Cowboys Rhythm & Blue Dancers.
JAY BETSILL:Would you say that your time dancing in college and with the Ice Angels played a big role in preparing you to manage having a full time job and the time and dedication it takes to be a member of the Dallas Cowboys Rhythm & Blue Dancers?
AMY ANDRUS: It actually goes back to high school because I would dance 20 hours a week and balance that with school. That was my first introduction into time management because I had to keep good grades to be able to continue dancing. Rangerettes would be four-six hours a day of practice sometimes and at SMU we would travel to games on occasion. Ironically, I cheered for Cole Beasley at SMU and now again with the Dallas Cowboys.
JB: What made you choose the Dallas Cowboys Rhythm & Blue Dancers?
AA: I wanted to continue dancing after college and I discovered the Dallas Cowboys Rhythm & Blue Dancers on YouTube and after seeing their style, I knew I wanted to be a part of this team. I loved the concept and I love the fact that I am really challenged as a dancer. Everyone of our routines is a workout and I love having that challenging aspect of it. I also love working under Jenny Durbin Smith, who is great and so recognized in the dance world.
JB: Was there anything specific you did to prepare to audition for the Dallas Cowboys Rhythm & Blue Dancers?
AA:I would say my time with the Ice Angels prepared me to be on a professional team and taking prep classes ahead of time was really important. The prep classes are vital for learning the DCRB style, which is very different than any other team in the professional sports world. Anyone who is interested in being a Dallas Cowboys Rhythm & Blue Dancer needs to take Jenny Durbin Smith's prep classes and do a lot of cardio to build up their endurance.
JB:Another unique part of the Dallas Cowboys Rhythm & Blue Dancers audition process is having the finals in front of thousands of Cowboys fans at AT&T Stadium during the NFL Draft party. What is that like from the dancers' perspective?
AA: It was nerve wracking but amazing at the same time. I love to perform, that is one of the reasons I wanted to continue dancing, bringing that entertainment level to people is really exhilarating. That is also one of the best things about the process because it is one thing to perform for judges in a dance studio, but for the judges to be able to see you perform for the fans, it gives them a better idea how you dance for a large audience. As far as being a dancer, the fans are almost a distraction from the judges as you see their enjoyment and also helps your performance be even better.
JB: How did you feel when you found out that you had made the team in your first year?
AA:It was wonderful and a I had a great sense of accomplishment. It is a big deal to dance for the Dallas Cowboys and being a member of the rebranded co-ed Dallas Cowboys Rhythm & Blue Dancers was an amazing honor. In all my years of dancing, I had never been on a co-ed team so that was also an exciting element.
JB: Talk about the guest choreographers who have worked with the Dallas Cowboys Rhythm & Blue Dancers
AA: This is one of the amazing things about being on this team. Wildabeast has also come to Dallas to specifically choreograph a routine for us and he is one of the biggest stars in the dance world. The way that his mind works and seeing his mind work and the artistry that goes into every single move of the routine is really inspiring for all our whole team.
JB: What is your biggest challenge in being a part of the Dallas Cowboys Rhythm & Blue Dancers?
AA: Time management. I have a full time job and I used to also teach fitness on the side, but I gave that up to be able to devote as much time as possible to this team and really soak in the experience of being a part of the Dallas Cowboys
JB: Now that you are in your second season, what is your favorite part or parts of being a member of this team?
AA: There are so many things I love about being on the Dallas Cowboys Rhythm & Blue Dancers. On game days, we really get to interact with the fans and I think that is huge because we are still relatively new in the the overall scheme of things and to be able to share this joy with fans and help the team grow is really cool. The routines we do are my favorite routines I have ever performed and this is a really great group of people. Everybody works really hard and it makes it that much more worth it when you have a team that really is like a second family.
Fans can follow the Dallas Cowboys Rhythm and Blue Dancers on Twitter and Instagram @DCRhythmBlue