While every team covers the picks at the top of the draft, although it likely took a frustrating season the previous year to obtain it, history as shown great players come from every spot in the draft.
For the Cowboys, several of the franchise's best players, including arguably two of the very best, were taken right in the middle of the first round.
Sure, Emmitt Smith (17th) and Bob Lilly (13th) don't land on a team every year - or decade for that matter - but they are two of the best examples of finding elite talent later into the first round.
That brings us to 2018 as the Cowboys again have some high hopes for a mid-first rounder after drafting Boise State linebacker Leighton Vander Esch.
First things first, he needs to crack the starting lineup. But does he have the type of ability to be one day be considered a draft-day steal?
This is a world-class group of Cowboys greats that were selected between picks 11th and 20th overall.
Here's the 10 best mid-first round picks, beginning with a pair of honorable mention defensive linemen that went 20th overall.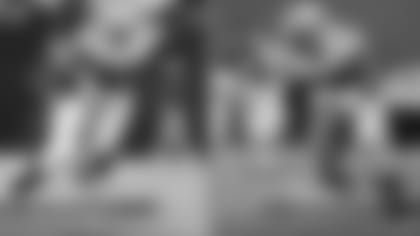 Honorable mention: Both picked at No. 20, the expectations were a bit different for Ekuban and Spears, who actually joined DeMarcus Ware as headliners to the 2005 Draft. Because of that, and probably his always-jolly nature, Spears might be remembered as the better pro overall. But it's close, as Ekuban still managed to have a 10-year career and record 36.5 sacks. Spears, who played a different role in the 3-4 scheme, had 10 career sacks.