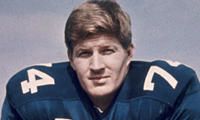 Bob Lilly: Defensive tackle, 1961-1974 Inducted: 1980
Known as "Mr. Cowboy," the two-time All-American at TCU was the first player drafted by the Cowboys and the team's first inductee into the Pro Football Hall of Fame. Lilly was named rookie of the year in 1961 and made 10 consecutive Pro Bowls, from 1964 to 1974. He anchored the famous Doomsday Defense and helped the Cowboys win Super Bowl VI. He held the franchise record with 196 consecutive games played.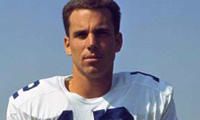 Quarterback, 1969-1979 Inducted: 1985
Staubach was originally drafted in 1964 but didn't start playing until 1969 after he completed his Navy service. The six-time Pro Bowler earned the nickname "Captain Comeback" for helping the Cowboys overcome fourth-quarter deficits 23 times. He led Dallas to seven division titles and two Super Bowl victories. He was named MVP of Super Bowl VI and inducted into the Cowboys' Ring of Honor in 1983. He finished his career with 22,700 passing yards and 153 touchdown passes.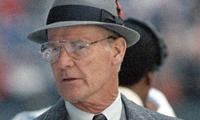 Tom Landry: Coach, 1960-1988 Inducted: 1990
Landry helped start the franchise before the 1960 season and for 29 years was the only coach the Cowboys had. After going 0-11-1 during his first season, Landry went on to compile a record of 270-178-6, including the playoffs. His innovations included the pre-snap motion and the "Flex" defense. Landry's teams won 13 divisional titles, five NFC titles and two Super Bowls (VI and XII).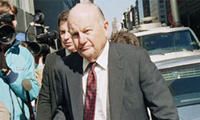 Tex Schramm: President/General Manager, 1959-1989 Inducted: 1991
Texas Earnest Schramm Jr. oversaw the birth of the franchise and guided the team to the top of the NFL. A true visionary, Schramm was instrumental in creating the Cowboys Cheerleaders, the Ring of Honor and bringing an annual Thanksgiving Day game to Texas Stadium. During his tenure, Dallas made 18 playoff appearances and won two Super Bowls. Schramm also helped coordinate the NFL-AFL merger in 1970.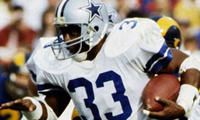 Tony Dorsett: Running Back, 1977-1987 Inducted: 1994
The Cowboys sent four draft picks to Seattle in 1977 for the rights to draft Dorsett, a Heisman Trophy winner at Pittsburgh. He rushed for 1,007 yards as a rookie and broke the 1,000-yard barrier each of the next four years, contributing to Dallas' Super Bowl XII victory. The four-time Pro Bowler finished with 12,739 rushing yards, fifth most in NFL history. Ninety-nine of those yards came on his NFL-record run against Minnesota in 1983.
Randy White: Defensive Tackle, 1975-1988 Inducted: 1994
The second overall pick in the 1975 draft became a dominant force over his 14-year career. The "Manster" — half-man, half-monster — struck fear in the hearts of opponents. Although the NFL did not recognize sacks as an official statistic until 1982, White registered 16 in 1978. He ranked third in franchise history with 1,104 tackles, including 701 solos. He earned Pro Bowl honors nine times, was selected co-MVP of Super Bowl XII and was the 1978 NFL defensive player of the year.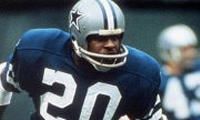 Mel Renfro: Defensive back, 1964-1977 Inducted: 1996
Renfro arrived in Dallas as a highly touted running back from Oregon. By the time his 14-year career was over, he was among the best defensive backs in NFL history. Renfro rewarded coach Tom Landry for the position switch with 52 interceptions and 10 Pro Bowls. After six years at safety, Renfro moved to cornerback. He played in four Super Bowls and eight NFC Championship Games. In the 1971 Pro Bowl, he returned two punts for touchdowns.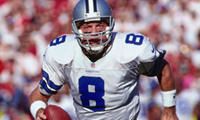 Troy Aikman: Quarterback, 1989-2000 Inducted: 2006
The No. 1 overall draft pick in 1989 went 0-11 as a starter his rookie year. He became only the third player in NFL history to lead a team to three world titles. With Aikman at the controls, Dallas won Super Bowls XXVII, XXVIII and XXX. He was named the MVP of Super Bowl XXVII, when he threw four touchdown passes in a 52-17 win over Buffalo. Upon retirement, Aikman was the franchise leader in passing yards (32,942) and TD passes (165).
Rayfield Wright: Offensive Tackle, 1967-1979 Inducted: 2006
Wright played tight end and offensive and defensive tackle during his first three seasons. He settled at right tackle in 1970 and became one of the best offensive linemen in franchise history. Wright was a six-time Pro Bowler who participated in five Super Bowls, winning two. He was inducted into the Cowboys Ring of Honor in 2004 and reached the Pro Football Hall of Fame two years later.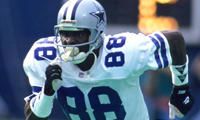 Michael Irvin: Wide Receiver, 1988-1999 Inducted: 2007
Michael "The Playmaker" Irvin helped lead the Dallas Cowboys to six division titles and three Super Bowl rings before a spinal injury cut his playing career short. Irvin was the team's top receiver for eight consecutive seasons and retired as the Cowboys alltime leader in receptions (750), receiving yards (11,904), playoff receptions (87) and playoff receiving yards (1,315). As a five-time Pro Bowl selection, between 1991-98, Irvin has two more appearances than any other receiver in club history. Irvin was inducted into the Ring of Honor with Emmitt Smith and Troy Aikman on Monday Sept. 19, 2005 at halftime of the Cowboys-Redskins game. Irvin was elected to the Pro Football Hall of Fame in 2007.
Bob Hayes: Wide Receiver, 1965-75 Inducted: 2009
"The World's Fastest Human" helped revolutionize the receiver position with his speed and ushered in the age of zone defenses as teams tried to devise ways to stop him. He was a threat to score any time he had the ball. He finished his career with 71 touchdowns and a staggering average of 20 yards per reception. Named to three Pro Bowls, Hayes holds all or part of 11 Cowboys records.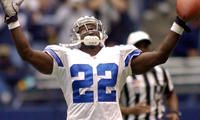 Emmitt Smith: Running Back, 1990-2004 Inducted: 2010
Emmitt Smith retired as the NFL's all-time rushing leader with 18,355 yards and scored more rushing touchdowns (164) than any other player in NFL history. Smith was selected to the Pro Bowl eight times, won four NFL rushing titles ('91, '92, '93 and '95), three Super Bowl titles, and a league (1993) and Super Bowl (XXVIII) MVP award. Smith broke Walter Payton's NFL rushing record at Texas Stadium on Oct. 27, 2002 on an 11-yard run in the fourth quarter against the Seattle Seahawks. Smith was inducted into the Ring of Honor with Troy Aikman and Michael Irvin on Monday Sept. 19, 2005 at halftime of the Cowboys-Redskins game. Smith was elected to the Pro Football Hall of Fame in 2010.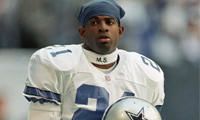 Deion Sanders: Cornerback, 1995-99 Inducted: 2011
Selected by Atlanta in first round (fifth player overall) of 1989 draft. ... Returned punt 68 yards for touchdown in NFL debut. ... Scored total of six touchdowns on punt returns, three TDs on kickoff returns, and returned nine interceptions for scores during career. ... Multifaceted athlete returned one fumble for TD and had 60 receptions for 784 yards and 3 TDs. ... In all, recorded 53 career interceptions including five with Ravens when he returned to field after three-year retirement. ... Member of NFLs All-Decade Team of 1990s as both cornerback, punt returner. ... Led NFL in punt returns, 1998, with 15.6 average. ... Led NFC in kickoffs in 1992 and interceptions in 1991, 1993. ... Named first-team All-Pro nine times at cornerback along with receiving All-Pro as kick returner in 1992 and punt returner 1998. ... Elected to eight Pro Bowls. ... Retired second all-time in interception return yardage (1,331), tied for second for most interceptions returned for touchdown in a career (9) and a season (3). ... His 303 yards gained on interception returns in 1994, third best in NFL at retirement. ... In 1994 became first player to have two 90-yard interception returns for touchdowns in same season. ... Named NFLs Defensive Player of the Year, 1994.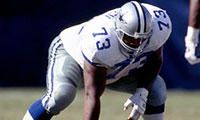 Larry Allen: Guard/Tackle, 1994-2005 Inducted: 2013
As a member of the NFL's All-Decade team for the 1990s and 2000s, Larry Allen was widely recognized as one of the NFL's premier offensive linemen, and he established himself as one of the most decorated offensive players in Dallas Cowboys and NFL history. 
In 14 NFL seasons since being drafted in the second round out of Sonoma State, Allen was named to more Pro Bowls (10) than any other offensive player in Cowboys history. He also earned another Pro Bowl berth in 2006 while finishing his career with the San Francisco 49ers, bringing his Pro Bowl total to 11 selections. He was also named All-Pro seven times, six times at guard (1995-97, 1999-01) and once at tackle (1998). With his Pro Bowl selection at tackle in 1998, he became just the third player in league history to be selected to the Pro Bowl at more than one offensive line position during his career, joining Bruce Matthews (guard/center) and Chris Hinton (guard/tackle). 
With a career-best bench press of 700 pounds and a squat lift of 900 pounds, Allen is also considered to be the strongest man to ever play professional football. After missing most of 2002 with a sprained left ankle that required surgery to remove bone spurs, Allen went on to start 48 straight games before signing and playing for two seasons (2006-07) with San Francisco where he started the final 27 games of his career. Allen started 197-of-203 career games played.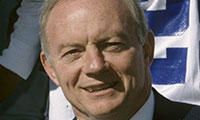 Jerry Jones: Owner/President/General Manager, 1989-Present Inducted: 2017
Recognized around the NFL as one of his era's most influential and passionate owners, Jerry Jones was selected for induction to the Pro Football Hall of Fame as a contributor in February of 2017.
In addition to becoming the first NFL owner to lead his franchise to three Super Bowl titles (1992, 93 and 95) in a four year period of time, Jones' efforts in the areas of sports marketing, promotion, stadium development, and network television negotiations created a lasting imprint on the landscape of the NFL and the American sports culture.
Since his purchase of the Cowboys in 1989, the team has won 10 division titles, while advancing to the postseason 14 times and reaching the NFC Championship game four times.
As Dallas' general manager, Jones has overseen personnel efforts that include the acquisition of 47 different players who have combined for a collective total of 142 Pro Bowl appearances. Six Cowboys players from Jones' tenure of ownership have been inducted into the Pro Football Hall of Fame -- Troy Aikman, Michael Irvin, Emmitt Smith, Deion Sanders, Larry Allen and Charles Haley - while Jones has served as the presenter for three of those men: Irvin, Smith and Allen.
The lasting landmarks to Jones' legacy of promoting and protecting the future of the sport of football can be seen in the conception and construction of AT&T Stadium in Arlington, Texas and The Star in Frisco, Texas. The stadium, which opened in 2009, has a capacity of over 100,000 and is the largest and most technologically sound indoor/outdoor stadium in the world. The Star, which serves as the world training headquarters for the Dallas Cowboys, is a state-of-the-art venue that enjoys a first-of-its-kind partnership with its surrounding community in Frisco, Texas, and the young men and women who compete in athletics at the high school and youth sports levels.
On the league level, Jones has served lengthy stints on nearly every significant NFL ownership committee, including the Competition Committee, the Broadcast Committee, the Management Council's Executive Committee, the Health and Safety Advisory Committee, and he is currently the chairman of the NFL Network and Pro Football Hall of Fame Committees.   
Born on October 13, 1942, Jones' connections to the game of football go back to his playing days at North Little Rock High School. He then earned a scholarship to play at the University of Arkansas where he was a co-captain of the 1964 Razorbacks' national championship team.
Jones, who became the 15th NFL owner to be selected for induction into the Hall of Fame, is the only man in football history to both play for a collegiate national championship football team and own a Super Bowl winning club.
Jones was born on Oct. 13, 1942 in Los Angeles, Calif.