The offseason practices are in the rearview mirror as the Cowboys are heading towards training camp, which begins on July 24 in Oxnard, Calif.
That's usually the place where many of the questions regarding this team start to get answered.
The staff writers at DallasCowboys.com – Rob Phillips, David Helman, Nick Eatman and Bryan Broaddus – are attempting to answer 20 pressing questions as the team gets ready for camp and the 2017 season.
Today, we continue the series discussing whether Ezekiel Elliott, last year's leading NFL rusher (1,631 yards), can become only the eighth player in league history to gain 2,000 yards in a season.
*8) Is 2,000 Rushing Yards Obtainable For Ezekiel Elliott This Year? *
Phillips:If you believe the Cowboys will try to monitor Elliott's workload over 16 games, then 2,000 doesn't seem very realistic. Seven running backs in league history have topped 2,000 yards: Eric Dickerson, Terrell Davis, Chris Johnson, Jamal Lewis, Adrian Peterson, Barry Sanders and O.J. Simpson. Their average number of carries? 361. That's an incredibly large number that averages out to 23 per game. Elliott had 322 carries as a rookie, and even though he didn't have any in the final five quarters of the regular season, it's hard to imagine him topping 360 this season. Then again, the Cowboys did have the luxury to sit him down and limit his touches late last season, and that might not be the case this December and January if they're in the thick of a playoff race. I could envision him getting a similar amount of carries but a greater number of catches, maybe closer to 40 than his 32 last year.
Helman:If the Cowboys were determined to do it, they could absolutely give Zeke Elliott the ball enough to get him to 2,000 yards. Their offensive line is top-notch, and defenses have to respect Dak Prescott and the Dallas passing game enough to give Zeke room to run. But I don't see Zeke reaching 2,000 – because he doesn't need to. There's an absurd amount of playmakers on this offense, from Dak to Dez Bryant to Jason Witten and Cole Beasley. On top of that, Zeke can be a dynamic receiver – and I think he'll be a bigger part of the passing game this year. He finished with just 32 receptions last year, and I think he's capable of doubling that production this season – let's say roughly 50 receptions. Zeke might finish with 2,000 all-purpose yards, but I think the versatility of the offense means he won't need to rush enough to crack 2,000 on the ground. I'm thinking he carries the ball 360 times, finishing with roughly 1,800 yards for the year.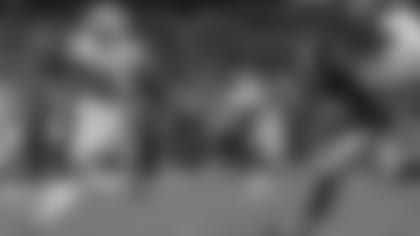 Broaddus:As much as I want to be different and say that Elliott can do it, I look at the schedule and have my doubts. The first month of the season will be a great indicator of how well this offense will be able to rush the ball in general. The Giants, Broncos, Cardinals and Rams all have impressive front sevens. The Giants and Cardinals also have safeties that play well in run support as well so those games will be tough. I think Elliott will get his yards during the season much like he did last year but I could also see some games where balance goes out the window due to the opponent's offense. Green Bay, Atlanta and Oakland come to mind.
Eatman: I have a feeling we are going to start talking more and more about all-purpose yards than we do right now. Maybe not this year, but over the next few seasons, I would imagine that all-purpose yards will be a stat that is associated more with running backs. And it's not just for players like Elliott, but Le'Veon Bell as well. For that reason, I'll say that it's unlikely Zeke will get to 2,000 rushing yards. I see him having another great year but I see him more involved in the passing game, too. He'll probably get to 2,000 all-purpose yards, considering he missed it last year by just six yards. Zeke will probably be just like the Cowboys' team overall. They might be a better team with a worse record than 13-3. Zeke might be a better player but not produce as many yards. So I'll say no to the question, but overall, he's going to be a better player.