(Editor's Note: With the draft still about three months away, Bryan Broaddus has already begun his draft research although we're still early in the game. Each day of the next two weeks, we'll focus on a position, with Broaddus profiling a handful of top players, going off mainly their college film. Today, we'll focus on the defensive line.)
Here are a few defensive linemen to keep an eye on as we get ready for the 2013 NFL Draft:
Star Lotulelei, DT, (6-4, 325), Utah
Massive man that can be difficult to block when he is in the gap…plays with some explosive strength…good leverage…can stuff blockers and win the one-on-one battles…can handle the double team blocks…doesn't get knocked back…hard man to move…can disengage from blocks…will make plays down the line…not a slug that sits inside and doesn't move, can get outside of the tackle box…see hand use…can make some short area quickness plays…see him chase the ball…doesn't have many pass rush moves…more about playing with power and pushing the pocket from inside…forced two fumbles by the USC center just by lining up over his nose….would play as a one technique in this 4-3 scheme and a nose in 3-4….should test very well athletically.
Sharrif Floyd, DT, (6-3, 301), Florida
Could play him at tackle or end, both in this Gators scheme….square player…gets up the field…nice quickness when used in the twist stunt…stays active, does not stop….fights off the block…can retrace steps when he gets up the field and the ball comes back inside….showed nice power by throwing Texas A&M tackle Luke Joeckel off balance on a pass rush…will fight the double team block…very mobile to chase….runs plays down from backside…good pass rush moves…quick arm over…active with his hands….can be trouble for blockers when he is on the move…can push the pocket from the inside…played well against outstanding competition….type of player that never comes off the field.
Sheldon Richardson, DT   (6-4, 295), Missouri [embedded_ad]
Richardson like Floyd is a Junior that is coming out early in this draft…runs very well…outstanding at chasing the ball…nice hustle play against South Carolina getting to the outside and causing a fumble on a screen…plays with balance…has a quick swim move…gets his hands inside to control blockers, can shed quickly…plays with initial quickness…Can change direction and redirect…will use a spin move on the pass rush to free himself…will tackle in space…can beat the block back…played some as a standup linebacker on certain schemes….three down player…really does a nice job of playing with awareness…hard guy to fool…could go either way with him or Floyd and be happy but see a little more in Floyd.
Bjoern Werner, DE, (6-4, 255), Florida State
Reminds me a lot of Chris Long of the St. Louis Rams in the way he plays...Before this scheme change for the Cowboys, this guy would have not been a fit…Lines up at left defensive end for Florida State…really not sure how strong he is down after down but there were plays that he was good with his hands when engaged getting off the block…gets up the field in a hurry…likes to line up wide and rush…will play his technique….stays at home when he is required…able to slide down the line of scrimmage and stay in position to make the tackle…takes on the trap block…there were some pass rushes where he looked stiff getting around the corner…will play a little tall and that gets him in trouble…was lazy in his effort against Miami but the majority of the time, he is playing with all he has….snap to whistle player.
Ezekiel Ansah, DE (6-5, 274), BYU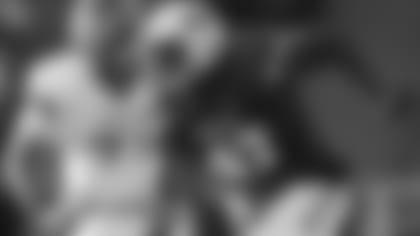 Is known as "Ziggy" to his teammates…from Ghana, Africa…has not played much football in his career but tools are there to develop…love his length for the position…very smooth athlete…moves well and with ease…had two sacks against Utah State, one of them showing some nice power splitting a double team…for his frame, he has surprising strength….is quick off the snap and when in used in games…like him on twist stunts…fights the cut off blocks…will stay active….fights hard to hold the point of attack…not great bulk but does what he can…when he gets in trouble is when he rushes down the middle….the more he can explode to the edge...better chance he has getting around the corner….relentless effort…didn't look like he got frustrated when he was blocked in the Senior Bowl practices….showed up well against good competition…could very well be the wild card in this draft where he is taken.