Add it all up, and that means 11 of 16 games versus quarterback with at least an 80 QB rating from last year, and again, a 12th if you just include Vick that Saturday night (Dec. 16) in Atlanta. 
Oh, by the way, it's not just quarterbacks, either. Do you realize the Cowboys will face the top three receivers from last year, too, figuring they have to take on Arizona's Larry Fitzgerald and Anquan Boldin along with Carolina's Steve Smith? Fitzgerald and Smith led the league with 103 receptions and Boldin was one short of making it a three-way tie. 
And when it comes to receiving yards from last year, well, the Cowboys' defense won't take a backseat to anyone. They get No. 1 Smith (1,563), No. 2 Santana Moss (1,483) twice, mind you, No. 4 Fitzgerald (1,409), No. 5 Boldin (1,402), No. 7 Joey Galloway (1,287), No. 9 Plaxico Burress (1,214) twice and No. 10 Marvin Harrison (1,146). 
You serious? Having to face seven of last year's Top 10 receivers by yards? And two, no less, (Fitzgerald and Boldin) in one game? 
And get this? When it comes to last year's Top 10 leading NFC receivers, the Cowboys will face all but two, St. Louis' Torry Holt and Green Bay's Donald Driver. And thanks to themselves, included in those eight receivers they must contain is none other than Keyshawn Johnson. That's right, Johnson's 71 receptions ranked tied for ninth in the NFC with Washington H-back Chris Cooley. 
OK, hang, one more: Smith and Harrison tied for the NFL lead last year with 12 touchdown receptions. 
Wonder if T.O. can cover, too? 
Cowboys owner Jerry Jones casually mentioned last week the possibility of selecting a cornerback come April 29 if a "top one" just happened to fall to their 18th slot. Hey, maybe the Cowboys have given this more thought than we think. 
After all, there is Terence Newman and Anthony Henry for starters, but Henry remained healthy for only half of his first season in Dallas last year. Then there is Aaron Glenn, but he turns 34 the week before camp begins. After that, Jacques Reeves, but how many teams in the NFL depend on a seventh-round draft choice to hold down the fort at cornerback? 
So this daunting schedule, or at least the opposing quarterback-wide receiver personnel, just might give the Cowboys pause. Something else to think about. 
Us, too, now that we have the schedule in black and white.       
| | |
| --- | --- |
| |   Looks like the Cowboys are planning to let Thursday's 11 p.m. (CDT) deadline to match the offer sheet Torrin Tucker signed with Tampa Bay expire. By morning, unless there is an 11th-hour change of mind, Tucker will be a Buc, projected to count $1.25 million against this year's cap.  |
| |   Those were season-defining moments the last two times the Cowboys were forced to play three consecutive games on the road. In 1991, the Cowboys lost the first two, and rode into Washington with a 6-5 record. They won the next five and advanced into the playoffs for the first time since 1985. Then in 1992, after beating Denver, the Cowboys had an opportunity to claim their first NFC East title since that 1985 season by winning at Washington. They didn't, having to wait a week to claim the East by beating the Falcons in Atlanta. The Washington loss, though, was the last of the season, the Cowboys going on to win the next five, including Super Bowl XXVII.   |
| |   And we have to go back to 1999 to find the last time the Cowboys finished a season with three of the final four games being played at home, as they will do this year with New Orleans, Philadelphia and Detroit in the final month.  |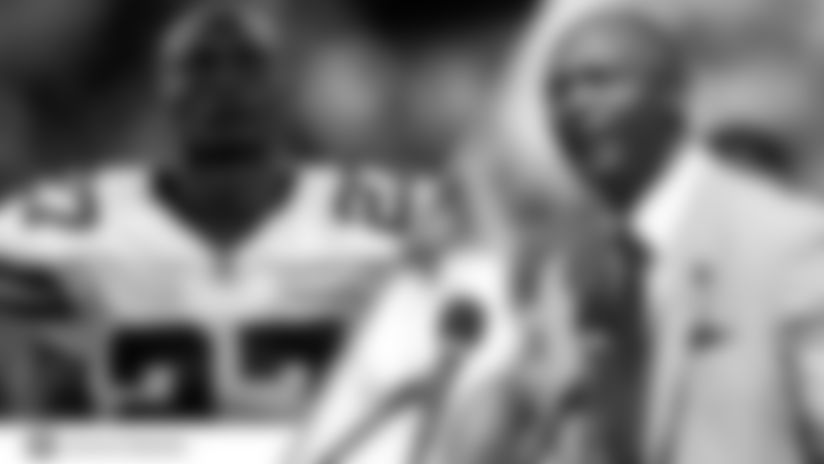 news
Past/Present: George Gets TSU Head Coaching Job
Past/Present Blog presented by John Deere