For most of my life, I have lived by the saying, "Without all of those blonde moments, life would be so dull!" And, "I'm blonde … what's your excuse?" Also, "Life is better blonde," and "Why do blondes have TGIF written in their shoes? Toes go in first!"
Ok, I didn't necessarily live by these quotes implying that "blondes have more fun," but over the past four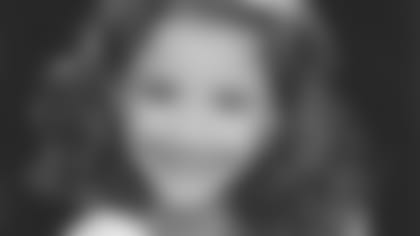 seasons as a Dallas Cowboys Cheerleader, I have graced the sidelines with golden blonde locks. I was born with curly blonde hair.
Actually, I take that back. I was born with absolutely NO hair. Growing up, I had a portrait of me as a baby (drooling and crawling) hanging up in my room. Until I was about seven, I believed that I had a full head of curly blonde hair when I was born. One day, I was bragging about it out loud, when my parents laughed and corrected me. I did not have a full head of curly blonde hair in the picture. No, I was definitely wearing an off-white headband made of fabric roses.
As a little girl, though, I did have curly blonde hair. Around the age of nine, when I won Miss Rio Grande Valley Pre-Teen, I started noticing streaks of brown hair growing in. Oh no! I tried everything. I poured lemon juice on it and sat in the scorching summer sun for hours. I even tried "Sun-In." It wasn't until I was in high school that I went to the salon to slowly add in highlights. The next thing I knew, I was competing in Miss Texas Teen USA 2007 as a full-fledged blonde. And I loved it!
This past January I wanted to change things up a bit, and director Kelli Finglass said, "Give it a spin!" So this year I will be re-auditioning for my fifth season as a DCC … as a brunette!
The process was a little traumatic at first. It's not done all at once. I said goodbye to my blonde hair and
closed my eyes until "Step 1" was over. I kind of regret opening my eyes at that point, though. Has anyone see the movie, The Fifth Element? For a second I contemplated changing my name to "Leeloo." Luckily though, the orange pigment was just a filler, a warm-pigmented product used to fill lightened hair before coloring it back to a darker shade.
Now I am loving my new hair color and my new look. Changing hair color is a great way to show a different part of ourselves. And, I am looking forward to amazing new memories as a brunette! I recently posted a photo on my twitter, @DCC_Sydney, and I was so thankful and happy reading all of the positive feedback on my new hair-do!