It seemed as if a star was born on that Nov. 5 afternoon in Waco, Texas. On that day, junior running back Kyle Hicks was nearly unstoppable, rushing for 192 yards and five touchdowns as his TCU Horned Frogs dismantled 6-1 Baylor by a score of 62-22.
"I actually didn't know if I was going to play that week," Hicks said. "I had sprained my ankle the week before against Texas Tech. That performance was one of my favorites because it was against a rival school and came at a time where I was not at 100 percent."
The Baylor game was a part of a record junior campaign for Hicks in which he rushed for 1,042 yards, scored 14 touchdowns, and was named to the Honorable Mention All-Big 12 team. Most would have chosen to declare for the draft following that type of season, but Hicks made the ever-increasingly rare decision to return for his senior year.
"I had always promised my mom that I was going to get my degree, and I felt like there was unfinished business," Hicks said. "I wanted to win a national championship, and I didn't like how my junior year had ended."
While TCU and Hicks would fail to win the title, the team's 2017 performance was still remarkably better than its 2016 effort. After finishing that year at 6-7, the Horned Frogs would go on to post an 11-3 record last season, defeating Stanford, 39-37, in the Alamo Bowl after competing in the school's first Big 12 Championship Game since 2009.
Speaking on how his class at TCU will be remembered, Hicks summed up his team's legacy as one of "Winners. We were willing to do anything in order to get the job done."
The team's overall successes, however, did not mask the fact that Hicks' draft stock took a hit during his senior season. Battling hamstring injuries throughout the year, he missed two-and-a-half games and carried the ball 64 fewer times than he did as a junior. As a result, he did not put up the same gaudy numbers, totaling just 637 rushing yards, which ranked second on the squad, with five touchdowns.
This put a greater emphasis on the imperative months leading up to the draft, as Hicks attempted to ensure that his name will be called during draft weekend.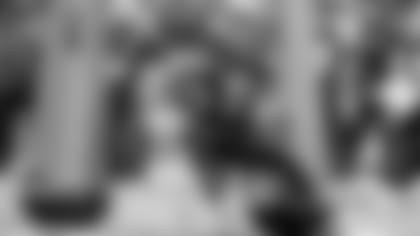 Since the end of the season in late December, he has participated in the Scouting Combine, the Horned Frogs' Pro Day and numerous other NFL team workouts and meetings. While Hicks is hoping to live out his dream and start a new chapter of his life, given the intense pressure of the last few months, hearing his name called on draft day would also be a massive weight off his shoulders.
He performed well at the combine, showing his explosiveness with an impressive 36.5-inch vertical jump while looking smooth in the on-field drills. Hicks, though, clarified that the measurables are not the whole story in regards to the importance of that trip to Indianapolis.
"I was telling my friends that the on-field drills are only about 10 percent of the combine," Hicks said. "The majority of it is meetings with teams and extensive interviews. You're up super early and not able to get to bed until late at night because of how busy your schedule is. If you are strong mentally, you will make it through without a problem."
One of Hicks's selling points during the pre-draft process has been his dual-threat capability. In four years at TCU he caught 102 career passes for just under a 1,000 yards. When talking about what he can bring to an NFL team, he cites his production as a pass catcher.
"I feel I am very versatile and have tremendous hands. I can do whatever my coach asks of me."
If Hicks' journey has been enough to push him into the draftable conversation, he would be adding to a significant trend established by TCU in recent years. Since 2011, there have been 18 former Horned Frogs who have heard their name called on draft weekend. This has given Hicks the opportunity to speak with many mentors who have already gone through this same grueling preparation.
"I've been picking everyone's brain throughout this whole process," Hicks said, "but the guys who I have been talking with the most are probably [Washington Redskins wide receiver and former TCU All-American] Josh Doctson, and [Buffalo Bills running back and one-time 1,000-yard rusher for the Horned Frogs] Aaron Green. They've just been telling me to take care of my body. That's the biggest thing I'm doing right now. Just making sure I'm fully healthy and ready to go."
Taking care of his body is about the only thing left for Hicks to do. He has finished a successful college career on an extremely competitive football team, completed the all-important scouting combine, and met with several NFL teams who have expressed an interest. Now he just has to hope that it was all enough to get him drafted.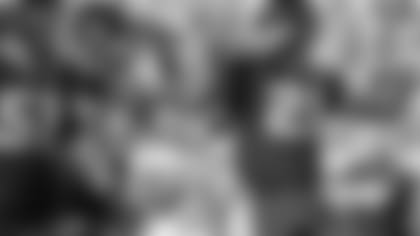 What makes Hicks' journey so unique, of course, is the fact that if he were to be drafted at AT&T Stadium, he would have starred at the high school and college level, as well as started his professional career, all within an 18-mile radius. He was a four-star recruit at Arlington Martin High School before blossoming into a key piece at TCU.
"It's pretty cool to have the draft in Arlington, the same city where I went to high school," Hicks admitted. "A lot of my teachers and coaches are still in the area and will be close to me as I take the next step in my journey."
Would it not be a delightful coincidence if Hicks could pull off the remarkable accomplishment of playing high school, college and professional football all in the Dallas-Fort Worth Area? On this subject, he is understandably less forthcoming.
"I did speak with the Cowboys at the combine, and they were pretty cool," Hicks said. "It would be awesome to play for Dallas, but I'm going to play for any team that gives me a chance."
A chance may be all this Arlington product needs come draft weekend. Hicks certainly possesses the drive that coaches covet.
"I am not satisfied with any part of my game," he stated. "I'm continuing to improve every part. I don't want to make it to the league just to say I was there. I want to make a difference and be one of the greatest in the game."
Currently, Hicks is not a sure-fire draft candidate. He is projected anywhere from the later rounds to being signed afterward as an undrafted free agent. Whatever the case, he will get a shot to prove himself on an NFL roster, and that may be all he really needs.
Hicks may not have had to travel far to finish his high school and college careers, but the lack of a physical journey does not hide how far he has come as a player and as a person. In the best physical and mental shape of his life, he is poised to step into the unknown territory of a professional career at the highest of levels.
And for the hometown hero, it could all begin right here in Arlington, the place where his NFL dreams first started to come to fruition.