OXNARD, Calif. –Miles Austin will leave it to everyone else to worry about his hamstrings. For now, the Cowboys wide receiver knows he can't get caught up in his own injury background.
Austin missed much of training camp last year due to hamstring strains and was out for all or part of eight regular season games, never quite running with his usual burst. He has been out since last week with another hamstring injury and is unlikely to play in Monday's preseason opener.
While the seemingly repetitive nature of the injuries is a red flag, Austin promises that he isn't stressing about the latest injury, which has been classifie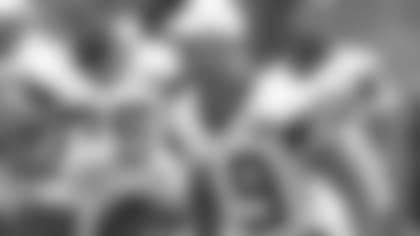 "It's up to whoever to be concerned," Austin said. "Anybody who wants to be concerned can be concerned. I can't focus on who's concerned or who's not concerned. I need to focus on getting back."
The wide receiver will not play in Monday's preseason opener, and given last year's issues, the Cowboys will be as conservative as possible with his hamstrings. Over the weekend, owner and general manager Jerry Jones commented that the very reason he wasn't troubled by Austin's leg soreness is because of just how careful the team is being in resting him.
Still, the Cowboys played Austin's training camp hamstring issues close the vest last year. He didn't appear in any of the 2011 preseason games due to a left hamstring strain, but returned for the regular season opener against the New York Jets. He was outstanding to begin the year, catching five passes for 90 yards and a touchdown in the opener, and nine passes for 143 yards and three scores at San Francisco in Week 2.
However, Austin tweaked the left hamstring just before the end of regulation versus the 49ers. He missed two games, also resting through the team's bye week, and returned against New England in Week 6, catching seven passes for 74 yards. In the next three games, however, he never caught more than three passes, and then tweaked his right hamstring against Seattle in Week 9.
Austin was out more than a month, returning against the New York Giants in Week 14, catching four passes for 63 yards, but more memorably coming up about a foot short of what would've been a game-winning deep ball late in the fourth quarter.
Over the offseason, Austin admitted that he wasn't in peak condition last year. However, his work in the team's strength and conditioning program this spring and summer has been commended.
Austin said he did not experience any hamstring problems over the offseason. Knowing that, and how careful the team is being in the current situation, he is confident that this isn't a case of injury history repeating.
"Well, I know how hard I work, first off," Austin said. "And also, I have trust in God, so you shouldn't be concerned. So, yeah, I'm not concerned."
The receiver could return as soon as next week.