IRVING, Texas -In three NFL seasons, John Phillips has yet to make his mark other than being the answer to a rather obscure trivia question.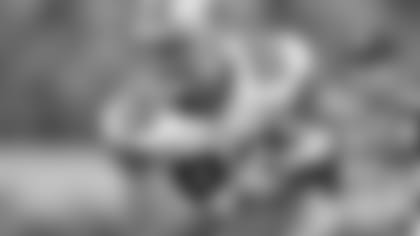 But as he enters his fourth season, Phillips wants to be more than the guy who scored the first postseason touchdown at Cowboys Stadium.
And he wants to be known for more than just being Jason Witten's primary backup. Phillips is hoping to play a big part in the Cowboys' offense, something that hasn't been accomplished that often from backup tight ends.
Anthony Fasano tried it in 2006 for two years. Martellus Bennett replaced him and after four seasons, his stint in Dallas was deemed as a disappointment.
With Bennett signing away to the Giants, and the Cowboys failing to land a tight end in free agency and only drafting James Hanna in the sixth round, the door is wide open for Phillips to finally have that increased role he's been working for.
So John Phillips, do you view this as a big year?
"Well, I hope so," said Phillips, who caught the first touchdown in the Cowboys' 34-14 win over the Eagles in the 2009 NFC Wild Card round. "You have to prepare yourself to have a big year and get in that mindset. I hope it's going to be a big year for the whole squad. We're just in the early stages of it right now. But I've worked hard and I'm ready to take that next step."
That proverbial next step for Phillips would have to be from a role player who bounced around from third tight end to occasional fullback, to now a player the Cowboys can integrate into the offense in both the running and passing games.
The difference for Phillips would likely be transitioning from a last-resort option to one of Tony Romo's prime targets. Now, the latter seems a bit farfetched considering Witten remains a go-to threat, along with outside receivers Dez Bryant and Miles Austin. But as the Cowboys continue to search for a quality No. 3 receiver to take the place of departed free agent Laurent Robinson, maybe that's where Phillips can step in and provide Romo with a different type of security blanket.
That's not to say Phillips can be an 11-touchdown player such as Robinson, or even close to the 54-catch, 858-yard player that left for Jacksonville in free agency, but Phillips just wants to be more involved, something that appears evident by the work he received in the OTAs and minicamp.
"He had a good summer for us," head coach Jason Garrett said of Phillips. "John is a guy who does a lot of things for us. He worked really hard in the offseason and I think we're seeing him come into his own. We're excited about what he can do for us this year."
As long as he's out there, Phillips said he's not concerned with his role.
"I'm just a team guy. I do whatever they tell me to do," Phillips said. "Whether it's blocking or letting me run out and catch the ball in the flat. I'm going to do whatever I can do to help this team win."
Last season, with fullback Tony Fiammetta banged up during the second half of the season, Phillips was used more as a lead-blocker, something he did rather well considering his 6-5 frame and the importance of getting low in blocks for leverage.
"I don't mind fullback," Phillips said. "It's something I've been doing for a while. At (Virginia) I played some fullback. So I'm used to it."
But make no mistake, Phillips is no different than most players. He likes catching the ball more than blocking.
"Everyone has visions of catching the ball. If you don't have that, you don't have a pulse," he said. "You've got to have visions of it. But the main thing around here is winning. We've just got to get those wins."
This is Phillips' second season removed from a torn ACL injury he suffered in the preseason opener in 2010. In that Hall of Fame game against the Bengals, he had five first-half catches and seemed poised to make a real push for Bennett's No. 2 spot before that injury wiped out his season.
Last year, Phillips said he was 100 percent but it often takes players, especially skill players who run and cut, into their second season before they're officially back from such an injury.
"I don't think about that," Phillips said. "I'm excited about what's ahead of me. And hopefully, it'll be a big year for me and definitely a bigger year for this team."