GRAND PRAIRIE, Texas—The Dallas Cowboys kicked off the 2012 Play 60 Challenge Powered by Reliant with cornerback Brandon Carr taking center stage at Larson Elementary School in Grand Prairie, Texas. Carr joined representatives from the American Heart Association, Reliant and Fuel Up to Play 60, as well as the Dallas Cowboys Cheerleaders and Cowboys mascot "Rowdy," to speak to students on the importance of good nutrition and exercise.
"A long time ago, I was sitting right there where you all are sitting," Carr told an assembly full of squealing kindergarteners through sixth graders. "You can dream big—the sky is the limit—but you've got to eat right and play hard to achieve those dreams."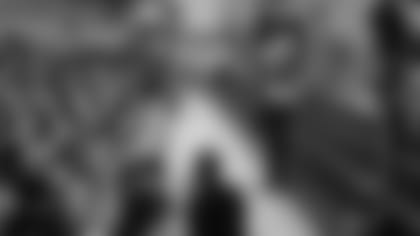 Carr takes a question from a student.
The Play 60 Challenge is a Dallas Cowboys, American Heart Association and NFL initiative designed to help schools create an active and healthy lifestyle for kids that will form positive lifelong habits. The program includes three main components: a Teacher Guide that provides lesson plans integrating physical activities; a Student Planner allowing students to track their goals and play time at school and at home; and a nutritional partnership with Fuel Up to Play 60 that encourages youth to consume nutrient-rich foods and be active 60 minutes of every day.
A show of hands for who would like to be involved in sports when they grow up.
Tuesday's event began with a school-wide pep rally featuring the drum line of Arlington's Lamar High School, and ended with one lucky classroom getting a personal visit from Carr. During the assembly, Carr also took several questions from students from his favorite food ("baked chicken"), his bench pressing records ("I believe the last time I benched it was 375 pounds," inciting many "oohs" and "ahs") to what it feels like to play in the NFL ("an honor and a privilege"). Marcelo Cavazos, interim superintendent of Arlington Independent School District, was among the dignitaries in attendance.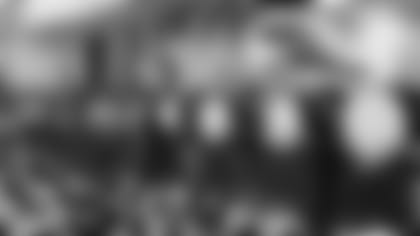 The drum line of Lamar High School of Arlington, Texas kicks off the assembly.
The Dallas Cowboys are proud to partner with the NFL in bringing the Play 60 Challenge programming, as well as Youth Fitness Zones, to numerous communities in North Texas. With nearly one in three children ages 6 to 18 in the United States obese or overweight, the Cowboys are committed to ending this epidemic and making the next generation of youth the most healthy and active.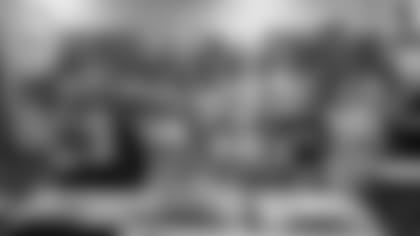 Carr, Rowdy, the Dallas Cowboys Cheerleaders and a lucky classroom of 6th graders at Larson Elementary.