IRVING, Texas -- It's a short week before Arizona comes to town, so there isn't a lot of time to review the tape of the loss to Washington. That said, I wanted to back and look at how the Redskins managed to generate so much pressure on Tony Romo and the Dallas offense, among a number of other things.
Here are my notes from the Washington film:
In reviewing the sacks that the Cowboys gave up against the Redskins, it was surprising that they were able to get rushers home, because these were blitzes that Tony Romo and this offense had seen before – there was nothing exotic or special in the way they were run.
It was rushers off the weak side, a twist stunt from a defensive end, a safety from depth and an inside linebacker firing through the "A" gap -- all part of the packages that Jim Haslett uses in his 3-4 scheme. Give Haslett credit for how he was able to dial up those blitzes at the right opportunity, while other times he would show blitz and drop into coverage. His use and mix kept this Cowboys offense off balance all night.
What Haslett was banking on was that he was going to get a rusher home before Romo was going to get rid of the ball. The Cowboys did attempt to adjust by going with a max protection, with both Jason Witten and James Hanna staying in to block three different times in the game, then several other times with just Witten or Hanna staying in to help the offensive line. I do not feel like it was a lack of game planning or adjustments but more in the line of lack of execution and that starts with Romo, going through Murray, this offensive line and the receivers.
Romo has made a living of dealing with defensive coordinators that blitz him. Murray is as reliable as they come when it comes to knowing where to fit and being physical to pick up the blitz. For some reason as a group when they needed to make a play to get things going offensive against the blitz and run Haslett out of it – they just couldn't get it done and it cost them an opportunity to win this game.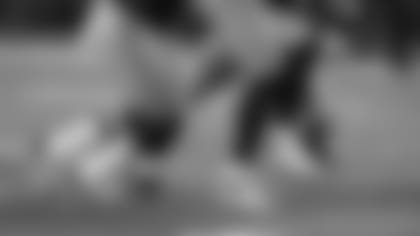 If there is a position on the field where you notice if a player is playing well or poorly, it is the quarterback. Romo has been nothing short of brilliant since the struggles that he had opening day against the 49ers. I thought this game against the Redskins was similar to that 49ers game in the sense that I felt like that Romo was not his normal self when it came to his execution of the game plan from a physical side.
There were several snaps even before the hit that he took in the back where he missed throws that we normally don't see him miss. He just wasn't as sharp with his touch and accuracy when it came to get the ball to his play makers. He missed two open passes to Witten in the first quarter that he never struggles with. The second of the two -- Witten came back across the field on a drag and all Romo had to do is give him a little touch pass and Witten is out the gate -- but instead the ball is too high and hard, leaving Witten no shot.
He missed a throw on an out to Dwayne Harris where Harris came right back down the stem and instead of leading him to the sideline, he threw it much too wide, making Harris have to make a circus catch to even try to get close.
Even the catch that Dez Bryant made on his incredible touchdown was very low and to the left. If Bryant doesn't grab that ball with one hand it's skipping to the sideline. The early hits and sacks probably did nothing to help Romo early in this game, but for a quarterback that normally doesn't leave plays on the field he had a few too many and he would most likely tell you the same thing.   
It was nice to see Henry Melton have the type of game that we have expected from him since he arrived in the offseason.
We have seen Melton play mainly as the under-tackle or three-technique in this scheme. In some nickel packages he has lined up in a two-point stance and played almost like a linebacker in the middle of the defense.
He hasn't been as effective rushing that way, but against the Redskins they used him as a defensive end off the left side while moving Anthony Spencer to the right side in an attempt to generate a little more pressure. Melton looked good coming off the edge, but where he played his best was at that under-tackle -- and not only against the run, where he was able to knife into the backfield and make a stop.
Where Melton really jumped off the screen was in his ability to rush Colt McCoy. He finally appears to have that explosive burst and quickness after several games this season where he appeared very ordinary. The hope is that he will continue to improve even more over these next several games as he gains confidence in that knee.