/ Editor's Note: Each weekday, DallasCowboys.com's writers will field two questions from the fans. Click here to email your question now. **
(Editor's Note: Each day we will take the 2 best questions for our staff writers to answer from the Mailbag. /"Click here" to email questions now.)
JAE ROSS - DAYTONA BEACH, FL: After Mike Jenkins' disappointing season, does Orlando Scandrick have a legitimate chance to push him for a starting job this year?
Nick: I don't know how legitimate it will be, but he'll have some kind of chance. But I doubt that it will be like it was in 2009 where they tried to rotate the two every day. Even then, it seemed like Jenkins got more reps and eventually won the job outright and finished the season in the Pro Bowl. I think they will likely compete, but I still think Jenkins is better to start because with Scandrick, there are some match-ups that will be unfavorable for him against bigger receivers. I think Jenkins matches up better with most receivers.
Rob: If Jason Garrett wants competition at every position, then yes, it should be possible for Scandrick to win the job. Right now he's playing maybe 40-50 percent of the snaps as the slot corner, and although he's been up and down, he played very well down the stretch. The question is whether there will be a full camp and preseason to really gauge everyone's performance. I do think Jenkins will rebound from an overall poor season, though.
RAY HOLLIDAY - DENVER, CO: Do you think having Tyron Smith lining up to him instead of Marc Colombo could make Leonard Davis a better player in 2011?
Nick: That's not a bad point. I think it's something that very well could make a big difference. But on third-and-1 at the goal line, athleticism isn't a huge factor there. It's almost leverage, technique and the will to push the guy off the ball. Davis hasn't been as great at doing that as you might expect from someone that looks like him. I do think Smith can help Davis and probably vice versa, too. But overall, Davis needs to just play better on his own as well.
Rob: There could be something to that. Davis and Colombo played better down the stretch last year, but the right side of line generally had problems in space against speed rushers. The Cowboys hope Smith's athleticism will immediately shore up that problem. We'll just have to see. But Davis would need to be the one helping Smith with the calls and some of the pre-snap things.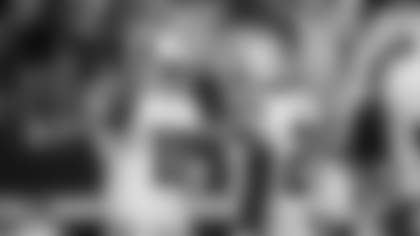 news
Mailbag: Four 1,000-Yard Players On Offense?
Has the idea of two 1,000-yard receivers and two 1,000-yard backs ever crossed you guys' mind? Looks possible at this rate