IRVING, Texas– Having patiently waited throughout the opening night of the 2015 NFL Draft, the Cowboys selected one of the best athletes in this draft class, snagging Byron Jones with the 27th overall pick.
With uncertainty surrounding the Cowboys' cornerback position, Jones was one of a handful of highly-coveted defensive backs, along with Kevin Johnson and Marcus Peters, to be considered at No. 27. After a tense wait for the teams in front of them to pick, the Cowboys grabbed the Connecticut product without having to trade up the draft board.
"There's an urge as you watch 26 other players roll out there – there is an urge," said Cowboys owner/general manager Jerry Jones about potentially drafting up to select Jones. "That's the anxiety involved."
It was a mere 10 picks, but it felt like several hours passed between pick No. 20 and No. 27, when several teams with cornerback needs passed on Jones. The Philadelphia Eagles, Pittsburgh Steelers and Baltimore Ravens were all seen as possible destinations for the versatile defensive back, but that trio opted for wide receiver Nelson Agholar, pass-rusher Bud Dupree and wide receiver Breshad Perriman.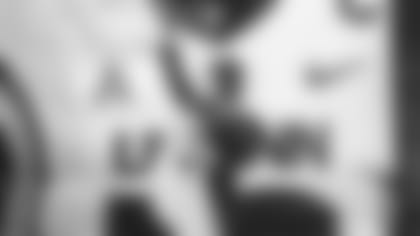 The wait might have been agonizing, but once Jones fell to No. 27, the pick was anything but.
"We don't get into our grades, but he was certainly in our top 15, 16 players on the board," Jerry Jones said.
In Byron Jones, the Cowboys selected one of the most-discussed members of this 2015 draft class – and for good reason. At the NFL Combine in February, Jones set a world record with a broad jump of 12-feet, 3-inches. The UConn defensive back built on that with an outstanding vertical jump of 44.5 inches – second-best at the entire event.
"That's one of the reasons you go to the Combine – you want to see these guys move around," said Cowboys coach Jason Garrett. "You want to see them run, you want to see them jump, you want to see them move around. Certainly that was very impressive."
Jones started two years at safety for UConn before moving to cornerback in 2013. As a junior, he tallied 60 tackles with three interceptions and 11 passes defended. He started the first seven games of his senior season in 2014 before a shoulder injury ended his year.
In his seven games, though, he finished with 24 tackles, six passes defended and two picks. He earned an invitation to the 2015 Senior Bowl this past January, but his injury held him out of the proceedings.
In the four months since, however, Jones said he is completely healthy and ready to participate fully in the Cowboys' offseason activities – which begin in earnest with rookie minicamp roughly a week away.
"I think I'm 100 percent. I didn't have to go back to Indy for a re-check," he said. "I did the bench at Pro Day, and I did 18 reps at full-strength, ready to go."
Cornerback was easily one of the largest problem spots on the Cowboys' current roster, along with defensive end and running back. There are question marks around all of the team's primary corners – and for a variety of reasons. Morris Claiborne is recovering from a torn patellar tendon last September, while Brandon Carr has long been considered a candidate for a June 1 pay cut due to his hefty 2015 salary.
The team's best cornerback, Orlando Scandrick, has also yet to report to the teams' facility for voluntary player workouts – reportedly over desire for a larger contract.
Jones should immediately address that issue, as he can step in and contribute from Day 1. With two years of experience at safety, the 6-0, 199-pound prospect also has the potential to help on the back end of the defense.
Perhaps most importantly, the Cowboys secured their player without needing to trade away valuable draft picks – which leaves their draft board intact for Day 2 of the draft on Friday. In that regard, team executive vice president Stephen Jones said the draft board will hopefully clear the way for a less-tense wait.
"We thought coming in here that this would be the toughest part of it – when everybody has a lot of these guys sorted pretty similar," he said. "I think from here on out we could see some guys that we'll feel really good about and maybe not have to sweat as much."
Dallas holds the No. 60 and No. 91 overall picks when the draft's second day commences on Friday night.