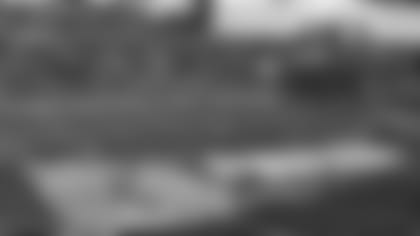 ARLINGTON, Texas – For the third time ever, Cowboys Stadium has been transformed into a basketball venue.
This time, March Madness hits Arlington as the NCAA Tournament South Regional comes to Cowboys Stadium this weekend for three games.
Things kick off Friday evening with regional semifinal games between top-seeded Kansas and Michigan, the fourth-seed, followed by No. 3 seeded Florida against Florida Gulf Coast, the first 15th seed in NCAA Tournament history to advance to the round of Sweet 16.
The winners will meet Sunday afternoon, vying for a spot in the Final Four, to be held the following weekend in Atlanta.
On Monday, the installation crew at Cowboys Stadium worked on the finishing touches of the court, which has been raised for field level.
To commemorate the event, former Dallas Mavericks star Rolando Blackman was on hand for the presentation of the court. Blackman, who also starred at Kansas State and made a run in the NCAA appearance in the early 1980s, is on the Local Organizing Committee board.
The first basketball game held at Cowboys Stadium occurred in 2009 when North Carolina and Texas met in a regular-season game in December. The following February, Cowboys Stadium played host to the NBA All-Star Game.
Next season, Baylor and Kentucky will play a men's and women's doubleheader at Cowboys Stadium in the regular season. And of course, the men's Final Four will be held at Cowboys Stadium in April of [embedded_ad]
This weekend's South Regional will help serve as a test run for Cowboys Stadium for next year's Final Four.
Single session tickets for the 2013 regional are still available and start at $40, while all session tickets (seats for all the games that weekend) begin at $70. To purchase tickets to the South Regional games at Cowboys Stadium, visit www.NCAA.com/mbbtickets