ARLINGTON, Texas – Cowboys coach Jason Garrett answered emphatically when asked if he'd considered riding the hot hand at the quarterback position.
"Obviously Tony's our quarterback, so if Tony's healthy and ready to go, he's going to play," Garrett said following the Cowboys' 20-17 overtime loss to Washington.
That might seem obvious, considering Tony Romo's resume – but not necessarily given the circumstances. Romo left Monday night's game halfway through the third quarter with a back contusion, the severity of which was unknown outside the Dallas locker room until the game's final minutes.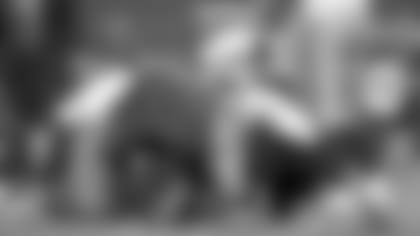 In his place, backup quarterback Brandon Weeden led the Dallas offense for two possessions – both scoring drives. The Cowboys came away with a 21-yard field goal on Weeden's first crack, and he followed that up with an eight-play, 80-yard touchdown drive that resulted in a 25-yard touchdown pass to Jason Witten.
"He handled himself really well, even on the one drive when, after DeMarco's big run that we got down there, he gave Dez a couple of good chances on those throws inside the five-yard line," Garrett said. "And then, obviously on that next drive, he did a really good job making some big throws for us."
Fortunately for Weeden, he has more regularly-available practice time than most backups can hope for. As part of his recovery from back surgery, Romo typically takes the first practice of every game week off – leaving plenty of reps for Weeden to work with the starters.
"I don't know if there's a backup quarterback that gets as many reps as I do, and I need all the reps as I can get," Weeden said. "You compound that with all the smart guys, all the smart quarterback minds we have around here, you just kind of soak up all this information. I've learned more in the last, however long I've been here, than I learned in four years playing as the starter, dating back to college."
Weeden went 4-of-6 for 69 yards and a touchdown on the night. All that being sad, he shared Garrett's conviction about the Cowboys' starter – there was never any doubt that Romo would return if possible.
[embeddedad0]"This is Tony's football team," Weeden said. "I knew once he came out of the locker room, he was ready to go and he was going to lead the show. He's a tough dude."
The Cowboys only managed 26 yards of offense in Romo's two possessions after the injury. Despite that, Cowboys owner/general manager Jerry Jones said he wasn't surprised to see his starter return after his health had been assessed.
"We knew that there were no structural issues when they gave him the X-rays in here. He wanted to come back in," Jones said. "If he were needed, he wanted to play. He told us earlier that he was coming back out if it were that kind of game at the end of the game."