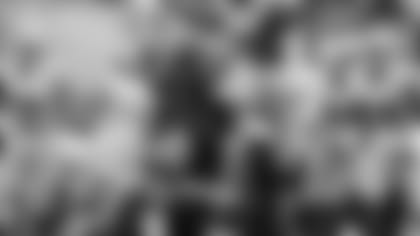 IRVING, Texas –If the Cowboys suffered a knockout loss to the Seahawks in Week 2, they won their home opener against Tampa Bay on points, displaying a much-improved chin.
In Seattle, the team had raised doubt about its ability to take a punch and fight back, but the group managed to bear down Sunday, overcome a litany of mistakes and setbacks and do enough to put away the scrappy Buccaneers in the fourth quarter, advancing to 2-1 on the strength of a 16-10 decision.
The win sets up a rather crucial Week 4 Monday Night Football matchup against Chicago, allowing the Cowboys the chance to enter their Week 5 bye on a roll, or with no momentum at all, just another .500 team in a league constantly striving for greater balance and parity. Sunday's game was proof enough that things change quickly in the NFL, from season to season or week to week.
The Cowboys had dominated in Tampa late last season, and Tony Romo's quarterback rating was higher against the Bucs than any other opponent. But all that meant nothing during a game in which the Cowboys' offense sputtered mightily, requiring a defensive masterpiece and some special teams breaks to pull out a win.
Romo and the Cowboys didn't so much outclass the Buccaneers this time, instead merely surviving them.
"That was right up there with one of the most physically tough games I've been a part of," Romo said after being brutally sacked four times and hit four more. "To win the way that we did, I can't give our defense enough credit. That was as good of a performance as I've ever been around, and that is really exciting to see that.
"I'm sure we will get some ice packs going tonight."
As imposing and disruptive as Tampa Bay's defense was in the game, the Cowboys were more so. They limited the Buccaneers, who put up 34 points against the Giants in Week 2 and beat the explosive Panthers in their season opener, to only 166 total yards, 70 of which came after the contest was essentially decided by Dan Bailey's third field goal, which put the Cowboys up 16-7 with under three minutes to play.
"The game was far from artistic," head coach Jason Garrett said. "I thought the defense was outstanding. Throughout the ball game there were pretty bad situations, and they responded. They kept the big play-making guys on their football team under wraps for the most part."
In Week 2, the defense couldn't totally make up for turnovers and inefficiency on offense and special teams, but Sunday the unit persevered. The Buccaneers began two drives well inside Cowboys territory and another at their own 49-yard line, but converted only one gift-wrapped opportunity into points, going up 7-0 following a Romo interception on the first possession of the game.
Though the Cowboys defense was without three starters to begin the day and lost another, safety Barry Church, for the season during the game, Tampa Bay wouldn't put points on the board again until attempting a two-score rally late in the fourth quarter. The game had been sealed on the previous sequence. Halfway through the fourth, a special teams unnecessary roughness foul forced the Bucs to start at their own 9-yard line, down 13-7.
On a key third-and-four from the 13, DeMarcus Ware recorded his second sack-strip of Josh Freeman on the day, and Tampa punted to Dez Bryant from its own 1.
Following a somewhat frustrating day both offensively and on returns, Bryant found a seam up the right sideline, returning the line drive kick to Tampa's 6-yard line. Though the offense found no traction, the field position was good enough to seal a victory that put the Cowboys in a three-way tie atop the NFC East, along with New York and Philadelphia.
"I don't think we lost composure," Bryant said. "We got ourselves together and we dug out and came out with that 'W.' That's been one of the biggest things going around Valley Ranch for us is mental toughness."
The Cowboys pointed to a lack of execution as the reason for their loss against the Seahawks, not mental or physical toughness, but they beat Tampa Bay despite similarly sloppy play. They committed 13 penalties but won for the second time this year.
"We can't have a lot of penalties," Ware said. "We're going to work on that this week, but it tastes a little bit better when you get a win. You know you've got to work a little bit harder in practice to make sure you get a win.
"You know where you messed up. You just don't have that feeling of 'Ah, I lost the game."