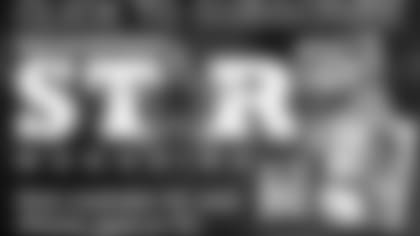 On Christmas Eve, the sights of pink pop suitcases and the sounds of 12 eager cheerleaders greeted the Dallas/Fort Worth International Airport. Less than 24 hours removed from our last home game of the season, we set our sights on a holiday spent in the Middle East with the men and women who serve our country.
Neither the looming 28 hours of travel, nor the promise of jet lag could control the buzz of excitement.
This trip overseas marked the 75th USO tour for the Dallas Cowboys Cheerleaders, a tradition that began during Christmas of 1979 in Korea. Members of the team typically go on two USO tours each year. For this year's holiday tour, 12 members of the Show Group traveled to the countries of Bahrain and Kuwait to meet our troops, sign autographs and perform our show, "America & Her Music." The show features high power hip-hop dances, slow lyrical numbers and sassy jazz, as well as singing and trivia.
In addition to myself, also on the tour were Whitney Isleib, Cassie Trammell, Sydney Durso, Melissa Kellerman, Meagan McVay, Mia Greenhouse, Jackie Bob, Lauren Williams, Holly Arielle, Brittney Schram and Olivia Rene. One of our main goals on tour is to reach out to as many military men and women as possible, and share a little piece of home with them. In an attempt to do this, we were split into two groups of six, led by our veteran tour members, Cassie and Whitney. Each group would visit different locations during the day and later rendezvous at the show site for a quick rehearsal before the curtain went up.
A tour in the Middle East was new territory for the entire group, but for four, including myself, the tour itself was foreign territory. Fortunately, months of preparation and stories of past USO tours gave the four rookies an idea of what to expect on our first go-round. 
Let me just say, it was nothing like I ever imagined, and I'm sure my fellow rookies will back me up. I'll walk you through some of the surprises and experiences, but I can only hope that my words do it justice!
It was around midnight after Christmas when we arrived at the Gulf Hotel Bahrain. One look at our group and anyone could tell that the hours of traveling had finally caught up to us, and a comfortable bed was in high demand. 
As we awaited check in, our leaders called us together and presented us with our first surprise of the tour. It's been a tradition for veteran tour members to contact each girl's family to request Christmas cards and little gifts to send overseas for a small Christmas celebration. So, imagine my surprise seeing a decorated stocking with my name on it, filled with letters and gifts from my family thousands of miles away. It definitely made for a wonderful surprise for the rookies, and was a great way to start the tour.
Our first event in Bahrain took us to a meet-and-greet with sailors aboard a U.S. Navy destroyer. It was exciting to see and learn a little about their environment and what they do on a daily basis. Plus, I don't think I have ever been on a ship prior to that.
We even got an inside look at their latest competition. The guys had just completed a gingerbread house contest for the holidays! The houses were very impressive, and it was amusing to see the winners gloat a little.
Another highlight from Day 1 was our visit with the Coast Guard. We had the opportunity to board a metal shark boat, complete with a mounted machine gun, and tour the coast that they patrol. We were given a brief overview on their mission and met the men and women who fulfill those duties. 
What really stood out to me was that in a lot of cases, the men on patrol behind the machine guns are sometimes straight out of high school, or boot camp, performing what many consider to be the most dangerous job. It's interesting to look back at the responsibilities that I faced as an 18-year-old fresh out of high school and compare them to what these guys experience. Eye opening would be an understatement. 
Our second day in Bahrain brought us to the country's primary base for U.S. naval and Marine activity.  It was very reminiscent of a college campus and had a family feel. Nothing like I had imagined, but very beautiful. While there, we received some hands-on experience with the robots used by the Explosive Ordinance Disposal Team and other technology used by the Navy Diver Units, as well as some of the diving gear. So naturally, we couldn't leave without a few pictures in the diving helmet. 
Following the diving brief, we made our way over to the K9 Unit. As if playing with scuba gear wasn't enough to bring out the kids in us!
We met three of the top K9s in the unit and their trainers. They explained the process of training the dogs and had them demonstrate a few exercises for us. For a little extra bonus, we were allowed to pet them and give a "good boy" following the completion of a task.
To wrap up our fun day, we held a mini cheer and dance camp for the children on base. More than 20 kids participated, ranging from ages 3-17. We started off with a few rounds of "ships and sailors" to break the ice, then we taught a special rendition of the Twelve Days of Christmas. It was a fun opportunity for us to encourage and interact with the kids while sharing our love for what we do.
In Bahrain, we performed our variety show twice. The first performance was a chilly, outdoor event. The chill factor came as a surprise to me because I assumed it would be warm in the desert. Well, you know what they say when you assume things!
For that first show, our backstage area consisted of a tent and an open van. Although those circumstances sound terrible, looking back, that performance was probably the most fun. Running back and forth from the stage to the van, quick changes, the chaos that comes with a first show overseas. I loved every minute and the crowd was awesome.
Our second show was the complete opposite of the first. We performed on the main base in an auditorium with an actual backstage area, which made for easier transitions. A lot of the families on the base came out, as well as the dancers that we taught earlier that day. It was great to see their faces in the crowd.
Following our second show, we learned that our originally scheduled flight to Djibouti, Africa, had unfortunately been canceled. It was disappointing for us because it was one less show to perform and one less camp to visit, but we had no control over the change.
We used our extra day in Bahrain to explore and learn a little about the culture of the country. From observation, I noticed that it's a very colorful place with beautiful buildings and a strong western culture influence.
One of the most beautiful buildings that we saw, in my opinion, was the Al Fateh Grand Mosque, the largest place of worship in Bahrain. We had the opportunity to tour the landmark and learn about the religious history and practices. We also explored the Souk marketplace in the city for souvenirs and other trinkets. We even got to visit a camel farm. You'd be surprised how much the sight of camels could excite a group of cheerleaders.
Unfortunately, it came time to say goodbye to the camels and get back on track for the final stretch of our tour.
Just when I thought Bahrain was full of color, Kuwait City came along and made me rethink things a little. Kuwait City is the economic hub of the country, boasting a very modern feel, complete with the tall buildings and speeding cars. We stayed at the Hotel Missoni, and I'm sure we saw every hue on the color wheel just in the lobby. There was even colored toilet paper!
The camps that we visited, however, were very brown. Seeing tents, barracks and military vehicles surrounded by miles of sand was very different from what we experienced in Bahrain. It was what I had pictured from the beginning, but to finally see it myself was something else.
In Kuwait, my group's first stop was at Camp Virginia. It's a remote base and one of the smaller camps in the area with troops from the Navy, Army and Marines. It's also a camp that does not host families of the troops.
It was amazing to hear how positive these troops were given their circumstances. For instance, they aren't really allowed to go to the city, so they haven't seen the colors of Kuwait City. For them to joke with me about my blue toilet paper showed their great spirits, but it also put things into perspective. 
In addition, we then traveled to the 386th Air Expeditionary Wing, Southwest Asia. Perhaps my favorite sight there was a mural that was painted in honor of those who lost their lives on Sept. 11, 2001. It was one of those moments where it really hit me that I was overseas visiting such inspiring men and women. Words can't even describe it.
We went on a flight line tour on the base and had the privilege to tour a plane and meet the crew minutes before it departed for a mission. We also spent some time in a military fire truck. Our inner child reappeared when we were given the opportunity to shoot water from the trucks.
Another fun thing about our stay in Kuwait was that each camp that we visited required about an hour of travel time, so for entertainment, my group would play a few rounds of Catch Phrase. Or, we'd occasionally break out into songs varying from Disney to Whitney Houston. It was one of my favorite memories of my group overseas.
We performed our final two shows at Camp Buehring and Camp Arifjan in Kuwait. They were both outdoors shows, but with a backstage dressing room. Our last show was on New Year's Day, a perfect way to celebrate! I'd say the crowds for those two shows were the loudest that we had on tour. It made performing even more fun for us. 
Looking back, it all went by so fast! The thing that I loved the most was when we had the opportunity to really engage in conversations with the men and women and hear their stories. The prime time for these interactions was at lunch, meet-and-greets, and following shows. 
Lunchtime conversations were the best because it would start off with getting to know them, but it always ended up on football, be it NFL or college. It was fun to talk in a friendly banter with Eagles fans or Giants fans, and I think we impressed them with our knowledge.
One of the more special parts of tour is the coin exchange. Coins can be given as tokens of respect, honor and gratitude. Commanders often give coins to members of their unit who have done something worthy of recognition.  So, it was very special for us to be presented with one.
The thing that got me every time was they would thank us for sacrificing our holiday season to be with them, but nine days is nothing compared to the sacrifices that they've made. We don't see these tours as a sacrifice; we see it as an honor. 
To close, my first tour was more than I could have ever imagined. I can't say that my experience was exactly like my fellow tourmates because no two experiences will be the same. But, I do know that we all came back with an appreciation and love for what these men and women do and the sacrifices they've made.