IRVING, Texas – The focus on DeMarcus Lawrence's return seems apparent, given the attention paid to him on Wednesday.
While the Cowboys went through a no-pads walkthrough Wednesday morning, Lawrence worked off to the side with coaches. Not just any coaches, though – Lawrence spent his morning get instructions from defensive coordinator Rod Marinelli and assistant defensive line coach Leon Lett.
"That was the main focus over there, just making sure I know the plays, formations, what I'm doing in certain types of situations," Lawrence said.
Lawrence is finally eligible to play this weekend after spending eight weeks on short-term injured reserve. The No. 34 overall pick in May's draft, he broke his foot early on in training camp and hasn't played since.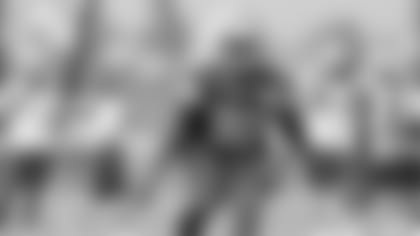 Instead, Lawrence has traded the football field for the weight room, and he traded the tutelage of Marinelli and Lett for that of strength and conditioning coaches Mike Woicik and Kendall Smith.
"Kendall and Coach Woicik helped me out a lot, just helping me being patient with the amount of setbacks," Lawrence said. "Just having me in the weight room, taking my focus off not being out there and trying to make me work hard."
That seems to have paid off for the rookie. Lawrence said Wednesday he's added 10 pounds of muscle to his 6-3 frame, which should help him with the physicality of the pro game.
The Cowboys have to be hoping he can contribute early, considering their struggles to notch sacks through eight games this season. Dallas actually sacked Colt McCoy three times on Monday night, but that success still left them with just nine sacks on the year.
"I ain't going to say they need me, because they've been doing it and winning games off of me not being there. I'd just say I'll be a help to them when I get back," Lawrence said.
That return date could come as soon as Sunday against the Cardinals, but it remains to be seen if the Cowboys will make that call. The Cowboys will have to make a roster move to add Lawrence to the active roster – something they have not done as of yet.
In the meantime, Lawrence said he doesn't feel any pressure to deliver as a high draft pick – just his own desire and expectation to contribute.
"I feel like I put pressure on myself, so it's me going out there, maintaining my goals and my focus and really doing well. I think, and I know I can do it," he said.