IRVING, Texas – Dez Bryant has never enjoyed a run of success like this as a member of the Dallas Cowboys. But even with the best record in the NFL, Bryant said Sunday it's business as usual.
"It don't feel no different, man. I feel like we haven't done anything yet," he said. "We've just got to remain focused, take it day-by-day and try to do our job the best way we possibly can."
The Cowboys' 6-1 record might not feel any different, but Bryant said he certainly did in the 31-21 win against New York – in the first half, at least. While Terrance Williams and Gavin Escobar struck for touchdowns against the Giants, Bryant struggled to 15 yards on two catches in the game's early going.
To make matters worse, Bryant's stumble on a long ball in the second quarter resulted in an all-too-easy interception for Prince Amukamara.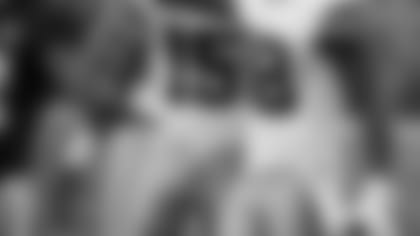 "Honestly, I didn't feel like me. I had to come in to adjust, and that's exactly what I did. That stumble was bothering me so much, I was like 'I've got to let it go,'" Bryant said. "I had T-Dubs in my ear and a lot of other guys, and it was kind of bothering me a little bit. I let it go finally, and I came out and played some of my best."
It was his third-best performance, from a yardage standpoint, to be exact. Bryant exploded after halftime for seven catches and 136 yards to give him 151 on the day – trailing only his 153-yard day against Green Bay last year and his 224-yard effort against New Orleans in 2012.
"I just felt like when my number was called, I've got to go out and do my job – that's exactly what I did," he said.
Tony Romo called Bryant's number plenty – and in crucial situations. The Cowboys looked to Bryant on third down five different times. His fantastic catch-and-run, which saw him extend to haul in an over-shoulder fade before diving for the end zone, came on a 3rd-and-8 on the New York 25.
"When I saw it live and then I saw the replay up on the screen as we were trying to determine whether it was a touchdown or not, just to see what he's all about on that play to go get that football and put every ounce of energy into getting in that end zone. It was big time," said Cowboys coach Jason Garrett.
Bryant's solution to finding his mojo was simple, and apparently pretty superstitious. He just needed to tweak his outfit.
"I wore my visor this week, as y'all can tell. Truthfully, it makes me feel a certain way," he said. "I felt like I had to go back to being me – wear the things I normally wear, don't try to do anything different. I'm like that, I'm just that kind of guy. I went back to me."
Bryant also said he changed his cleats at the break. Whether that's actually the reason for his performance is hard to say. But it's at least something for the equipment staff to take into consideration.
"I think he wanted a couple plays in the first half and he mentally locked in," Romo said. "He played an outstanding game. He was tough to handle in that second half."