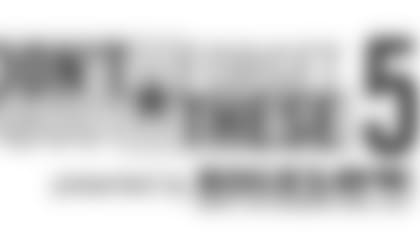 SAN DIEGO– The Cowboys lost their preseason debut Thursday night at Qualcomm Stadium, but the final score is never the bottom line in the exhibition games. 
This spot is usually saved for the five plays that changed the game. But in the preseason, when the goal is more to evaluate individuals and keep everyone healthy, let's focus on five other aspects of the game.
So the preseason version will include players, stats and sometimes plays that get overlooked. 
1.     Un-Lucky Turnover – As much as Lucky Whitehead has become a fan favorite, with his quickness, good hands, versatile position flex, catchy name and trendy red-tipped dreadlocks, none of it matters if he loses the ball. Even after an impressive punt return that was about to elevate his stock even more, Whitehead was stripped off the ball just before he hit the ground after his 19-yard return. Whitehead has received plenty of snaps here in the preseason with Dez Bryant out and the Cowboys looking for punt and kickoff returner. Don't forget this – seven years ago the Cowboys had another undrafted, undersized receiver/returner that caught everyone's eyes in the first two weeks but also fumbled away a punt in the first game here in San Diego. Danny Amendola might not have made it with the Cowboys, but he's had a pretty good career.
2.     From Beginning to End – Quick, try to find the last time a player opened the game standing at his goal line for a kickoff return, and finished the game as the team's quarterback. Jameill Showers is proving that he's not your everyday rookie quarterback. He spent just as much time on special teams Thursday night as he did under center or in the shotgun. But this unusual skill-set might help him stick around in the long run, if anything, on the practice squad. Showers had a special teams tackle in the middle of the field that potentially saved a touchdown or at least a huge return. He also played the majority of the second half, completing 5-of-11 passes for 40 yards. He rushed for 18 on two carries, including a team-high 12-yarder. But he didn't exactly outplay third QB Dustin Vaughan. And for now, Showers has to elevate his game ahead of Vaughan.
3.     Big Target – Playing the majority of the game, tight end Gavin Escobar looked more than comfortable as both a receiver and blocker. He led the team in targets (seven), catches (five) and receiving yards (47) and tied Devin Street for the longest reception of the night of 21 yards. With James Hanna (sprained knee) getting banged up, the Cowboys will likely call on Escobar even more during these preseason games.
4.     New Swing Set? – Let's not forget how many games Darrion Weems has played in his career – zero. He's been here for three seasons now but has never played in a meaningful game. Meaningful as in the NFL standings. But this was a meaningful opportunity for Weems, not only started at left tackle for Tyron Smith (biceps), but moved over to the right side later in the game. Weems had some moments where he missed a few key blocks, including two that led to a sack or carry for loss. The Cowboys likely won't make a drastic change right now, but the thought of moving La'el Collins back to tackle could be considered, although Collins looks more than solid at guard. More than anything, expect the Cowboys to keep throwing Weems out there to get better, but his first game showed he has plenty of room to improve.
5.     Not Completely Sloppy – While turnovers and bobbled snaps made it look like a preseason opener, the Cowboys at least did well on penalties. They only had four for 30 yards, with none in the first half. With a lot of new players, including several rookies who have never played with NFL rules, that's an impressive stat and a good starting point for a Jason Garrett-coached team that stresses discipline.