IRVING, Texas – As Jaylon Smith lay on the field at the Jan. 1 Fiesta Bowl, his left knee seriously injured midway through the first quarter, one of his Ohio State opponents kneeled down to check on him:
Five months later, the two NFL rookies are Cowboys teammates.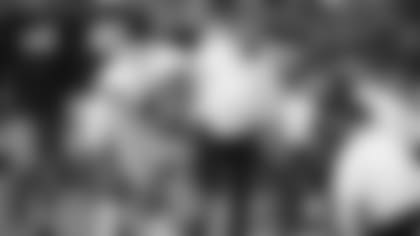 Elliott and Smith, an All-American linebacker at Notre Dame, actually have known each other long before their final college game. They met at the U.S. Army All-American Bowl as high school stars.
"We hung out a lot there," said Elliott, the fourth overall pick in this year's draft. "We were good friends before we played the Fiesta Bowl. Just kind of seeing one of my guys go down, a guy that has such a promising future, that's always scary. I just went out there to give him some words of encouragement, make sure he was good."
Smith, the Cowboys' second-round pick, is still recovering from his knee injury, and head coach Jason Garrett reiterated Friday that there's no set timetable for Smith's return.
"There was reason for optimism when we drafted him for a lot of different reasons, but we're going to get him in here like all the other guys and try to teach him our system of football," Garrett said. "He's going to be a little different in that he's going to be doing a lot of rehab with our training staff and our rehab staff. But we'll just take his progress day by day and hopefully he gets better and better."[embeddedad0]
Smith has a good support system in place as he continues his recovery in Dallas. His brother, running back Rod Smith, is also on the Cowboys' roster. And a good friend: Elliott.
"It's just funny how the stars align, just to have guys I'm pretty close with on the same team," Elliott said. "Him and Rod are two guys I'm close with. It's great to have those guys on the same team as me at this next level."
[wysifield-embeddedgallery|eid="360821"|type="embeddedgallery"|view_mode="full"]